Nine Improv Teams perform seven minute sets, at the end of the night, the audience helps decide who advances to the $1000 prize
About this event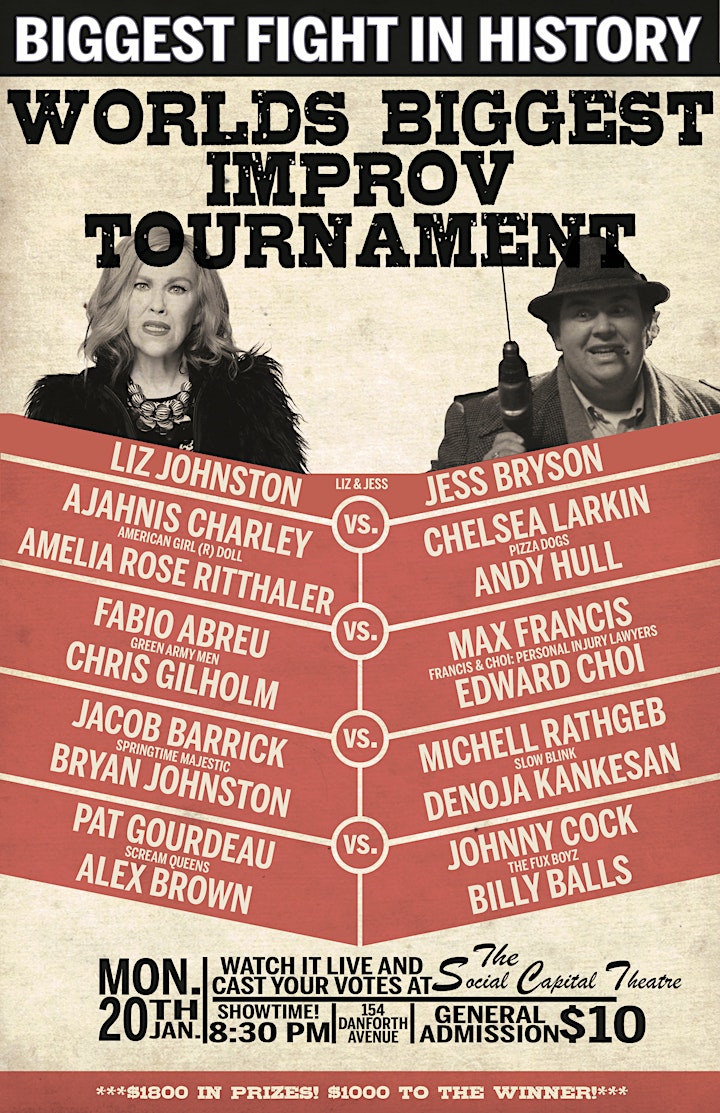 Toronto is the home of the largest improv tournament on earth.
Watch as 136 teams of two are widdled down until one is left as champions to have their names burned onto the (very very prestigious) Frank McAnulty Cup!
Tonight Featuring
American Girl ® Doll - Ajahnis Charley, Amelia Rose Ritthaler
Green Army Men - Chris Gilholm, Fabio Abreu
Springtime Majestic - Bryan Johnston, Jacob Barrick
Scream Queens - Pat Gourdeau, Alex Brown
The Fux Boyz - Johnny Cock, Billy Balls.
Slow Blink - Mitchell Rathgeb, Denoja Kankesan
Francis & Choi: Personal Injury Lawyers - Max Francis, Edward Choi
Liz & Jess - Liz Johnston, Jess Bryson
Pizza Dogs - Chelsea Larkin, Andy Hull
Rules:
*Each team will have 6 or 7 minutes of performance time (tech instructed to look for blow lines at 6 minutes)
*9 teams per show, 4 advance
*Two advance based on audience vote, one advances based on host selection, one advances based on guest judge suggestion
*Each audience member is allowed to vote for two different teams
Prizes
1st Place: $1000
2nd Place: $250
3rd & 4th Place: $150
5th through 8th Place: $100