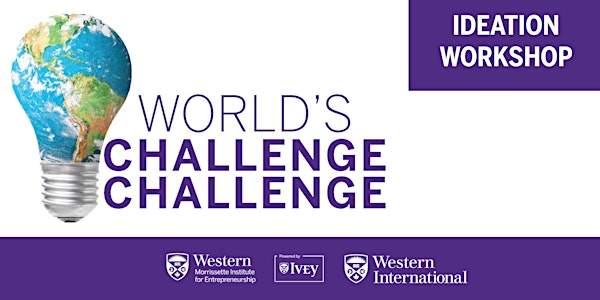 World's Challenge Challenge - Ideation Workshop
Think you have a unique solution to a global problem? Share your winning idea at Western University's World's Challenge Challenge!
When and where
Location
Propel Entrepreneurship Centre 1400 Western Road WSSB 2130 London, ON N6G 2V4 Canada
About this event
The World's Challenge Challenge is an exciting way to activate your global social consciousness and initiate change. In this competition, student teams will bring forward a unique solution that addresses a global concern and present their solution to a panel of academic and community leaders. The students with the best idea will each receive a prize of $1,000 AND be granted the opportunity to represent Western at the Global Final, where teams can win $30,000.
If you are interested in joining this competition, attend our introductory ideation workshop where you will learn skills on how to identify a problem and develop a solution. We will also cover more details of the competition.
This is your chance to develop entrepreneurial skills while having a social impact!
The deadline to apply to participate in the World's Challenge Challenge is Feb 3. To learn more about the World's Challenge Challenge (deadline, rules, prizes), please visit: www.uwo.ca/international/challenge/Western/index.html