World's Weirdest Pop-Up Restaurant

Wednesday, March 28, 2012 from 8:30 PM to 11:00 PM (PDT)
Event Details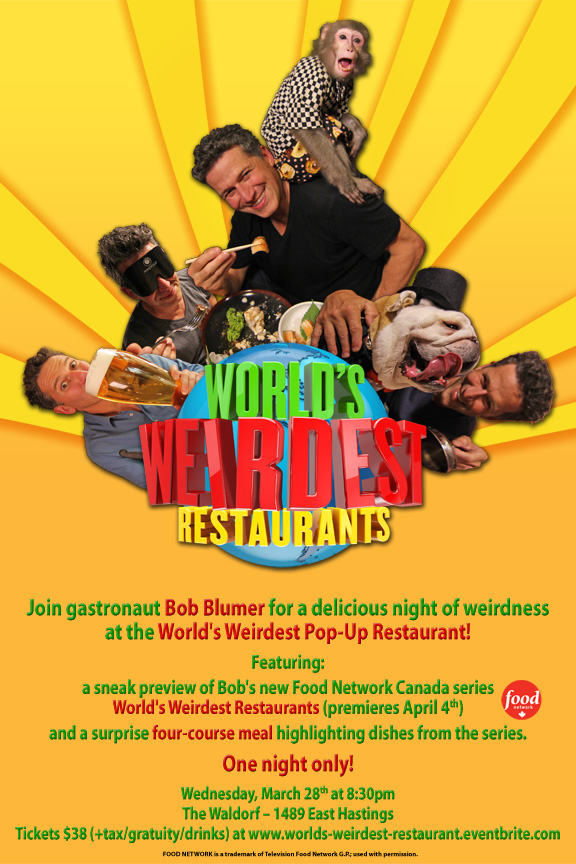 Take a walk on the culinary wild side with a limited edition, one night only World's Weirdest Pop-Up restaurant created by gastronaut and Food Network Canada host Bob Blumer. The pop-up coincides with the launch of Bob Blumer's new series "World's Weirdest Restaurants," a 13 episode series that sees Bob visit the world's most off-the-wall restaurants. In celebration of the launch, Bob brings several of these crazy concepts to life at for the World's Weirdest Pop-Up at Vancouver's Waldorf Hotel on Wed., March 28. 
Come find out what it is like to eat blindfolded, and sample curry straight out of a toilet bowl (!). Bob worked alongside Executive Chef Cesar De La Parra and Creative Director Ernesto Gomez to develop the four course menu which will be executed by the Waldorf's kitchen team. As part of the festivities, Bob will take diners through each crazy course and provide several sneak-peeks of the new show.
 
Tickets for this exclusive event are $38, which includes a four-course meal. Drinks, taxes, and tip are extra. 
"World's Weirdest Restaurants" is a global extravaganza of off-the-wall eateries, crazy characters and extreme cuisine - all served up with side order of "weird." Join gastronaut and host Bob Blumer on his madcap quest to find the world's wildest and wackiest restaurants. Produced by Paperny Entertainment, "World's Weirdest Restaurants" airs Wednesdays at 9:00 p.m. and 9:30 ET/PT starting April 4 on Food Network Canada. 
Get behind-the-scenes show info on Facebook  or follow the action on Twitter 
Paperny Entertainment Inc. is an independent, Vancouver-based production company run by partners David Paperny, Audrey Mehler, and Cal Shumiatcher. It has garnered worldwide acclaim for its provocative, innovative, and entertaining television programming. From groundbreaking documentaries to reality television series to lifestyle programming, Paperny Entertainment excels in capturing the essence of human stories. 
East Vancouver's Famous Waldorf is a historic 64-year-old hotel re-imagined as a creative compound where contemporary art, music, food and culture convene under one roof.  With unique spaces such as our famous Tiki Bar, special events, unique spaces, great food and hospitality. There's always something happening at The Waldorf.
Please note: The secret menu is non-vegetarian and that substitutions are not possible. If you have any allergies or special dietary needs, please contact the Waldorf Hotel.
When & Where
1489 East Hastings
Vancouver, V6H 3N9
Canada

Wednesday, March 28, 2012 from 8:30 PM to 11:00 PM (PDT)
Add to my calendar