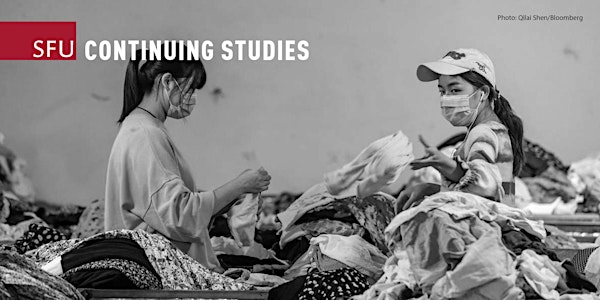 Worn Out: Clothing, Consumption and Climate Change
Join SFU's Liberal Arts & 55+ Program for a free lecture on November 25.
About this event
Each morning every one of us gets dressed, an activity that can range from the perfunctory to an elaborate act of self-expression. Clothing is necessary to our lives, but the clothing industry is contributing to climate change. We will explore the environmental impacts of the clothing industry, as well as some of the complex issues that drive overconsumption, including the dual role that fashion plays as both a social marker and a commodity. We will also look at how we as individuals can work together for collective change by shifting our relationship to the clothes we wear.
This lecture is presented by the SFU Liberal Arts & 55+ Program.
Lecturer
Jess Montgomery is a Vancouver-based writer, educator and public speaker. She holds an MA from San Francisco Art Institute. An abridged version of her thesis was published in the peer-reviewed journal Clothing Cultures in 2020. She has spoken widely on issues related to ethical fashion and the impacts of overconsumption, including her talk "How Your Clothes Can Save the Planet" for TEDx Chilliwack in 2019. Jess is also an editor for The Critical Pulse Magazine, an online publication dedicated to building and empowering an ethical and sustainable fashion future.