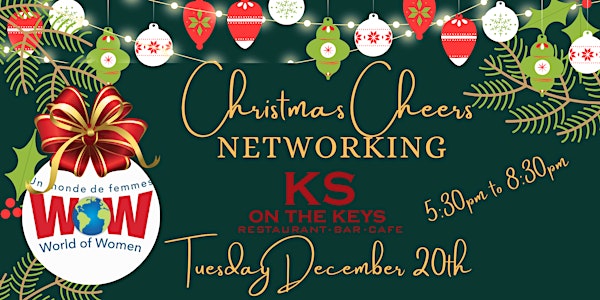 WOW Ottawa Christmas Cheers Networking
Ladies, Join us this Holiday Christmas Cheers WOW Networking event Tuesday December 20th at KS on the Keys from 5:30pm to 8:30pm
By WOW-OTTAWA, Women Helping Women
Date and time
Tue, Dec 20, 2022 5:30 PM - 8:30 PM EST
Location
KS on the Keys 1029 Dazé Street Ottawa, ON K1V 2G3 Canada
About this event
Join us for the WOW Ottawa Holiday Christmas Cheers Networking event - Dec 20, 2022 at the KS on the Keys Restaurant Bar & Grill  (Party & Networking 5:30pm - 8:300pm) --
be sure to bring your business cards to share with everyone
and a gift exchange (Value $20) Wrapped with No Name on it!
Free admission (with or without ) optional donation to the Single Women's Shelters. ( Cash, gifts Cards ,Non-perishable foods and/or gently-used winter clothing will be accepted and dropped off the following day)
Dinner (Food , Drinks ) at your cost!
Itinerary for the evening.
5:30pm Welcoming the group and accepting optional donations (Drop off Gift Exchange for a FUN game! )
6:00pm Everyone has ordered their food and are mingling with everyone ! ( Start the one minute Introduction with half the group )
6:30pm Receiving our plates , enjoying dining together and more mingling and getting to know each-other ! (Continue the one minute Introduction with the other half the group )
7:00pm Finishing our Christmas Cheers Diner and preparing for FUN Games and Activities to get to know more about your Business!
8:00pm Gift Exchange GAME with WOW Founder Carol - Chantal & WOW Ambassador Tina Lalonde
***WOW World of Women is a Social Networking group for Empowered Women Entrepreneurs, owned by women, and created to promote connection, and heart centered relationships.
You will find the group to be inclusive, welcoming, warm and friendly. We cater to women of all age groups and backgrounds, and we love meeting new people! At each Networking event (held monthly), any woman in the Ottawa & Surrounding Areas are Welcome to attend - whether you are an entrepreneur, or not!
If you're looking to expand your network, make new friends, learn new things, or grow your business - be sure to Join WOW!
FOR this Specific event , you must of attended at least Once a virtual or Face to Face event in order to get a FREE ticket!
This WOW Christmas Cheers Networking event is FREE to attend , Dinner (Food , Drinks ) at your cost!
with optional donations as above stated for the Single Women's Shelters
Let's get together WOW Ladies and have Fun this Christmas Holiday & Celebrate the end of the Year 2022 together !
Please reserve your space via Eventbrite!
** Photos: there may be photos taken at the event and posted to social media. If you do not wish to have your photo taken or shared, please let us know and we will refrain from doing so.
**Attendance is open to all WOW Ambassadors , WOW Members and the General Public who have participated online or face to face to at least ONE event in the past to attend this Special Celebration!
FREE admission with optional DONATION. Gift Exchange Wrapped with no name (Value $ 20) Dinner at your cost!
#worldofwomen #wowottawa #networking
About the organizer
WOW - World Of Women is a women's social network in the Ottawa region. 
We share information and ideas with the goal of strengthening and developing ourselves, and if applicable, our business activity.

We offer an inclusive environment open to women of all ages and backgrounds, which cultivates friendships, and enriches our personal lives as working women through support, mentorship and community development.

Become a WoW Ambassador today and experience the benefits of WOW!