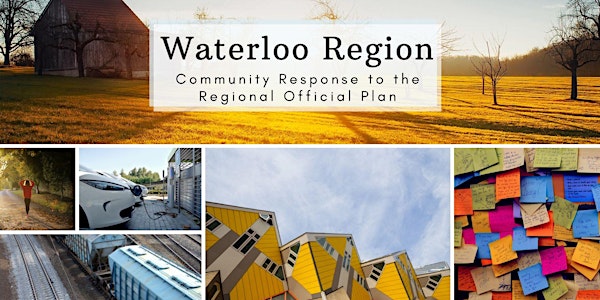 WR Community Response to the Regional Official Plan (Planning Meeting
We need to ensure that more people are aware of what is being planned for our community and future.
About this event
We need to ensure that more people are aware of what is being planned for our community and future. We need more people to speak up and help determine the future we want.
Our new Regional Official Plan (ROP) for the next 30 years is nearing completion. This detailed planning document determines where and how we will grow, what we will protect, what we will destroy, and, significantly, what the likelihood of reaching our GHG emission reduction targets (50% by 2030) will be with this plan.
Concerns at this point include:
Lack of public consultation and engagement,
Significant farmland loss,
Our environment and climate change,
Housing choice, location and affordability,
Employment lands and locations,
Transportation and active transportation
Unreasonably short timelines for feedback
We need to ensure that the new Regional Official Plan is just as bold and visionary as the previous one, which was responsible for iON Light Rail Transit, the Countryside Line, our Protected Countryside and many other things that were leading edge, innovative planning at the time.
We must make sure that our elected officials and municipal staff hear not only from developers and land speculators who have property in our region, but also from members of the community sharing their values and vision for the future.
Suggested Actions:
Schedule a meeting with your Municipal or Regional councillor.
Send a letter or email to clerks, Regional Chair, Regional Councillors and Regional planning staff.
Write an op-ed or letter to the editor of your local newspaper or community newsletter.
Talk with your circle of friends and family, networks at work and in your neighbourhood and encourage them to participate too.
Register to delegate at the Planning and Works public meeting scheduled for June 22nd at 1:00 pm. Regional Staff will soon release the Recommended Growth Option that will determine so much of the future approach of the Region of Waterloo for the next 30 years. This will be a critical opportunity for members of the community to influence action on climate change.
Please pass this e-mail along to other people and groups that would be or should be interested?
Because of all our efforts and because our Municipal councillors are requesting additional time to respond with their thoughts, and because the Region is coming up with an OPTION 5, the Region of Waterloo has postponed the June 22nd announcement of the recommended Growth Option until Wed, June 29th.
----------------------------------
A) Upcoming Dates To Remember:
Friday, June 24th - Release of Regional Staff ROP Report, the Recommended Growth Approach, the Financial Analysis, the GHG Analysis, and Infrastructure Analysis
Wednesday, June 29th - Regional Council Meeting for Staff Recommendation on Recommended Approach to Growth and Regional Council Decision - many delegations from across our community could be very important at this meeting depending on the recommended approach released on June 24th
Wednesday, July 20th - Regional Public Open House on Recommended Growth Approach
Wednesday, July 27th - Formal Public Hearing on the Regional Official Plan Update
Thursday, August 18th - Final vote and approval of the Regional Official Plan until 2051
Wednesday, October 26th - Municipal Elections
B) Learn More About the Regional Official Plan
Learn more at the Engage Waterloo Region Website: https://www.engagewr.ca/regional-official-plan
Regional Staff is expected to present a preferred Growth Plan at the June 15th meeting which could either be a progressive option with intensification and no farmland loss or a regressive option resulting in thousands of acres of farmland destroyed forever. We all need to speak up for the best possible outcomes - particularly if we are to meet any of our climate change goals.
As outlined in this document it is felt that all three options are insufficient and overly complicated. A 4th Growth Option has been proposed and we hope that you will speak up in favour of it with its simple intensification approach, consistency with the Smart Growth path we are already on, and no farmland loss.
C) Outcomes from Municipal ROP Special Meetings and Recommendations/Resolutions to the Region of Waterloo
1) Wellesley Township - after two Staff Reports and two Special Council Meetings Wellesley Council approved a very progressive Staff Report calling for more intensification, higher density, more sustainability efforts, more of a focus on the future needs of their existing citizens and only 20ha of farmland loss for the next 30 years.
2) City of Kitchener - after two good Kitchener Staff Reports and four Special Council Meetings (with a fifth meeting still anticipated for June 20th or 27th) it was extremely disappointing to see the Staff Reports ignored and most of the progressive motion put forward by Councillors Chapman and Marsh gutted and a motion by Councillors Davey and Singh calling for farmland loss, greenfield expansion, an adjustment of the Countryside Line, further destruction of sensitive groundwater areas, and a potential population allocation increase be approved by the majority of Kitchener Council. This is a significant step backwards, will do little to address housing affordability, and could negatively impact the core redevelopment and intensification that Kitchener had been doing so well.
3) Wilmot Township - after three Special Council Meetings Wilmot Councillors voted for a very progressive motion based on the Smart Growth principles of Option #4 focussed on no farmland loss, more intensification, higher density, a future intensification study, and numerous other progressive concepts.
4) North Dumfries Township - despite strong delegations, North Dumfries Councillors chose to stick with their Staff Recommendation for Option #2 that would see a minor amount (59ha) of farmland loss for growth over the next 30 years. We tried to advocate for less farmland loss, rehabilitating gravel pits for employment lands, and intensification. However one Councillor seemed to sum it up the best - that with almost every acre of farmland in the Township already targetted for aggregates, losing farmland to housing would be a welcome change as they were bound to lose it one way or another.
5) Woolwich Township - it was fantastic to see Woolwich Councillors decide against Option #2 and its considerable greenfield expansion/farmland loss and instead draft a motion consistent with the principles of Option #4 for no farmland loss, higher intensification, more complete communities, more time, and more consultation/engagement. Every single Councillor cited the climate and food crisis and the fact that they just can't justify destroying farmland anymore despite the hundreds of acres of expansion they were being offered by the Region.
6) City of Waterloo - not only did City of Waterloo Staff draft an excellent Staff Report calling for greater intensification, no farmland loss, and cautioning about too much density near environmentally significant areas, their Councillors further added additional recommendations to the Region emphasizing the need for bold, visionary leadership, strong climate solutions, and the need to continue to base the ROP on the strong Smart Growth principles the City of Waterloo is working to achieve. It was a fantastic show of leadership by Mayor Jaworsky and every single City of Waterloo Councillor and a significant contrast to the sprawl, farmland loss, and destruction approved at the City of Kitchener meeting that had just happened a few hours earlier.
7) City of Cambridge - Cambridge Staff have decided not to issue a Staff Report or bring anything to their Council leaving it to Cambridge Councillors and citizens to communicate directly to the Region, missing out on the important discussions and future planning happening in all the other local municipalities.
D) Write all Regional Councillors at: regionalcouncillors@regionofwaterloo.caOr contact individual Councillors at:
Karen Redman (Regional Chair) - kredman@regionofwaterloo.ca
Kathryn McGarry (Mayor, Cambridge) - kmcgarry@regionofwaterloo.ca
Karl Kiefer (Regional Councillor, Cambridge) - kkiefer@regionofwaterloo.ca
Helen Jowett (Regional Councillor, Cambridge) - hjowett@regionofwaterloo.ca
Berry Vrbanovic (Mayor, Kitchener) - bvrbanovic@regionofwaterloo.ca
Tom Galloway (Regional Councillor, Kitchener) - tgalloway@regionofwaterloo.ca
Geoff Lorentz (Regional Councillor, Kitchener) - glorentz@regionofwaterloo.ca
Michael D. Harris (Regional Councillor, Kitchener) - mharris@regionofwaterloo.ca
Elizabeth Clarke (Regional Councillor, Kitchener) - eclarke@regionofwaterloo.ca
Dave Jaworsky (Mayor, City of Waterloo) - djaworsky@regionofwaterloo.ca
Jim Erb (Regional Councillor, City of Waterloo) - jerb@regionofwaterloo.ca
Sean Strickland (Regional Councillor, City of Waterloo) - sstrickland@regionofwaterloo.ca
Les Armstrong (Mayor, Wilmot Township) - larmstrong@regionofwaterloo.ca
Joe Nowak (Mayor, Wellesley Township) - jnowak@regionofwaterloo.ca
Sandy Shantz (Mayor, Woolwich Township) - sshantz@regionofwaterloo.ca
Sue Foxton (Mayor, North Dumfries Township) - sfoxton@regionofwaterloo.ca(
(**Information from Kevin Thomason)
Sincerely,
50by30WR