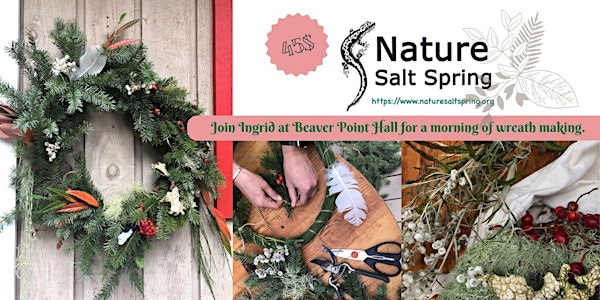 Wreath Making with Nature Salt Spring
Nature Spring Fundraiser. Making wreaths from natural materials on hand made wreath forms at Beaver Point Hall.
When and where
Location
Beaver Point Hall 1361 Beaver Point Road Salt Spring Island, BC V8K 1W9 Canada
Refund Policy
Refunds up to 1 day before event
Eventbrite's fee is nonrefundable.
About this event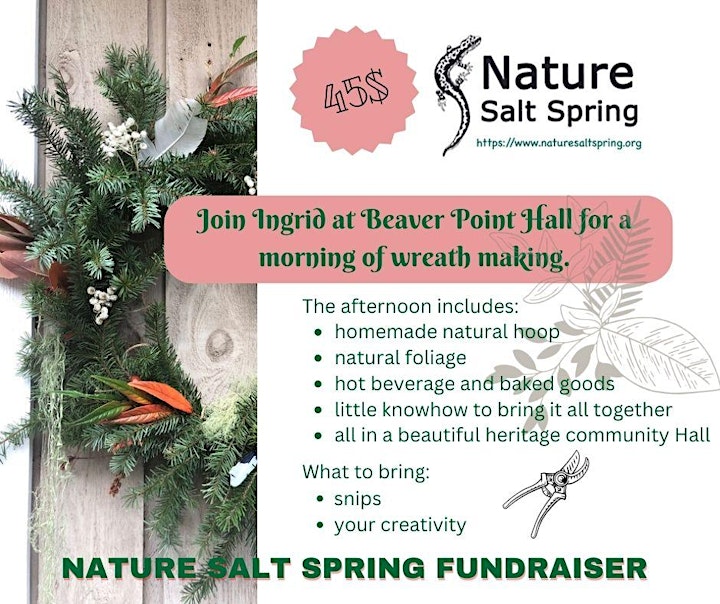 Making Wreaths With Natural Materials Workshop
Beaver Point Hall
Saturday December 10, from 9:30am to 12:30pm.
A fun workshop led by designer/artist/bush-crafter Ingrid Mertens, for making seasonal wreaths with 'attractive' 'traditional' species like Holly and Hawthorne Berries, as well as local native plant species harvested non-destructively from wind-fall, etc.
You start with a supplied circular 'frame' and compose your own wreath with materials supplied and/or additional materials you bring. Costs will be $45 for each wreath you make (to cover hall rental, supplies and instruction).
Co-sponsored by Nature Salt Spring and the Salt Spring Native Plant Stewardship Group. This workshop will also include great opportunities to learn more about native and invasive plants.
All Wreath making materials and frames will be provided. All materials are hand gathered by Ingrid. All wreath forms are hand made by Ingrid.
During the workshop not only will you be making wreaths but Ingrid will also be teaching and sharing her knowledge of the native and introduced plants she has harvested. No artificial decorations will supplied.
Come with your children, grandchildren, grandparents, siblings and besties. The charge is per wreath made, not per person.
Materials
All wreath forms will have their unique shape. They are handmade by Ingrid using a variety of plants from the local landscape. Plants are harvested with the overall health of the landscape in mind in a caretaker manner. Many of the wreath forms are made with scotch broom, himalayan blackberry, english ivy, willow and red osier. The willow and red osier are harvested from roadside ditches slated for trimming by road maintenance crews.
Decorative materials are also harvested in a caretaking manner.
Greenery is harvested from situations where the branches have already been removed from the tree by wind or by people. No greenery will be removed from the landscape unless it is deemed a benefit to the overall landscape.
Decorative elements such as dried seed pods, lichens, branches etc are harvested off the forest floor. Live plants are trimmed from areas slated for clearing.
Jute twine will be provided for those who wish to use it but instruction will be given on how to make the wreaths with only the materials harvested. No wire, plastic, glue or artificial decorative elements will be provided.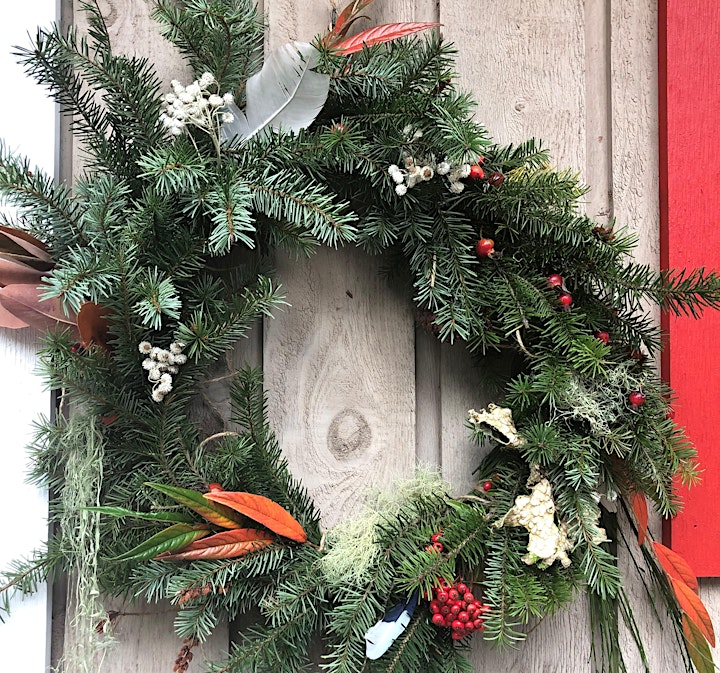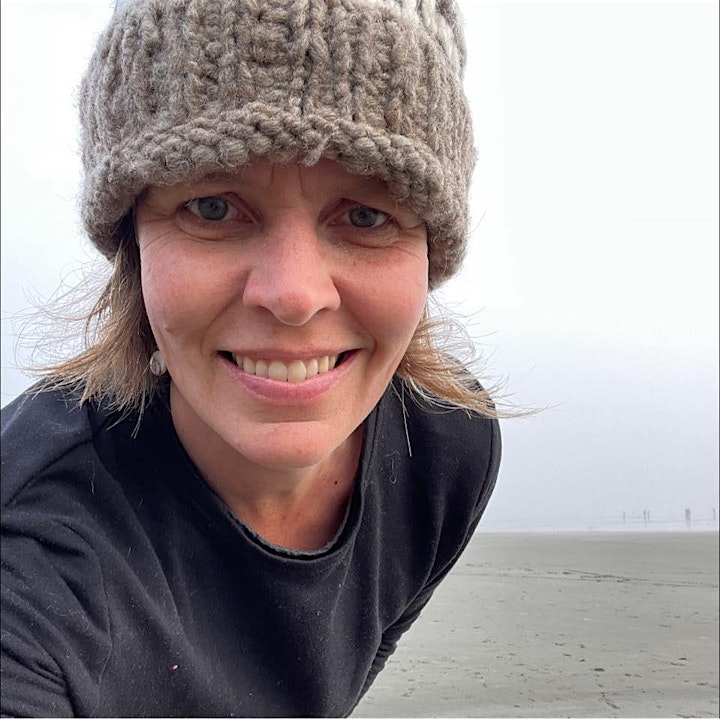 A bit about Ingrid
Bushcrafter: a person who makes beautiful utilitarian objects with natural materials harvested off the landscape in a caretaking way.
Ingrid: "I have been an active bushcrafter for the past decade. I have learned most of my bushcraft skills through my time at Tom Brown's Tracker School in New Jersey. Through 1000's of hours of "dirtime" I have learned an enormous amount about plants and landscape and how we can relate in a caretaking way."
See my work here: https://www.instagram.com/bushcraftingsoccermom/
"Professionally I have always worked in two fields; Interior Design and Education. As a designer I have worked for myself as well as for design firms. I bring this design expertise to the wreath making workshop and will discuss some design principles to help guide the wreath making process. As an educator I have held workshops for adults, camps for kids, owned and operated a nature play based daycare and currently work as an EA at Evergreen Independent School in Cobble Hill."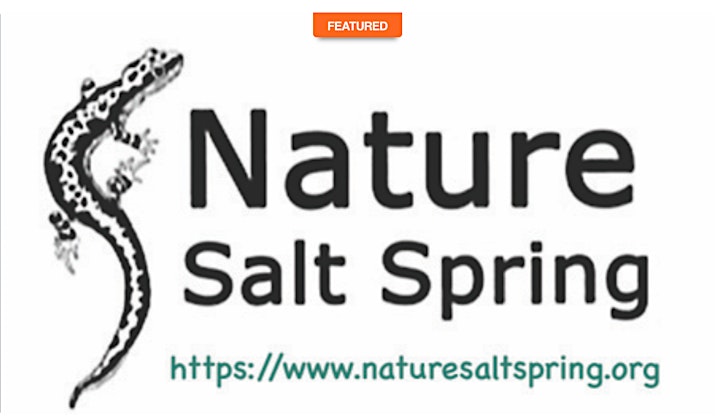 https://www.naturesaltspring.org/
WHAT IS NATURE SALT SPRING?
Nature Salt Spring is a new organization with a goal to deepen the connection of all Islanders with nature. It grew out of our concerns about the Climate and Biodiversity Crises, and our recognition that healthy, sustainable human societies can only grow and flourish if citizens are committed to understanding, enjoying and protecting the ecosystems and biodiversity that support us and all life on the planet.
WHERE WE LIVE
We acknowledge the un-ceded territory and ancestors of Coast Salish First Nations of Salt Spring Island and surrounding areas who continue to use and steward the lands and waters of the Salish Sea.
These include the Quw'utsun Tribes (Cowichan), Spune'luxutth (Penelakut), BOḰEĆEN (Paquachin), MÁLEXEȽ (Malahat), SȾÁUTW̱ (Tsawout), W̱JOȽEȽP (Tsartlip) and W̱SIḴEM (Tseycum) nations.
WHAT WE DO
Nature Salt Spring will provide a wide array of presentations, events, and 'hands-on' nature explorations and study about nature – for a diverse audience including adults of all ages, families, children and youth. Our programs will complement and extend the offerings of the Salt Spring Island Conservancy and the Salt Spring Trail and Nature Club to provide more opportunities for everyone on our Island to become more connected with the Island's natural biodiversity and ecosystems.
LINKED TO BC'S UMBRELLA NATURE ORGANIZATIONS
We are already affiliated with BC Nature and Nature Kids BC the leading umbrella organizations serving nature clubs and family/children nature-based programming all across the Province.
VISION
A Gulf Island Region where natural ecosystems are valued, protected, restored, studied and explored by all members of the community.
MISSION STATEMENT
To inspire, inform and empower people to value, understand and protect local ecosystems and biodiversity.
OUR VALUES
Collaboration
Education/Sharing
Wonder/Enjoyment
Advocacy for Nature
Reconciliation
Participatory/Inclusion