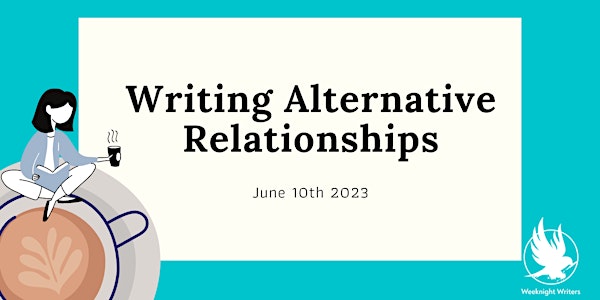 Writing Alternative Relationships: Polyam, Queer-Platonic Partners & More
Writing Alternative Relationships: Polyamory, Queer-Platonic Life Partners & More: an in-depth discussion about writing queer relationships.
By Weeknight Writers Group
Date and time
Sat, Jun 10, 2023 10:00 AM - 12:00 PM PDT
Refund Policy
Contact the organizer to request a refund.
Eventbrite's fee is nonrefundable.
About this event
Writing Alternative Relationships: Polyamory, Queer-Platonic Life Partners & More: an in-depth discussion about writing queer relationships. This is the first in what we're hoping will be a series of Writing Roundtables where we facilitate in-depth conversations about important writing topics that don't fit into our regular Storycrafting Sessions.
How it works
The Writing Roundtables will run on Zoom and use a Q&A format similar to our regular Storycrafting Session panels, with the first half devoted to moderator questions and the second half devoted to audience questions.
The key difference is that instead of one hour, the Writing Roundtables will be a full two hours long, with a five minute break in the middle so people can stretch/refill their drinks/go to the bathroom. This will give us time to tackle topics in more depth and answer more audience questions than we can in a regular conference panel.
We're also thrilled to say that this event will be sponsored by our friends over at Renaissance Press, so there will be live captions during this panel.
This panel will be recorded for eventual publication to our YouTube channel: https://www.youtube.com/@weeknightwritersvirtualeve8181.
Moderated by Dianna Gunn and Jade Benjamin
The panelists
Jean M Hodges has worked as a graduate student editor of Fairleigh Dickinson University's prestigious literary journal, The Literary Review, as well as having past experience as a publishing intern for the Sojourn Magazine of Stockton University (2016), winner of the Joseph Courtier Fiction Award (2018) for her urban fantasy short story, The Monster And the Itch, as well as being a featured article writer for The Comics Journal (2020-present).
Rosiee Thor began her career as a storyteller by demanding to tell her mother bedtime stories instead of the other way around. She spent her childhood reading by flashlight in the closet until she came out as queer. She lives in Oregon with a dog, two cats, and an abundance of plants. She is the author of Tarnished Are The Stars (Scholastic), Fire Becomes Her (Scholastic), The Meaning of Pride (Versify), and Life is Strange: Steph's Story (Titan).
Ashia Monet is a novelist and essayist from Pennsylvania. As a lifelong fan of myth and poetry (especially Sappho), her fantasy novels, including THE BLACK VEINS, explore various forms of magic and monsters. If she is ever missing, please search for her in tiny coffee shops, at home playing video games—or, perhaps, on a sudden trip to a city she mentioned being interested in approximately once. Online, she's @ashiamonet on Twitter and @ashiawrites on Instagram and Tiktok. Her website is ashiamonet.com.
Sagan Morrow is a multi-passionate creative and author of polyamorous romantic comedy novels. She shares the behind-the-scenes scoop about her writing journey in the Indie Author Weekly podcast. The Polyamorous Passions series is her first foray into fiction, with 7 novels currently published in the series. Polyamorous Passions follows the lives of three best friends as they each embark on their own journeys into consensual non-monogamy. Books 1—3 focus on Emma, Books 4—6 focus on Helen, and Books 7—9 focus on Scarlett.
How to get in free
Want to participate in this event but don't have the $10? You can get a 100% discount code by signing up for our newsletter at https://businessforauthors.com/weeknight-writers (may need to pause AdBlock to see the form).