Event Information
Refund Policy
Refunds up to 7 days before event
Description
How to Write Your Story
You have a book you want to complete and share with the world. We are here to ensure you achieve that. This is a practical workshop where you will make progress. Through both group discussions and exercises as well as one-to-one supports we will let you know what you need to get your book out there.
Do you have an idea you have been working on, but you aren't sure how to develop it into a book?
Are you feeling overwhelmed at the whole idea of completing a full writing project?
Do you want to know how to gauge the quality of your work and learn self-editing strategies?
Are you confused about the best way to get your books published: should you self-publish or go the trad route?
If you are asking yourself any of these questions, then this event is definitely for you!
An Information-Packed Hands-On Workshop for Writers
This is a full day, hands-on workshop for writers. We'll do exercises as a group and there will be opportunities to work one-to-one with our writing and publishing experts. The action- and information-packed day will run like this:
09:30 - Welcome - grab a coffee, tea, light snack and meet some fellow writers.
10:00 - Introductions.
10:15 - Caroline presents storyboarding as a valuable and creative planning tool. She focuses on the creativity of writing and how to get your first draft done. However, storyboarding is such a robust tool it can help you with editing through to final manuscript. Caroline will show how you can use a storyboard to work through problem areas with your editor.
11:00 - Workshop on storyboarding and opportunities for one-to-one discussions on your project.
12:00 - Lunch
1:00 - Jackie talks of what to do after that first draft is complete. This includes the directed rewriting, the value of writing circles, and when to bring in a professional editor -- plus what type of editor do you need? This part of the writing project engages a different part of the brain. You are creating a product for your reader. Covers, titles, self-publishing vs traditional publishing -- just how DO you make these vital decisions? How much does it cost to self-publish? And what exactly IS an author platform, anyway? Find out during this lively talk -- then we talk implementation.
2:30- Anna talks about traditional publishing and what she, as a Literary Agent, looks for in pitches, queries, and proposals. Just how do you get an agent interested in your book? There will also be time to discuss your project with Anna.
4:00 - Closing and more time to talk one-to-one with Jackie, Caroline, and Anna.
Practical Support and Profession Insights
Bring your work in progress (WIP) with you -- whether your WIP is just at idea stage or it is a manuscript at any stage of completion. You will gain so much insight through the presentations and discussion and will have opportunities to speak 1:1 with any or all of the presenters. You will leave with greater knowledge and confidence about the writing process and with more connections in the publishing world. We will guide you with practical supports on outlining, writing, editing, and publishing strategies.
A lovely catered lunch, snacks, refreshments, and full workbook are included.
Meet the Team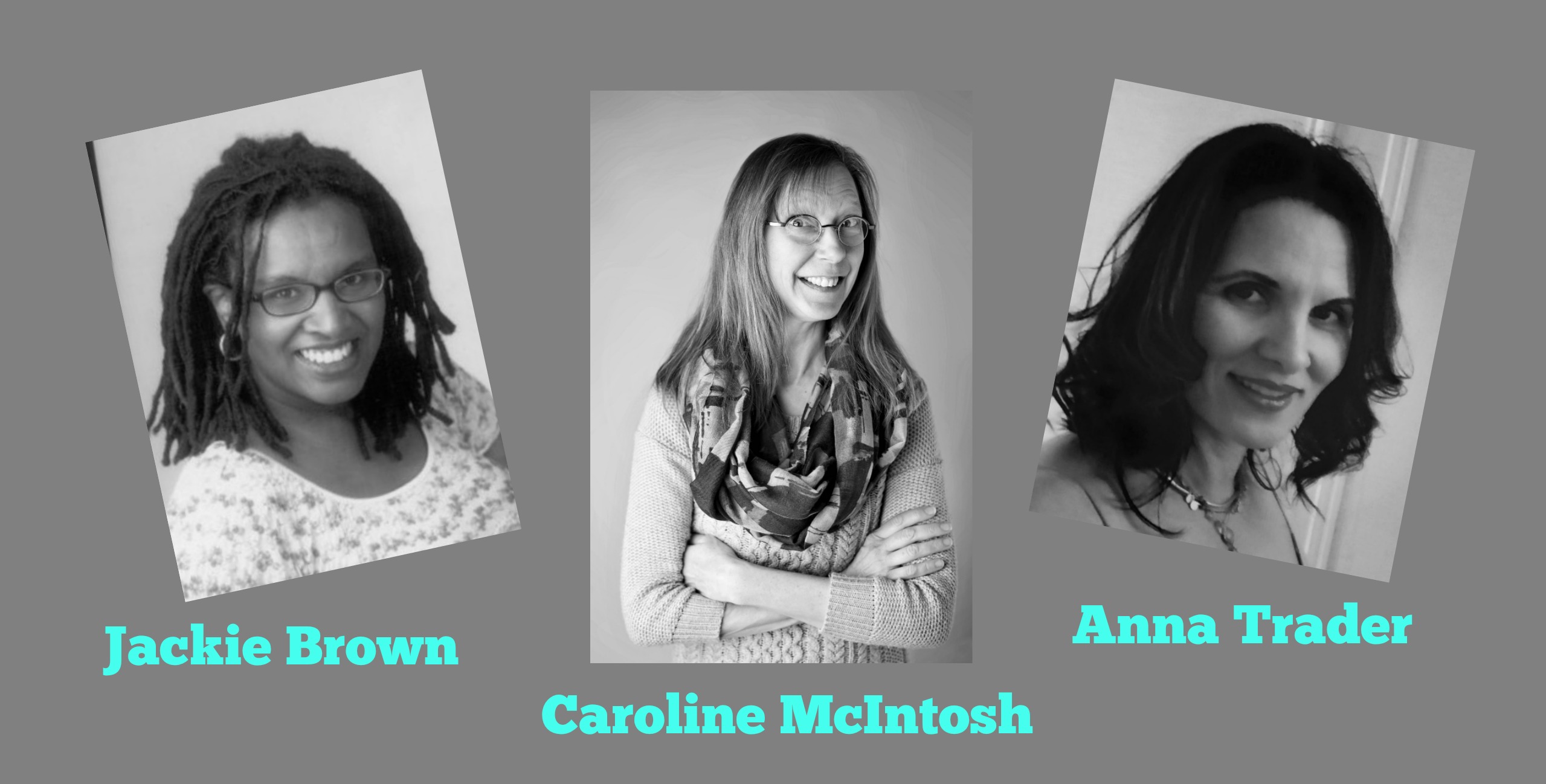 Jackie Brown
Jackie has been working in the publishing business for over 25 years. She started out working on academic science titles within the UK's University of London where she edited and wrote books about human exposure to toxins. Since moving back to Canada, she worked with Canada's largest educational publisher on K-12 non-fiction products and is now in the midst of a big K-12 project for a US publisher. Through her previous work with Toronto's The Right's Factory, she became an avid editor of fiction and continues to work as an editor and writing coach in all genres. Jackie supports writers through the Durham Writing Society writing group, she has just completed a two-year term as a board member of the Writer's Community of Durham Region (WCDR – Durham's 300-member strong resource for writers), and is an experienced workshop presenter and facilitator. She also guides writers through the self-publishing process.
Jackie is the author of a Silver Birch nominated best-selling children's book and now publishes Outfox Magazine, a monthly print publication for children with autism. She is happy to announce that she will be launching a new book, How to Write Your Story, at the end of July. Discounted copies will be available for purchase at the workshop. Jackie lives in Oshawa, Ontario and when she isn't editing books she is watching MasterChef with her four children or searching for beautiful fabrics to transform into quilts.
Caroline McIntosh
Born and raised in England, Caroline McIntosh travelled to Canada to become a nanny. She loved to ignite the imagination of her young charges through reading them stories, including the dynamic British classics by Beatrice Potter. Seeing the delight on their faces was enough to reinvigorate Caroline's own love of writing and storytelling. Caroline started writing, becoming a published author of children's and young adult fiction. Her most recent work is called To The Transplant Games. It explores the lives of three teens as they battle with organ transplant. Caroline lives with her husband and son in Whitby, Canada.
Anna Trader
In her previous career, Anna worked at the New York office of Consumer Reports Magazine in various capacities, including assisting with the launch and maintenance of Consumer Reports' website. While working full time, she earned an MBA in Human Resources at Iona College, and years later left the big city to work with attorneys and court reporters as a general manager for a national court reporting company in West Palm Beach. Each of her jobs in her varied career has opened her to the variety of life's experiences and allowed her to find new and interesting ways to improve her business knowledge, experience, technology, creativity, and editing skills, all to the benefit of her clients.
Anna's love for literature has sustained her spirit throughout her life. She is certainly reading a book (or two) when she isn't with her young daughter. Like her life, she has an eclectic approach to literature, moving easily between general fiction, historical fiction and non-fiction, including health, mind & body and children's books. Recently, to sharpen her publishing skills, she completed her graduate certificate in publishing at Centennial College in Toronto and began working with The Rights Factory, first as an intern, then as an Agency Assistant. She is now working on building her own client list, with an interest in the following: General Fiction, Health & Wellbeing, Lifestyle, Memoir, Middle Grade, Mystery, Thriller, and Women's.
FAQs
Are there minimum age requirements to enter the event?
This event is for adults, however, if you are a mature teenager, please contact the organizer to discuss.

What are my transportation/parking options for getting to and from the event?
The Durham Corporate Centre is minutes from the 401 - Thickson exit. Free parking is available.
The venue is close to the Whitby GO Train station, less than a one-hour train ride from Toronto's Union Station. We can arrange transport to and from the Whitby GO Station.
What can I bring into the event?
Please bring your works-in-process; perhaps your laptop. We will provide a workbook to guide your notetaking.
How can I contact the organizer with any questions?
Please contact Jackie Brown at jackie@jackiebrownbooks.com or by telephone 647 983-7686 should you have any questions, including dietary restrictions or preferences.
How are you planning to get to the event?
Join other attendees from your area and ride together
Find a ride
Date and Time
Location
Refund Policy
Refunds up to 7 days before event