Join Leah Rimmer for a candid discussion about striking the right work-life balance, while managing the expectations of both.
About this Event
When: Wednesday, October 28, 2020 from 4:00pm to 5:30pm
Where: Via Zoom (a link will be emailed to you at 12:00pm on the day of the event)
The line between our personal and professional lives continues to blur by the day. Our work emails and messenger platforms are on our personal devices, pinging us with notifications at all hours of the day – even on weekends. For many of us, our offices are now steps away from our bedrooms, and the expectation to get the job done – and done well – means we are often working outside of what our contracts stipulate to meet multiple deadlines, all to get ahead.
This is definitely nothing new; but it has certainly been perpetuated by the ongoing COVID-19 pandemic and is not talked about enough.
And, there's another job that many of us have – parent, partner, guardian, cook, soccer coach, homework editor, volunteer on the PTA, and more – that is 24/7, and deserves just as much, if not more, attention than what we're giving it.
Sound familiar?
Striking a balance between your personal and professional lives is such an important part of our overall happiness and wellbeing, but it's a topic we seldom address as we try to manage the sometimes duelling expectations of our work and family lives.
In this Women Taking Over The World with Tech session, sponsored by RBC, Leah Rimmer, will lead an engaging discussion on ways to strike the right balance between our working lives and our personal lives.
Some discussion items include:
– "Having it all" – what does that mean? What does it mean to YOU?
– The power of a word – why I banned the word "sorry" and why you should too
– Efficiency + Empathy + Energy = Excellence
– Delegate and Appreciate – ask for help and love the heck out of those who help you
Join us on Wednesday, October 28 from 4:00pm to 5:30pm for a candid discussion about Striking the Right Work-Life Balance.
About the Facilitator, Leah Rimmer: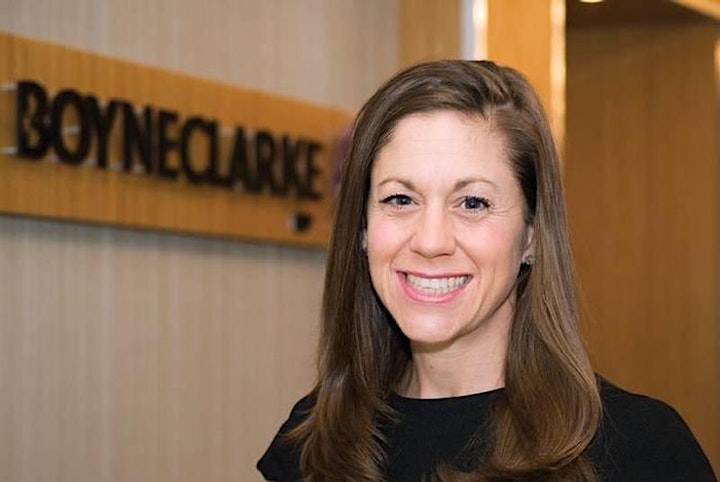 Leah is a mother of four awesome kids (12,9, 7, and 5), a wife, daughter and friend as well as a partner at Dartmouth's BOYNECLARKE LLP. Leah has a busy legal practice encompassing all areas of corporate law and business. She was recognized by Best Lawyers 2021 in the areas of Corporate Law and Mergers and Acquisition Law. Her approach to client service is unique and personal and the relationships she has built with her clients, most who are small-medium business owners, is the cornerstone of her professional success.
Leah is further committed to making physical activity part of her daily life and as well as her family life. From long-distance running to walking her Australian Labradoodle, Mac, she believes that being outside and moving is the best way to stay healthy and get the most out of life; and it is always better with friends. She is dedicated to building a safe, active and social environment in her Central Halifax community and is a dedicated member of the LeMarchant St-Thomas Elementary Home & Social Association where she serves on the Executive Committee in a Communications role. She also serves on the Development Committee of the Board of the IWK Foundation.
A further passion is lifting up other women and inspiring others to set their own goals. Her belief is you can "have it all" (while actually strongly disliking that phrase) so long as you know what success means to you and chart your own course. She further believes kindness and empathy are as important in business as hard work and determination, and tries to apply these traits in all she does.