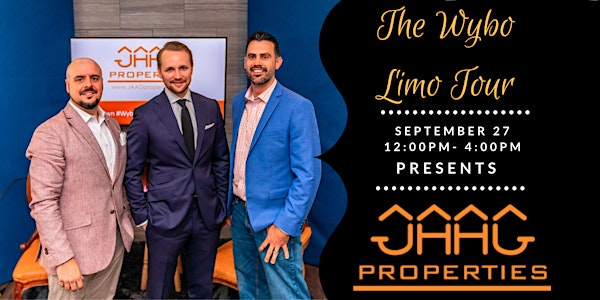 Wybo Limo Presents JAAG Properties (Virtual Event)
In partnership with JAAG Properties, we are excited to announce this virtual FREE event where you will learn about the Rent To Own process!
About this event
The *virtual * Wybo Limo Tour presents JAAG Properties! This FREE event will be a deep dive into JAAG's Rent To Own program and much more.
On Sunday September 27 you will learn:
What is Rent to Own
Tenant Buyers
Benefits for Realtor and Brokers
Real life Rent To Own examples
Referral program
What makes Rent to Own different from other investing strategies
Why you should invest with JAAG
...and much more!
Who is JAAG?
JAAG Properties Inc. is a Canadian based company providing real estate options for home buyers and investors. JAAG Properties is dedicated to helping individuals work toward homeownership while providing exceptional investment opportunities for Investors. JAAG Properties offers solutions for individuals who may not currently qualify for a traditional mortgage.
The JAAG Properties team is made up of Real Estate Professionals, Brokers, Realtors, Lawyers, Credit Specialist and Property Managers. We are based in Ontario, Canada, and currently have offices in Burlington, London and Ilderton.