Xenia: Vocalise, Saturday July 29, 2017 10am
Description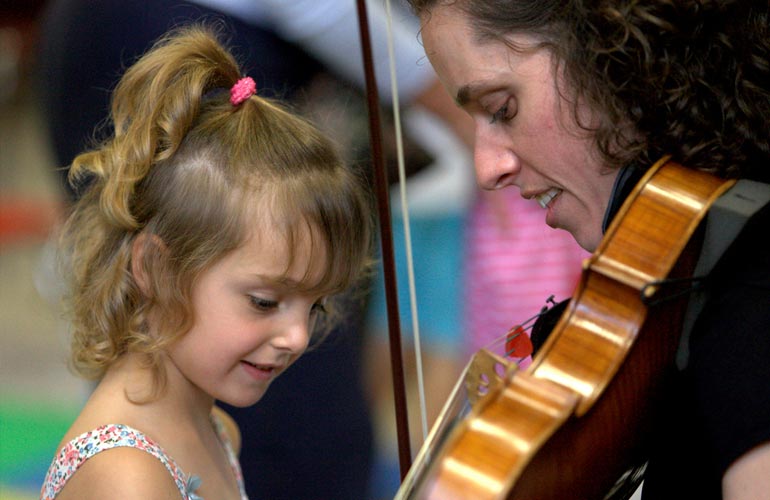 Xenia Concerts, with the Cecilia Quartet and Lawrence Wiliford, are specifically designed to be welcoming for children on the autism spectrum and their families; the concerts achieve this objective by eliminating many of the conventions associated with classical music performances including audience silence and stillness. Instead, Xenia Concerts welcome freedom of movement and conversational interaction between the audience and performers to help young audience members follow the musical storyline of a particular piece of music.
Artists:
Lawrence Wiliford, tenor
Cecilia String Quartet
Min-Jeong Koh, violin
Catherine Cosbey, violin
Caitlin Boyle, viola
Rachel Desoer, cello
Programme:
Purcell: Chacony in G Minor
Elgar: Chanson de Nuit (arr. Paul R. van der Reijden)
Elgar: Chanson de Matin (arr. Paul R. van der Reijden)
Purcell: Music for a While (arr. Marjan Mozetich)
Schubert: Ständchen from Schwanengesang D. 957 (arr. Marjan Mozetich)
Marjan Mozetich: On the Beach at Night
Marjan Mozetich: String Quartet No. 2, III. Elegy to Lost Friends
Ernest MacMillan: Two Sketches based on French Canadian Airs
Les Concerts Xenia, avec le Quatuor à cordes Cecilia et Lawrence Wiliford, sont spécialement destinés aux enfants atteints de troubles du spectre autistique et à leurs familles. Les concerts parviennent à cet objectif en faisant table rase des nombreuses conventions associées aux concerts de musique classique – le public se devant d'être calme et silencieux. Au lieu de cela, les Xenia Concerts prônent la liberté de mouvement, l'interaction entre le public et les interprètes de même que l'art visuel pour aider les jeunes spectateurs à suivre le scénario musical d'une pièce de musique.



Registration for this event will open at 10:30am on Tuesaday June 27, 2017. Spots will not be available until this time. Thank you.
Registration is open to children with ASD, their siblings, friends and caregivers only.
The Potential Programme has a no transfer of care policy and, as such, parents and/or caregivers are required to stay onsite for this event.
Please note: recently we have had a lot of families register for events and not show up. We understand that life and other things happen, but we ask for you to please understand that we purchase the tickets for these events and many families are unable to register because other families book and then do not use their tickets. If you book, please be aware of other families and, if you need to, please cancel any tickets that will not be used 48 hours in advance of the event date so that we can maximize the number of families who are able to particpate in our programs. Also, we have put a limit on the nubmer of tickets that are available per family on this event, we hope you understand. Thank you!