Y-a-t'il un Conférencier Dans la Salle?

Monday, June 2, 2014 from 6:00 PM to 9:30 PM (EDT)
Event Details
 Y-a-t'il un Conférencier Dans la Salle?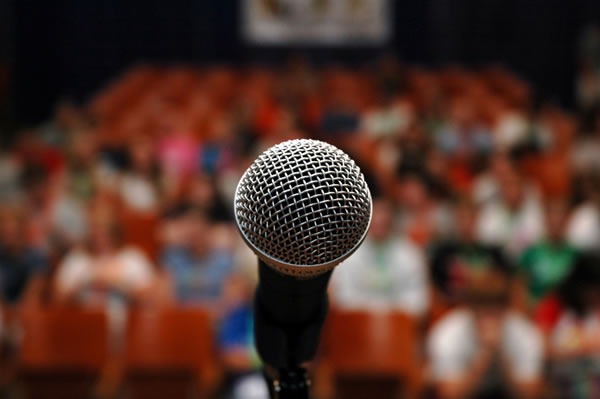 Dans la même veine qu'American Idol et So You Think You Can Dance, vous verrez les conférenciers les plus braves de la ville faire face aux critiques de notre panel d'experts. Bien entendu, le but est de s'amuser tout en apprenant quelque chose!

Nous lancerons l'invitation afin de trouver des volontaires qui viendront présenter 5 minutes de leur meilleur matériel devant public dans un comedy club du centre-ville.
Nos experts commenteront leurs performances de façon constructive afin de les aider à améliorer leurs habiletés de présentateurs.

Quant au public, il passera sans aucun doute un bon moment tout en découvrant les secrets des meilleurs présentateurs en regardant leurs prestations sur scène et en écoutant les conseils de notre panel d'experts.
Cet événement est ouvert à tous. Passez le mot!
Vous aimeriez être l'un de nos participants? INSCRIVEZ-VOUS avant le 28 mai 2014 à minuit et vous pourriez être choisi parmi les huit présentateurs. Le tirage au sort sera effectué le 29 mai. Les participants seront alors avisés.
Notre panel d'experts est compris de:
Toni

Newman, instigatrice d'innovation, et présidente nationale de CAPS 2015.

www.toninewman.com
Suzannah Baum, expert en prise de parole et présentation en public, et VP Communications & Marketing à CAPS 

(

www.suzannahbaum.com)

autres… (à determiner)
Date: 2 juin 2014
Heure: Les portes ouvrent à 18h00.
Lieu:
The COMEDY NEST
2313 Sainte Catherine O. – 3e étage
Montreal, QC H3H 1N2
Centre AMC
(Ancient Forum – METRO Atwater)
Stationnement 6$ au Forum
Coût: $20
So You Think You Can Speak??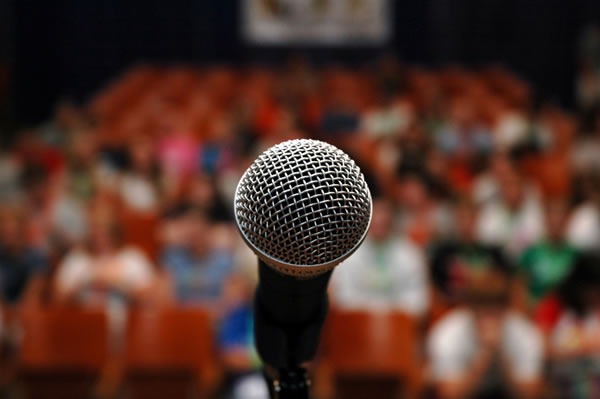 Along the lines of American Idol and So You Think You Can Dance, we're bringing in a panel of experts to offer detailed feedback to a handful of the city's bravest speakers. We'll be putting out a "call for speakers" for volunteers to perform their best 5 minutes in front of a live audience at a comedy club downtown.
Our panel of experts will then offer them 'pearls of wisdom' to help them improve their platform skills. Audience members will be entertained and enlightened, and will learn the secrets of how to be a great speaker by watching others perform on stage and listening to the valuable feedback from our panel of experts.
This event is open to members and non-members alike... so spread the word!
Think you'd like to be in the spotlight as one of our participants? 
REGISTER BEFORE midnight May 28, 2014 and be eligible to be chosen as one of the 8 speakers.  Draw will take place May 29.  Participants will then be notified.
Our Panel of Experts includes:
Toni Newman, Innovation Catalyst and CAPS National President 2015,

www.toninewman.com

Suzannah Baum, public speaking and presentation skills expert, and VP Communications & Marketing at CAPS Montreal  (www.suzannahbaum.com)

Others, to be determined
Date: June 2, 2014
Time: Doors open at 6pm
Location:
The COMEDY NEST
2313 Sainte Catherine O. – 3e stage
Montreal, QC H3H 1N2
Centre AMC
Old Forum – Atwater METRO 
Parking $6 at the Forum
Cost: $20
Along the lines of American Idol and So You Think You Can Dance, we're bringing in a panel of experts to offer detailed feedback to a handful of the city's bravest speakers. We'll be putting out a 'speakers call' in the next few months for volunteers to perform their best 10 minutes in front of a live audience at a comedy club downtown. Our panel of experts will then offer them 'pearls of wisdom' to help them improve their platform skills. Audience members will be entertained and enlightened. This event will be open to members and non-members alike... so spread the word!

Think you'd like to be in the spotlight as one of our participants? REGISTER BEFORE midnight May 31, 2013 and be eligible to be chosen as one of the 8 speakers. Draw will take place June 1. Participants will be notified June 2.

Registration link will be available soon!

Location:
The COMEDY NEST
2313 Sainte Catherine O. – 3e stage
Montreal, QC H3H 1N2
Centre AMC****

Along the lines of American Idol and So You Think You Can Dance, we're bringing in a panel of experts to offer detailed feedback to a handful of the city's bravest speakers. We'll be putting out a 'speakers call' in the next few months for volunteers to perform their best 10 minutes in front of a live audience at a comedy club downtown. Our panel of experts will then offer them 'pearls of wisdom' to help them improve their platform skills. Audience members will be entertained and enlightened. This event will be open to members and non-members alike... so spread the word!

Think you'd like to be in the spotlight as one of our participants? REGISTER BEFORE midnight May 31, 2013 and be eligible to be chosen as one of the 8 speakers. Draw will take place June 1. Participants will be notified June 2.

Registration link will be available soon!

Location:
The COMEDY NEST
2313 Sainte Catherine O. – 3e stage
Montreal, QC H3H 1N2
Cen
When & Where

COMEDY NEST - Centre AMC (Ancien Forum)
2313 Sainte Catherine O.
Montreal, QC H3H 1N2
Canada

Monday, June 2, 2014 from 6:00 PM to 9:30 PM (EDT)
Add to my calendar