Description
You got 99 problems - but yoga shouldnt be one! Enjoy a unique Yoga class - Hiphop Style! Our Yeezy Yoga aka Kanye West VS Jay-z yoga class is happening Saturday July 8th!
Jamesons 17th Ave will transform into a candlelit yoga studio where you will bend and stretch to the smooth hiphop beats of Kanye West & Jay-z. Kanye west will VS different rappers in this yoga series throughout the summer! This is a "New Workout Plan" you are going to fall in love with!
After class you can enjoy a Velvet Fog Beermosa & Brunch!
Barre Class & Brunch - $33
Barre Class Only - $20
Registration is at 9 AM
BYOM - Bring your own mat!
Enjoy taking pictures in our photobooth after class!
A big thanks to the wonderful team at LIV Yoga & Wellness for partnering with us for the event!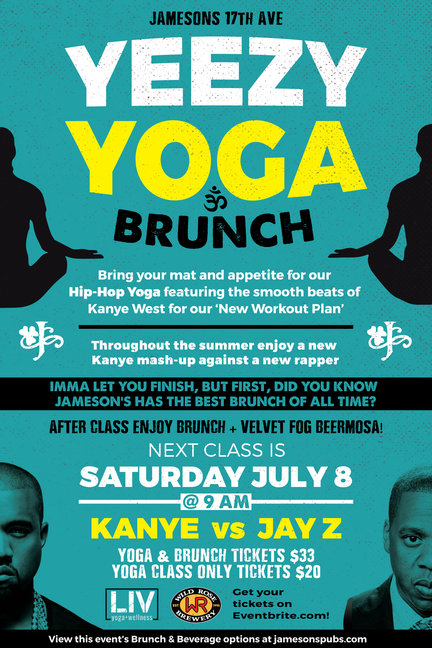 You can choose one of the three brunch menu options:
Smoked Salmon Eggs Benedict
or
French Toast
or
Greek Yogurt Parfait