Description
We are "crawling" into Chinatown on August 2nd (Thu), 2018!
Tickets are live from July 16th to 29th.

Presented by the McCauley Revitalization, we are going to bring participants in a staggered eating process in one night by having one course of a meal at each of the four eateries. The goal of the Chinatown Food Crawl project is to provide exposure to the local Asian restaurants and to also showcase the Chinatown area as a safe and viable area to enjoy.
As a participant, you are going to walk in a group between restaurants, and will stop for approx. 30 minutes at each of the locations. You will also get to meet the people behind these delicious dishes and hear stories about them and their foods.
Date: Thu, August 2nd, 2018
Time: 6:00pm - 9:30pm
Location: Edmonton McCauley Chinatown
(Names of restaurants/eateries and menu for the tour will be announced to participants via email a few days before the tour.)


Cost: $40.00/person - gratuities for restaurants are not included, please bring change with you.
Up to 4 tickets are allowed at each check out.
(Early bird tikets available from July 10th to July 15th for McCauley residents only; general tickets available from July 16th to 29th via Eventbrite.)
Your ticket will include: One sample item from each of the four restaurants/eateries.
If you have ANY dietary restrictions, please contact us BEFORE purchasing any tickets.
*** Limited seats available, register early ***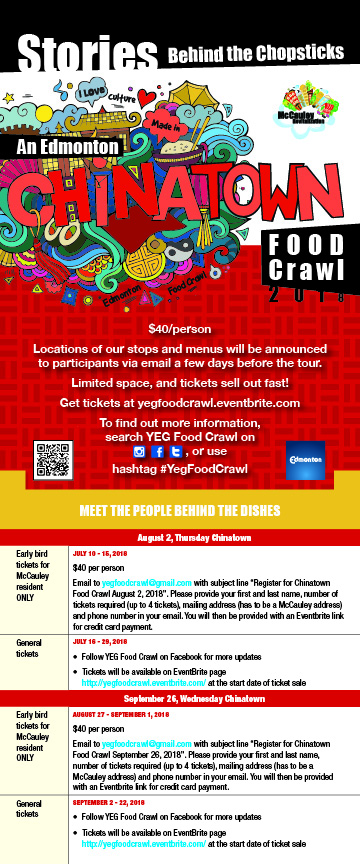 ---
About McCauley Community (read more)
McCauley is a vibrant and ethnically diverse inner-city neighbourhood in Edmonton, Alberta undergoing revitalization. It is named for Matthew McCauley, the first mayor of Edmonton, and is located just to the north east of the Downtown core. McCauley is famous as the home of dozens of religious buildings concentrated in a small area as well as being a large venue for the 1978 Commonwealth Games.
The neighbourhood is roughly triangle-shaped, bounded on the north by 111 Avenue/Norwood Boulevard, the west by 101 Street, and the south east by the LRT line and the old Canadian National Railway right of way.
Edmonton Chinatown - History
Edmonton's Chinatown was established more than 100 years ago near Jasper Avenue and 97 Street in the community of Boyle Street. Over time, businesses started establishing further north along 97 Street and a concentration of commercial ethnic shopping districts emerged. This gave way to the emergence of two separate and distinct areas identifying as Chinatown Edmonton today. As growth patterns have changed, Chinatown has faced challenges maintaining two physically separated areas, responding to shifting economic and population trends, and increased building and land vacancies, resulting in the need for an overall integrated Chinatown strategy.
Edmonton Chinatown - Today
In recognition of this, the City of Edmonton is proceeding with the development of a Chinatown Plan to realize opportunities for a sustainable and vibrant Chinatown. The Chinatown Plan aims to preserve Chinatown's unique heritage while bringing new life to the community in its various forms. Chinatown is rich with history and is an important part of Edmonton's cultural identity.
The Chinatown Project will bring community members together to address issues such as economic growth, urban design, cultural and heritage retention.
The City of Edmonton is advancing with a phased project to understand and assess the opportunities of Chinatown. Outputs will include an implementation action plan that will rely on collaboration between the City and community partners to drive the future towards an economically sustainable and culturally vibrant Chinatown.
To read more about Edmonton Chinatown, click here.
---
FIND US ON…
Facebook:
(Also check out our past event pictures there)
Twitter:
@YegFoodCrawl
Instagram:
@YegFoodCrawl
Search:
YEG Food Crawl
Hashtag:
#YegFoodCrawl
Email:
YegFoodCrawl@gmail.com