Sales Have Ended
Ticket sales have ended
Sorry - ticket sales are over for this event. Please join us at the next YEG Night In or contact hello@kristinglassevents.com with any questions.
Event Information
Refund policy
Refunds up to 7 days before event
Eventbrite's fee is nonrefundable.
Sales Have Ended
Ticket sales have ended
Sorry - ticket sales are over for this event. Please join us at the next YEG Night In or contact hello@kristinglassevents.com with any questions.
Description
With society spending more time indoors and social distancing becoming the new normal, we're all looking for ways to connect. Here is your answer... YEG Night In! Join us for our first event on April 25, from the comfort of your own computer.


THE CONCEPT
It's a virtual night out. This event is a chance to get dressed up, prepare a fine meal, bust out the nice dishware, and crack open your drink of choice to be social online with old friends or new ones. Props, elegant attire, and fancy decor are all welcome. Let's make this into an upscale online experience... but if you want to show up in sweat pants eating Kraft Dinner we won't judge.
During these difficult times, it's important to connect with people. The tolls of isolation can be devastating, so let's work together to stay social.
SCHEDULE
5:30 PM - Cocktail Hour
Log in to the event with your drink of choice and meet with your table for the night
6:30 PM - Program Begins
A short welcome to kick things off and let you know what else you can expect throughout the evening
6:45 PM - Dinner Time!
Enjoy the meal you have prepared and conversation with your table. Get to know some new friends, or catch up with some old ones!
7:45 PM - Meal Time Ends
A few announcements and livestream entertainment
8:30 PM - End of Formal Program
Event ends… but you can stay online with your table if the conversation is flowing!

We'll provide a list of online games and activities your table can take part in
10:30 PM - Event Ends
Make sure you exchange contact info with any new friends, because we're ending the full event here.
NOTE: Schedule is tentative and subject to change
---


THE MENTAL HEALTH FOUNDATION
YEG Night In will be donating $1 for every ticket sold to the Mental Health Foundation, which raises funds and mobilizes resources to improve outcomes within Alberta's addiction and mental health care system. The Foundation's vision is to ensure an accessible, easy-to-navigate and fully integrated addiction and mental health care system in Alberta.
The Mental Health Foundation supports Text4Hope, a free service providing three months of daily Cognitive Behavioural Therapy-based text messages written by mental health therapists to help with COVID-19 related stress and anxiety. If you're struggling, text COVID19HOPE to 393939 to subscribe.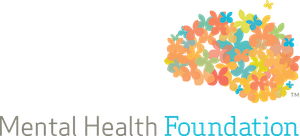 ---
ENTERTAINMENT
JENESIA
JENESIA is an Edmonton pop duo that combines vintage and modern musicality to create catchy, emotion-evoking songs and memorable live shows. Powerhouse vocalist Jenesa Dawn and innovative guitarist Alexander David use their music as a platform to inspire others toward justice. After surviving nearly a decade of childhood sexual abuse, Alexander David aims to bring awareness to the growing epidemic. These award-winning emerging songwriters, with over 400 live performances under their belt, have given their lives to the pursuit of a lasting
music career.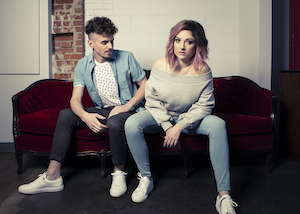 Tiffany Sparrow
With soulful tones and compelling lyrics, Tiffany Sparrow a vocalist and multi-instrumentalist who weaves dulcet ambience into her folk-pop tunes. In concert settings, she offers her original music combined with world music and covers. She also leads music meditations and group chanting in yoga studios and meditation centers, emphasizing mindful connection through music.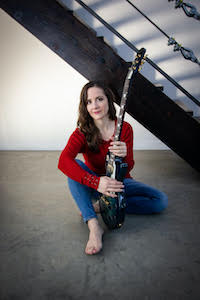 Mark McCue
Mark has toured the country bringing his strange stories coast to coast. Last year he won the Grindstone Comedy Contest. He went on to headline the Kootenay Comedy Festival shortly after. Most importantly, he knows all the words to the Grinch Song.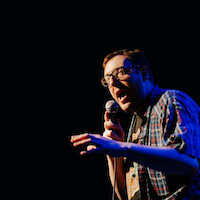 DJ Bradley James

Brad Dawson, aka DJ Bradley James, is an Edmonton-based DJ and entertainment entrepreneur. Getting his start in an amateur DJ competition over a decade ago, he has now become a fixture in the local community with recurring gigs all over the city and current residencies at Central Social Hall, Boston Pizza Ice District, and the new Midway bar. Brad is also on the DJ roster for the Oilers Entertainment Group and a part-time DJ for 91.7 KiSS FM on their 5 O'Clock KiSS Mix. In addition, he is the owner and operator of Bradley James Entertainment, which offers comprehensive wedding and event services for over 40 events per year.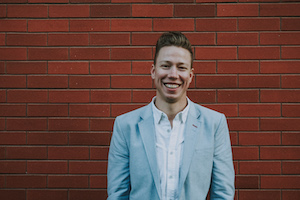 ---
THANK YOU TO OUR PARTNERS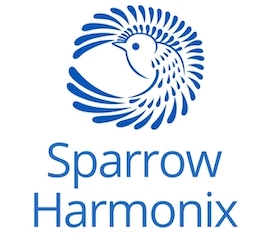 FREQUENTLY ASKED QUESTIONS
Do I need to live in Edmonton to attend?
Absolutely not! Anyone from anywhere can attend this event, however, it will take place starting at 5:30 PM MST.
Do I really have to dress up?
No, you can wear anything you want - but think of this as an opportunity to create a special night and an upscale outfit can help with that experience.
Should I decorate my space for this?
We encourage you to do as much as you want to make your tablescape and background elegant and interesting, but it's not required!
Does my meal need to be fancy?
Absolutely not! This is an opportunity to be as fancy as you want with your food preparation and dishware - but if you're eating Kraft Dinner we're not going to judge you.
Can my spouse/roommate and I both participate from one computer?
Yes! Each ticket sold is good for one "seat" at the table - or one computer to access the event. You're welcome to have more than one person at your computer so you can experience the event together, but we require capping at two people in order to join in the virtual experience properly. Make sure you're only inviting members of your household to join you in person.
Can I sit with my friends?
Yes! Just send a note to hello@kristinglassevents.com to request to be seated with any other registrant. We will do our best to accommodate all requests.
How many people will be at my table?
Tables will have 6-8 seats available. Each seat may have up to 2 guests sharing a screen.
Are kids allowed to attend?
This is a PG-13 event as it's a chance for adults to socialize, but we don't mind if your kids make an appearance at your seat!
Date and time
Location
Refund policy
Refunds up to 7 days before event
Eventbrite's fee is nonrefundable.