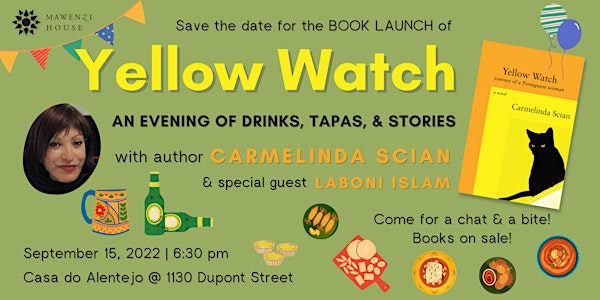 Yellow Watch: Book Launch
Join us for the book launch party for YELLOW WATCH: JOURNEY OF A PORTUGUESE WOMAN by Carmelinda Scian!
When and where
Location
Casa Do Alentejo Community Centre 1130 Dupont Street Toronto, ON M6H 2A2 Canada
About this event
The book launch party for Yellow Watch: Journey of a Portuguese Woman by Carmelinda Scian is coming your way on September 15! Swing by the Casa Do Alentejo Community Centre and enjoy some beer, Portuguese tapas, stories, and music! Books will be on sale and Carmelinda will be there to chat and sign your copy. Joining her will be poet and special guest Laboni Islam.
---
Yellow Watch: Journey of a Portuguese Woman by Carmelinda Scian
This gripping collection takes us into the lives of Portuguese immigrants as they arrive in Toronto. Beginning in tiny Amendoeiro across the Tagus from Lisbon, it describes lives of abject poverty under the fascist thumb of Antonio Salazar. The men are often out of work from the local cork factory, and the women collect scraps to eat, while the dreaded secret police remain ever watchful for hints of unrest. Men disappear. It is a life of abuse, cruelty, and superstition, observed by the girl Milita, who calmly takes her beatings from her mother but misses nothing. These Portuguese stories are easily reminiscent of early Saramago.
This novel grew out of a collection of several award-winning stories, including "Yellow Watch" (nominated for the 2018 Journey Prize, long-listed for the Fiddlehead's 2017 Fiction Contest), "A Pilgrimage to Atalaia" (runner-up award in the 2015 U of T Magazine Writing Contest), "A Dragonfly Dashed by My Face" (first prize winner in the 2015 Toronto Star Short Story Contest), and "The Butterfly First" (first prize winner in the 2013 Malahat Review Open Season Short-Fiction Writing Contest).
"This charming collection of stories reflects what is often inherited—colourful tales in voices from people who seem far away and yet familiar. Carmelinda Scian lovingly turns these fictional characters in her hands. A moving debut." —Anthony De Sa, author of Barnacle Love and Children of the Moon
"These beautiful stories are both haunting and comforting. Compelling characters travel disparate worlds of childhood and adulthood, of old fears and new families and face the twin complexities of migrating to the urban sprawl of Canada or revisiting ancient stone villages in Portugal. Poetic, nostalgic, and honest, Yellow Watch is a rare treat." —Mark Anthony Jarman, author of 19 Knives
"'The Butterfly First' is a poignant and memorable account of a young girl's encounter with the tragedy and hypocrisy of the adult world. The story is told through a series of beautifully rendered scenes and the writing throughout is powerful, original, and evocative." —Helen Humphreys, author of Rabbit Foot Bill
---
Carmelinda Scian emigrated to Canada from Portugal as a teenager in the late 1960s with her parents. After marriage and two children, she obtained a BA and an English MA from the University of Toronto on a part time basis while operating a hair salon. Her works have appeared in several literary magazines across Canada, the USA, and Britain and have won several prizes, including the Malahat Review's Open Season Short Fiction Writing Contest, and the Toronto Star Short Story Contest. The story "Yellow Watch" was nominated for Canada's Journey Prize, and the story "River Crossing" has been selected for the 2022 edition of Best Canadian Stories. She lives in Toronto.
Laboni Islam was born in Canada to Bangladeshi parents. Her poem "Lunar Landing, 1966" was shortlisted for the CBC Poetry Prize (2017). Her chapbook, Light Years, is forthcoming from Baseline Press in autumn 2022. She serves as an arts educator, engaging the young and young at heart in gallery, museum, and community spaces.