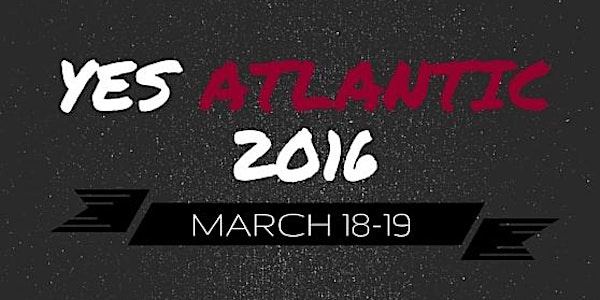 YES Atlantic 2016 (An East Coast Startup Week Event!)
When and where
Location
Fredericton Convention Centre 670 Queen Street, Fredericton, NB E3B 1C2 Fredericton, NB E3B 1C2 Canada
Description
Here's to "Changing the Story" of Atlantic Canada. We in the East Coast have a pride in our provinces that extends into our daily lives and we apply this passion to our mindset, our way of life and our ideas.
On March 18 & 19, the Pond-Deshpande Centre, Student Ambassadors will be hosting YES Atlantic. This two-day summit that encourages youth to take action, seize opportunities, leverage support and join the entrepreneurial ecosystem in Atlantic Canada.
YES will bring together students from different fields of study across the Atlantic provinces to participate in dialogues, activities, workshops, networking opportunities and a pitch competition sponsored by National Bank.

This year, we are excited to present the Fredericton initial screening of Hemmings House Pictures "The Millennial Dream" documentary. The mission of The Millennial Dream movement is to explore how small cities and rural communities can reverse the outmigration of talented and passionate Millennials.

This event will be open to the public and will include the documentary screening and a Q&A with audience participation.
Here's to reinventing Atlantic Canada.
- Your Student Ambassadors http://www.yes-atlantic.com/

Bus Pickup Locations & Times: (More info to come)

March 17th
The chartered bus will no longer be stopping at the Dalhousie Student Union Building.
Mount Allison University- Athletic Centre, 50 York- PM (half hour stop) 3:15 PM-3:45 PM
Universite de Moncton- Parking Lot across from Nursing Faculty, Pavillon Jacquelin-Bouchard 51 Ave Antoinine-Maillet, 4:45-5:00PM
Crowne Plaza 7:15PM (appx)
March 19
1:30 PM Bus
Bus departs from Crowne Plaza