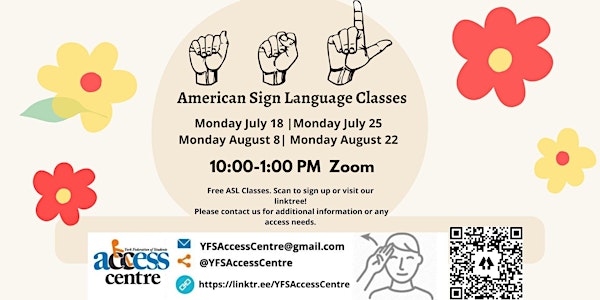 YFS Access Centre ASL Classes
Join us for our free ASL Classes. These classes are open to everyone, All experience levels are welcome!
About this event
Hey Everyone!
We hope you all had a fun and restful summer.
We are excited to announce that our ASL classes are returning this Summer.
In our free classes you can develop new language skills. These classes are open to anyone. All experience levels are welcome!
Join us for our ASL class and review session. The classes will be held on Zoom from 10:00 AM to 1:00 PM
Classes will be held on:
Monday July 18th
Monday July 25th
Monday August 8th
Monday August 22nd
For questions and access needs, send us an email at yfsaccesscentre@gmail.com
#ASLAwareness #ASLClass #YFSAccessCentre #YFSLocal68 #YorkUniversity #YorkU
[Plain Poster text:
"American Sign Language Classes
Monday July 18, Monday July 25, Monday August 8, Monday August 22
10:00 AM to 1:00 PM on Zoom
Free ASL classes. Scan to sign up or visit our linktree! Please contact us for additional information or any access needs
YFS Access Centre contact information (email symbol) YFS Access Centre (at) gmail (dot) com
(social media symbol) (at) YFS Access Centre
(Social Media Link symbol) https://linktr.ee/YFSAccessCentre
Image Description: The background of the post is cream with black text. The upper left and right corners of the poster include images of Red and yellow flowers. The bottom of the page is white where all the contact information is located. On the bottom left side is the Access Centre logo with the words "York Federation of Students Access Centre" written in black and blue with an orange person using the letters as an assistive device. In the far right bottom corner is a scannable code to our Linktree.
End Plain Post Text]