Description
MUSIC PERFORMANCE - THE HORABLES: KLEZMER MUSIC

Sunday, April 15, 2018 | 2:00 - 3:00 p.m.
An afternoon of fantastic fun and high energy Klezmer music! Rachel Melas, Conny Nowe and Rachel Sheinin share with us a toe-tapping, hand clapping hour of bulgars, horas, freylachs, shers, kolomaikas and Yiddish songs. FREE!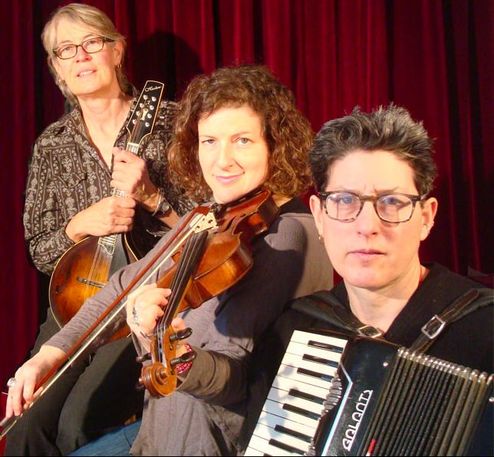 Rachel Melas, Accordion, Guitar, Electric Upright Bass, Vocals

Rachel has spent almost 4 decades playing electric and upright bass in various bands, and decided that she liked Klezmer music so much that she would learn a whole new instrument to play it. She is currently fascinated by all sorts of archaic music. She plays bass with Swamperella, les Singes Bleus, Moo'd Swing, Jazz singer Joanne Morra and other purveyors of jazz and traditional music.
Conny Nowe, Mandolin, Guitar, Drums

Conny is a veteran of many musical scenes, drumming in punk and pop bands in the 80's, world music bands in the 90's and turning her attention to acoustic music as the rhythm guitarist in Swamperella for the last 20 years. She has been playing Klezmer and Old Time music on the mandolin for the last 15 years. When Conny is not playing music she is a professional sound technician.
Rachel Shenin, Violin, Vocals

Rachel has played the violin since childhood, studying classical music and then jazz and folk styles. She leads the Bulgars and Freylachs fearlessly, solos effortlessly on the jazz tunes and sings in Yiddish. She is the most virtuosic Horable! A school teacher by trade she saves her musical talents for The Horables.

FILM - FIDDLER ON THE ROOF
Sunday, April 29, 2018 | 2:00 - 5:00 p.m.
Fiddler on the Roof is a musical over than 50 years old based on a series of stories by Sholem Aleichem written in Yiddish between 1894 and 1914 about Jewish life in a village in the Pale of Settlement of Imperial Russia. The story centers on the father of five daughters, and his attempts to maintain his Jewish religious and cultural traditions as outside influences encroach upon the family's lives. He must cope both with the strong-willed actions of his three older daughters, who wish to marry for love – each one's choice of a husband moves further away from the customs of his faith – and with the edict of the Tsar that evicts the Jews from their village. FREE!


Please join us at Richmond Hill Central Library!
Please select the date(s) of the event and joyfully register!
Gentle reminder to print a paper copy of the ticket and bring it to the program or have it avaliable electronically for scanning.
See you there!