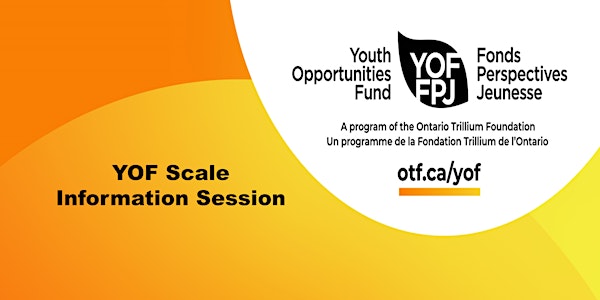 YOF Scale Grant – Information Session
Join one of the YOF Scale Grant – Information Session to build a deeper understanding of the steps to Scale your initiative.
About this event
The Youth Opportunities Fund (YOF) is hosting information sessions to support groups to learn more about the YOF scale grant type.
Are you looking to explore what it means to Scale with the YOF's Youth Innovations or Family Innovations Stream? Have you been delivering core project activities in your community for the past two years?
Join the YOF team as we offer a webinar focused on Scale grants and an opportunity to learn more about;
Conditions to Scale an existing set of core activities in YOF
Two models for Scale
Applications steps and supports
Important: The webinar will be held on zoom, and the link will be shared within 48 hours before the webinar.
Have questions about this webinar? Follow up with the YOF Team at yof@otf.ca or your Program Manager.
Stay connected!