About this Event
Join Nicole Catenazzi (RYT-500) and Chef Fraser Fitzgerald (That Planted Fork) for a 2-night escape that combines mindful yoga and meditation activities with plant-based cooking demos.
The Nourish Retreat has been carefully designed to give you a mindful holiday to replenish your physical, mental and emotional body and learn new skills in a fun and supportive environment.
Relax, restore and revitalize your wellbeing by learning tools and practices that you can take home with you!
Your deluxe Nourish retreat experience includes:
2-nights of luxury cottage living on the waterfront of Cliff Bay in Muskoka
Daily yoga classes and mindfulness activities led by Nicole Catenazzi (RYT-500)
Delicious 100% plant-based meals carefully prepared by Chef Fraser Fitzgerald
Fun and interactive plant-based cooking demos including how to make vegan cheese, soups and stews, kombucha, vegan brunch and more!
A guided trail hike and mindful forest bathing practice
Plenty of free time nourish your spirit with rest and relaxation
Every aspect of the retreat offers you the time and space to give yourself the tools, practices and amenities your body, mind, and spirit needs.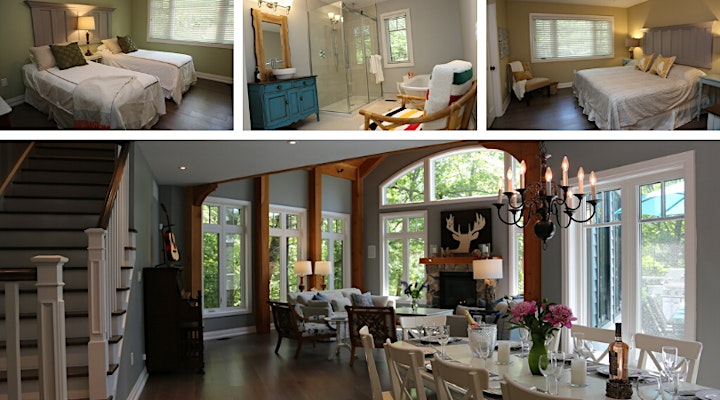 Accommodations
Enjoy the comforts and amenities of a luxury hideaway on Cliff Bay, Muskoka. Choose a private room with a king-sized bed or a shared room with two XL twin-sized beds.
The picturesque bay & lakeside retreat home offers:
southwest facing lake views from the soaring, two-story Great Room; the site of our daily yoga classes
gourmet kitchen, perfect for our plant-based cooking demos
cozy fireplace
open common spaces and relaxing quiet areas, including a large deck
5 full bedrooms: 2 private bedrooms with kings and 3 shared bedrooms with 2 XL twin Simmons Hotel series beds
3 full bathrooms, large rain shower heads, one with a deep, soaker tub & a first-floor powder room
and more!
Our venue is conveniently located within a 10-minute drive to Gravenhurst, Ontario.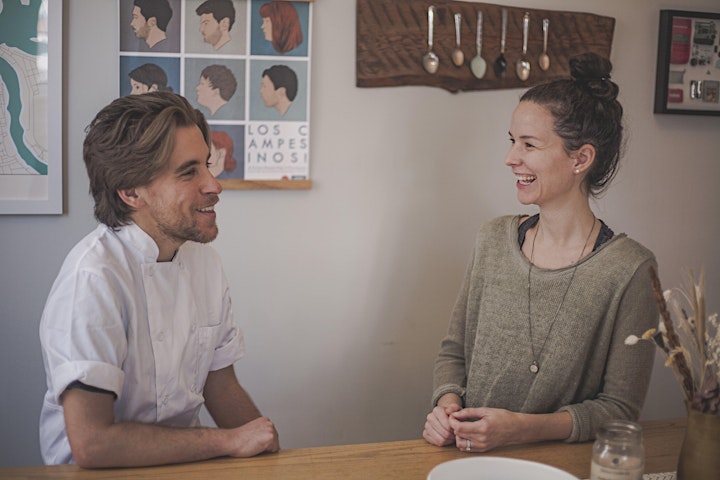 Meet your Nourish Retreat hosts!
Nicole Catenazzi
Hey, I'm Nicole!
I'm a relaxation aficionado with more than 500 hours of training in yoga, mindfulness and meditation practices. As a yoga teacher, my goal is to help you find your power, your potential and your peace through movement, meditation and self-inquiry by encouraging you to listen to what your body needs, and responding with compassionate acceptance.
Based in Hamilton, ON, I lead retreats and workshops around the world, including my workshop Fearless Heart Flow, which combines yogic practices with expressive writing prompts. An avid traveller and lover of all things personal growth and development, my teaching style is also informed from many other areas of study including life coaching, dance, neuro-linguistic programming, writing, functional movement, and art.
Fraser Fitzgerald
Hello, I'm Fraser!
I am passionate about plants and turning them into creative, delicious meals. I love helping others learn to cook and transform their favourite comfort foods into healthier versions — all without taking away the flavours they know and love.
That Planted Fork is borne out of a love for cooking and a passion for plant-based dishes. Owned and operated by me, That Planted Fork provides cooking classes, private dinners & menu development for clients in Hamilton, Niagara and across the GTA.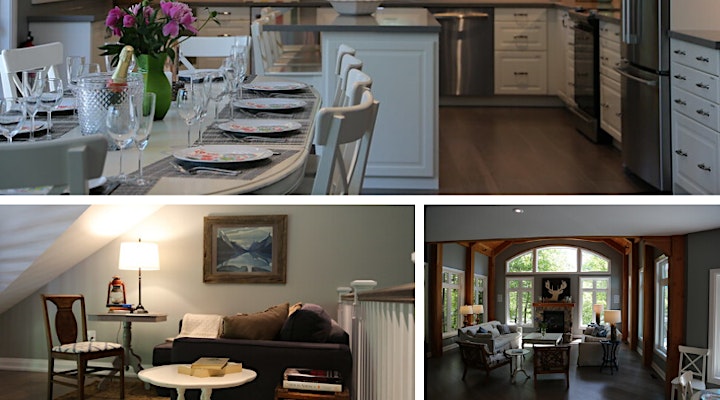 Sample Retreat Schedule*
FRIDAY OCTOBER 30
5:00 pm: Check-in
6:15 pm: Opening Circle
7:00 pm: Interactive Dinner
SATURDAY OCTOBER 31
8-9:15 am: Slow Flow Yoga Class
9:30 am: Breakfast
11:00 am: Trail Hike & Forest Bathing
12:30 pm: Lunch
3:00 pm: Cooking Demo
6:00 pm: Interactive Dinner
8:30 pm: Restorative Yoga Class
SUNDAY NOVEMBER 1
8-9:15 am: Slow Flow Yoga Class
9:30 am: Interactive Brunch
11:30 am: Closing Circle
12:30pm: Check-out
*Activities, demos and timing are subject to change.
Frequently Asked Questions
Q: I'd like to come with a friend or a partner, can we share a room?
A: Yes, you can! Choose the shared room option when you book and mention your roommate's name on the booking form. Please specify if you'd like to share a king-sized bed or if you'd like two twin beds in the room.
There are only 10 spots available and a limited number of king beds, so book early to avoid disappointment! We will update this page if an accommodation type is sold out.
Please note: if you book a shared occupancy option as a solo traveller, you will be paired in a room with another solo traveller.
Q: What type of food will be served?
A: You'll enjoy healthy, plant-based meals that will nourish your body with plenty of nutrients. Expect delicious flavours that will satisfy your tastebuds and your belly!
Many of the meals will be interactive, so you can learn how to cook them for yourself back at home.
Q: I have dietary restrictions, can I still participate?
A: Absolutely! There's a spot on the booking form for you to let us know of any food allergies or restrictions. All meals are included and all meals are 100% plant-based vegan.
Q: How intensive are the cooking workshops?
A: The cooking workshops are open to all levels of kitchen and cooking experience! They'll be more like a demo-style, which means you won't have to slave away in the kitchen for hours on end (you're on retreat, remember!?).
Chef Fraser will talk you through the meals, give you a chance to do some hands-on prep if you'd like, and be available to answer any of your plant-based cooking questions. Plus, you'll get all the recipes so you can wow your friends and family back home.
Q: Do I have to participate in everything on the schedule?
A: Not at all! This is your weekend away so you can do as much or as little of the group activities as you'd like.
Q: Is there WiFi at the venue?
Yes, there's WiFi! However, please note that access is limited so please only rely on it for basic email and messaging services.
A: What are the yoga classes like?
A: The yoga classes are beginner-friendly and for all levels! The morning classes will be gentle flow with a focus on mindful movement and breathing. The evening class will be slow and restorative with a guided meditation. If you have any mobility considerations that you'd like us to know about, please mention this on your booking form.
Q: How do I get there?
A: Our retreat venue is conveniently located in Muskoka, less than 2 hours from Toronto and only 10-minutes away from Gravenhurst. We'll provide complete driving instructions once you've registered.
Please note that transportation is not included in your stay, however, carpooling may be available. Parking is available for up to 7 cars onsite.
Q: What should I pack?
A: We suggest bringing whatever clothes you need to feel comfortable. As it's early spring, it's difficult to know exactly what the weather will be like until closer to the date. You'll also need:
Clothing to practice yoga in
Yoga mat
A water bottle
Outdoor hiking clothes/shoes
Toiletries
Any personal items like a book or a journal and pen
Q: What's your refund policy?
A: There are no refunds on the retreat, however if you can find someone else who can take your place, we'll gladly transfer your spot to them. If you cancel your stay in writing within 60 days of the retreat, we can offer a 50% refund, less any fees.
Q: Anything else?
A: Guests will be required to sign a standard health and liability waiver to participate in the retreat. You can read and review the form here.
Q: I have more questions, who should I contact?
A: Please email nicole@nicolecatenazzi.com with any questions.