Event Information
Refund policy
Contact the organizer to request a refund.
Eventbrite's fee is nonrefundable.
Weekly online yoga classes for people with osteoporosis and osteopenia. Class replay available to you for 7 days.
About this event
Too many women are stuck on the sidelines of their own lives because they have been diagnosed with osteoporosis. They become less active because they fear they might fall and suffer a bone fracture. In some cases, a simple sneeze can cause a vertebral fracture.
It doesn't need to be that way! But let's face it, osteoporosis is a chronic condition and an uphill battle. It requires constant management. This program will give you confidence and support you in managing osteoporosis, so you can continue to enjoy an active lifestyle, avoid falls and fractures, and live an independent life.

Bones need both density and quality to remain strong. Bone density is a measure of bone mass, while bone quality is a measure of the inner structure of the bone, the trabeculae. Specialists estimate that the inner structure contributes anywhere from 30 to 70% to the strength of the bone and its resistance to fracture.
Osteoporosis medication only increases bone density. The only way to increase bone quality, reduce the risk of vertebral fractures and prevent falls is through regular exercise.
Yoga has been shown to improve bone density and quality in a 10-year study conducted by Dr. Loren Fishman.
Force applied to bones during yoga practice stimulate them to remodel and, over time, to become stronger.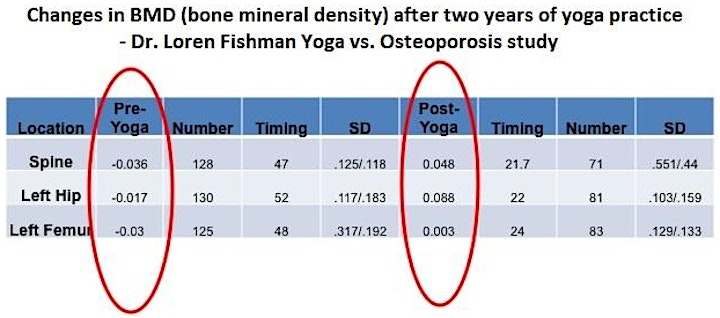 When it comes to osteoporosis, all exercise is not created equal. High impact exercises may help bones stay strong, but the joints can become painful and difficult to move. On the other hand, low impact exercises will save the joints, but the bones themselves may lose strength.
Yoga seems to be the middle ground. During yoga practice bones are subjected to forces many times those of gravity, but these forces are applied without any harmful impact on the joints.
When it comes to osteoporosis, all yoga is not created equal. A regular yoga practice focused on alignment, weight-bearing poses and safe backbends and twists can help you:
increases bone and muscle strength, which lowers the risk of fractures
improves balance and coordination for fall prevention
corrects your posture to protect against spontaneous vertebral fractures
Classes are adaptable for various fitness level. The ability to transitions from floor to standing and reverse is a requirement. No previous yoga experience required.
You will need these props for your practice: mat, chair, 8-foot strap, yoga block, blanket/big bath towel, 2-3" rubber ball, elastic resistance band.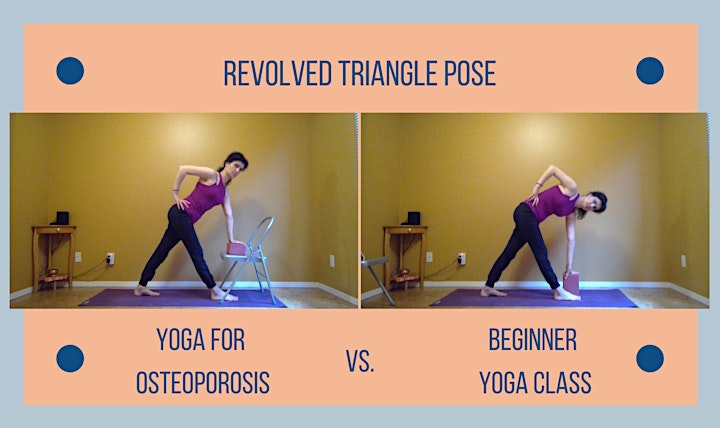 Here's an examples of a pose that might be included: Revolved Triangle. In a regular beginner class, the most you can expect is to be handed over a yoga block. If you have enough flexibility this might be enough. If, on the other hand, you come to class with the typical limitations of beginners, a chair might be more appropriate and will help you keep your spine straight.

Yoga for Osteoporosis - Summer Practice (live on Zoom)
Wednesday, July 21st, 2021
10:30 AM - 11:45 AM Mountain Time
(5:30 PM UK, 12:30 PM Eastern, 11:30 AM Central, 9:30 AM Pacific)
Use this link to find your local time
Investment is $15 CAD + fees, and includes access to:
1 hour live class + 15 minutes Q&A
7 day class replay
Space is limited so that each student can receive individual attention. If this class is full, please add your name to the waitlist. You will be contacted if a spot becomes available.
This session also runs Thursdays at 10:30 AM Eastern Time (3:30 PM UK, 9:30 AM Central, 8:30 AM Mountain, 7:30 AM Pacific). For more information and registration details visit: https://www.eventbrite.ca/o/susana-lucan-yoga-28524794563
Yoga for Osteoporosis Insider Club is a private Facebook community dedicated to supporting people with a diagnosis of osteoporosis or osteopenia rebuild their bones through a safe and effective yoga practice. This group is open every day! Click here to become a member.
Coming soon: Yoga for Osteoporosis Website. Be the first to know when website launches!
Date and time
Location
Refund policy
Contact the organizer to request a refund.
Eventbrite's fee is nonrefundable.
Organizer of Yoga for Osteoporosis - Summer Practice [MDT-W4]
Susana Lucan is a certified 200-hours yoga teacher, who lives in Calgary, Canada. She teaches slow, mindful yoga, which:
trains your nervous system to build resilience, adapt to stressors, develop greater patience, and improve overall health and wellbeing.
begins to unravel cronic pain signals, reduce sensitization, and reorganizes the nervous system.
develops "interoceptive awareness," the capacity to feel into your body and make good choices based on a deeper self-understanding.
Susana has trained with Dr. Loren Fishman and Ellen Saltonstall, co-authors of the Yoga for Osteoporosis book. She is a certified Yoga for Bone Health teacher in the Dr. Fishman Method and a Bone Fit™ trained professional.
Let's connect! Yoga for Osteoporosis Insider Club is a private Facebook group dedicated to building a strong community of people with a diagnosis of osteoporosis or osteopenia. The purpose of the group is to support you:
protect and strengthen your bones through the practice of yoga
carry out activities of daily life with an "osteoporosis filter"
transform what you NEED to do into something that you LIKE to do
This group is open every day! To become a member click on link below: