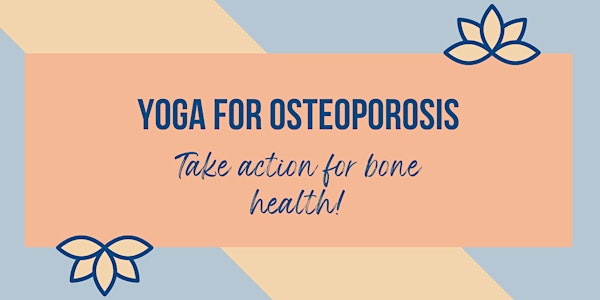 Yoga for Osteoporosis - Summer Practice [Svadhyaya ~ Self-study]
Turn the challenge of thinning bones into an opportunity for better health and well-being!
Refund Policy
Contact the organizer to request a refund.
Eventbrite's fee is nonrefundable.
About this event

People with osteoporosis may have functional limitations that create significant declines in quality of life.
Therefore, it is important to develop an exercise program that improves overall function and the ability to perform activities of daily living.
It is equally important to carefully evaluate what exercises an individual can safely tolerate, as well as the duration and level of intensity of these exercises.
High impact exercises may help bones stay strong, but the joints can become painful and difficult to move. On the other hand, low impact exercises will save the joints, but the bones themselves may lose strength.
Yoga seems to be the middle ground. During yoga practice bones are subjected to forces many times those of gravity, but these forces are applied without any harmful impact on the joints.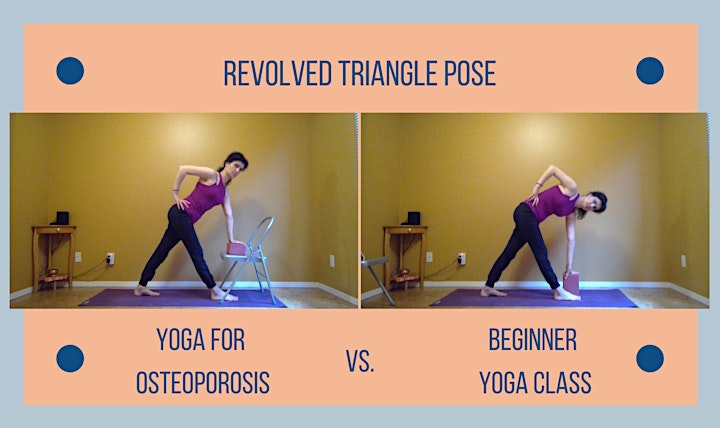 When it comes to osteoporosis, all yoga is not created equal.
Beginner yoga classes include many poses which are not safe for people with osteoporosis: deep forward folds which round the spine forward, deep seated twists which force the spine to twist to end-range, just to name a few.
Flow classes encourage you to move fast from pose to pose. They include dangerous transitions, little to no alignment focus, and the risk of losing your balance is quite high.
On the other hand, Yoga for Osteoporosis is focused on proper alignment, weight-bearing poses, back extensions and gentle twists.
All poses included in the program have been carefully selected and modified to meet the safety guideline put forward by Osteoporosis Canada.
Here's an examples of a pose that might be included: Revolved Triangle. In a regular beginner class, the most you can expect is to be handed over a yoga block. If you have enough flexibility this might be enough. If, on the other hand, you come to class with the typical limitations of beginners, a chair might be more appropriate and will help you keep your spine straight.

Although bone density is important, improving bone mass and structure in people with diagnosed osteoporosis is only one piece of the puzzle.
Your most important goal is to prevent fractures.
The most prone to fracture bones in your body are the hip, distal radius, and spine. Fracture prevention strategies are different depending on the bone that is targeted:
fall prevention (for hip and distal radius)
posture improvement (for spinal vertebrae)
The components of a successful fall prevention program should include exercises that not only build bone but also enhance:
upper and lower body strength
endurance
balance and coordination
flexibility
Posture improvement starts with becoming aware of how you stand, sit and move throughout your day. It includes strategies that will help you:
realign your body's joints
loosen up tight muscles
strengthen weak muscles (including your core)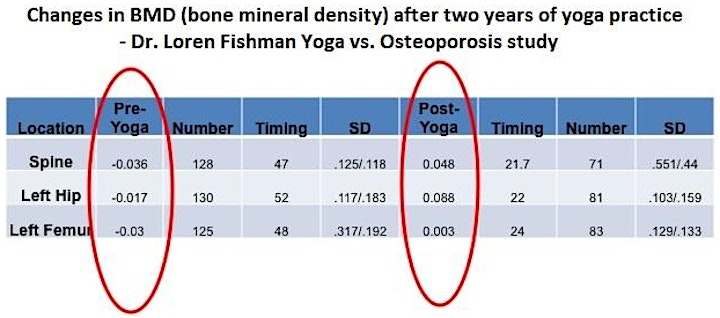 A 10-year study conducted by Dr. Loren Fishman looked at whether yoga can improve bone density and quality. Click here to read about the study.
The 12 poses included in the study are the most accessible and easy to modify using a variety of readily available props (blocks, straps, blankets and chairs).
You can expect to practice these poses during the Yoga for Osteoporosis Summer Practice, along with many other similar poses.

This year, the inspirations for our Summer Practice is Yoga for Humanity. Chosen by the United Nations as the theme for the International Day of Yoga, it is a reminder that yoga is more than a physical practice.
In the words of T.K.V. Desikachar: " The success of yoga does not lie in the ability to perform postures, but in how it positively changes the way we live our lives and our relationships".
This summer, each class will have a short introduction to one of the Yamas & Niyamas, the ethical principles that are supposed to guide how we relate to other people and how we take care of ourselves.
The theme for this week is Svadhyaya (Self-study). We'll briefly explore how this guiding principle can be applied to the particular practice of yoga for osteoporosis.
Don't worry, for the most part we'll still be focused on "sweaty" poses.

The class is 1-hour long and livestreamed on Zoom. Class will be followed by 15-30 min Q&A. If you have any questions about the practice of yoga for peole with osteoporosis, I'm happy to answer them live after the class.
The class includes:
breath work
warm-up/mat work
standing/weight-bearing poses
back extensions
gentle twists
mudra (hand gesture)
mantra (a word or sound repeated to aid concentration)
deep relaxation
In addition to yoga poses, class may also include myofascial release and resistance work using Thera-Bands.
The myofascial work releases tension in the connective tissues. It helps alleviate pain and improve flexibility and mobility of the body, which in turn improves your yoga practice.
The resistance work makes your muscles stronger and may also increase the strength of your bones.
The practice can be modified to accommodate various pre-existing conditions. The ability to transitions from floor to standing and reverse is a must. No previous yoga experience required.
You will need these props to support your practice: mat, chair, 8-foot strap, block, blanket/big bath towel, 2-3" rubber ball, elastic resistance band.

You will have access to the class replay for 7 days.
I will email you a link shortly after the live class.

Wednesday, August 17th, 2022
10:30 AM - 11:45 AM Mountain Time
(5:30 PM UK, 12:30 PM Eastern, 11:30 AM Central, 9:30 AM Pacific)
Use this link to find your local time
Investment: $17.50 CAD + fees
Space is limited so that each student can receive individual attention. If this class is full, please add your name to the waitlist. You will be contacted if a spot becomes available.

Yoga for Osteoporosis Insider Club is a private Facebook group community dedicated to supporting people with a diagnosis of osteoporosis or osteopenia rebuild their bones through a safe and effective yoga practice. This group is open every day! Click here to become a member.