Osteoporosis is a condition characterized by low bone mass and deterioration of bone tissue, which can lead to increased risk of fracture.
About this event
Known as the "silent thief", bone deterioration can occur over a number of years without any symptoms. Unfortunately, by the time affected bones break or fracture, the disease is already fairly advanced and less treatable. The most common fractures associated with osteoporosis are in the hip, spine, and wrist.
Join me for a free class and learn how yoga can help you in your fight against osteoporosis:
build bone and muscle strength to decrease the risk of fractures
improve balance and coordination for fall prevention
correct your posture to protect against spontaneous vertebral fractures
In this introductory class, we will practice a set of 12 yoga poses, adapted for osteoporosis and osteopenia, that have been shown to improve bone density in a 10-year study conducted by Dr. Loren Fishman. 
Suitable for those with a diagnosis of osteoporosis or osteopenia and anyone who wants to prevent bone loss.
Bring your mat and a bath towel.
For more Yoga for Osteoporosis classes please visit: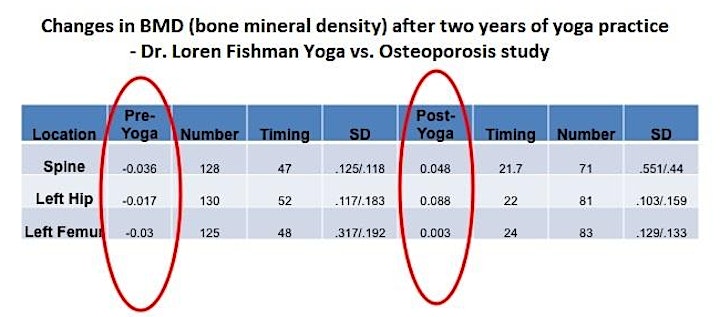 Organizer of Yoga for Osteoporosis
Susana Lucan is a certified 200-hours yoga teacher, who lives in Calgary, Canada. She teaches slow, mindful yoga, which:
trains your nervous system to build resilience, adapt to stressors, develop greater patience, and improve overall health and wellbeing.
begins to unravel cronic pain signals, reduce sensitization, and reorganizes the nervous system.
develops "interoceptive awareness," the capacity to feel into your body and make good choices based on a deeper self-understanding.
Susana has trained with Dr. Loren Fishman and Ellen Saltonstall, co-authors of the Yoga for Osteoporosis book. She is a certified Yoga for Bone Health teacher in the Dr. Fishman Method and a Bone Fit™ trained professional.
Let's connect! Yoga for Osteoporosis Insider Club is a private Facebook group dedicated to building a strong community of people with a diagnosis of osteoporosis or osteopenia. The purpose of the group is to support you:
protect and strengthen your bones through the practice of yoga
carry out activities of daily life with an "osteoporosis filter"
transform what you NEED to do into something that you LIKE to do
This group is open every day! To become a member click on link below: