About this Event
This 90-minute class is a gentle vinyasa style practice. We will use breath to flow through postures and focus on the mind-body connection. It is designed to provide a challenge for those with a strong yoga practice but is also accessible for those somewhat newer to yoga, or who need any accommodations.
The first half of the class will be more vigorous; focusing on energizing and strengthening the body, and the second half of the class will include a relaxing flow; focusing on stretching and releasing tension in the body and calming the mind. Enjoy a short meditation at the end of class.
Please bring your own mat, a reusable water bottle, and a sweater. Mats are not provided.
Register early, book your spot and save!
Drop-ins welcome at the door, if spots are available. $20 CASH ONLY.
WHERE
Malting Tower, Top Floor
Tett Centre for Creativity & Learning
370 King Street West, Kingston, ON
INSTRUCTOR
Vanessa Kiriakou
Growing up as a competitive dancer, I have always loved creatively expressing myself through movement. I began practicing yoga over 10 years ago to supplement my dance training and have continued to stay dedicated to challenging my body and mind everyday. I fell in love with how connected to myself I felt during my practice and knew I wanted to share that feeling. Moving my body and teaching others about exploring movement is truly my passion. In 2017, I completed my 200hr teacher training in Greece through Semperviva and have been teaching a variety of class types since. Along with yoga, I teach dance, fitness classes, and personal training. I also recently graduated from Queen's University with a Bachelor's of Education and use my teaching degree to help facilitate an inclusive environment in all of my classes.
SUPPORT
Proceeds from this event help support Kids Creativity Club. Kids Creativity Club is a Saturday morning drop-in arts program at the Tett Centre. It is an opportunity for children and their families to experience the arts together. Each week participants can enjoy a variety of hands-on, creative arts activities with local artists and volunteers. The programs runs September through May on Saturday's 10 AM – 12 PM. Thank you for your support.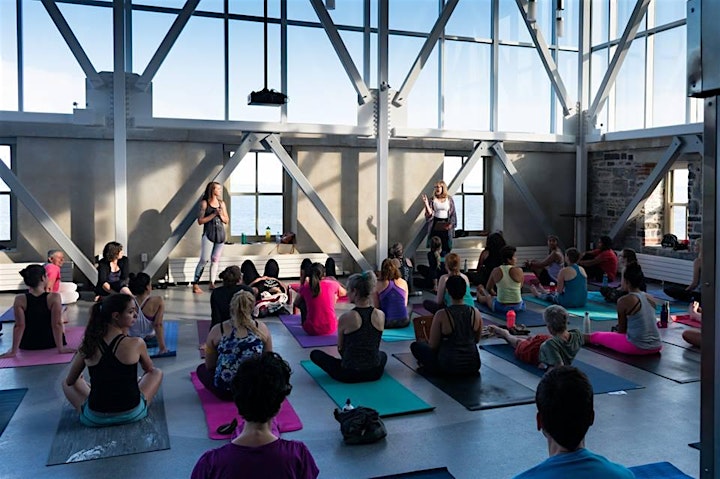 Yoga in the Malting Tower is BACK!