Yoga Nidra: Art of Relaxation - 2023 BIAYR Programming Series
An online weekly morning yoga nidra practice using the 5 elements for inspiration
About this event
Yoga Nidra: Art of Relaxation
Hosted by Shehla Khan, C-IAYT
Yoga Therapist (certified with the International Association of Yoga Therapists)
The healing tradition of Ancient India contributed immensely to present-day yoga and provide us with many techniques and tools. These teachings honor the body, mind and emotions and draw inspiration from the 5 elements - Earth, Water, Fire, Air and Space. Yoga Nidra is an ancient technique for complete relaxation of all the elements within us:
Physical – earth
Emotional – water
Mental – fire
Rest within the heart-mind – air
Self-love and compassion - space
Join BIAYR on Monday mornings as we swim in the fertile waters of our own mind and explore the chakra theory, chakra sounds and visualizations to calm and heal the body and mind.
Each session will consist of:
A brief explanation of tradition
Breathing practices with a focus on a particular chakra
A sound meditation using a mantra
Yoga Nidra – a guided relaxation using chakra visualizations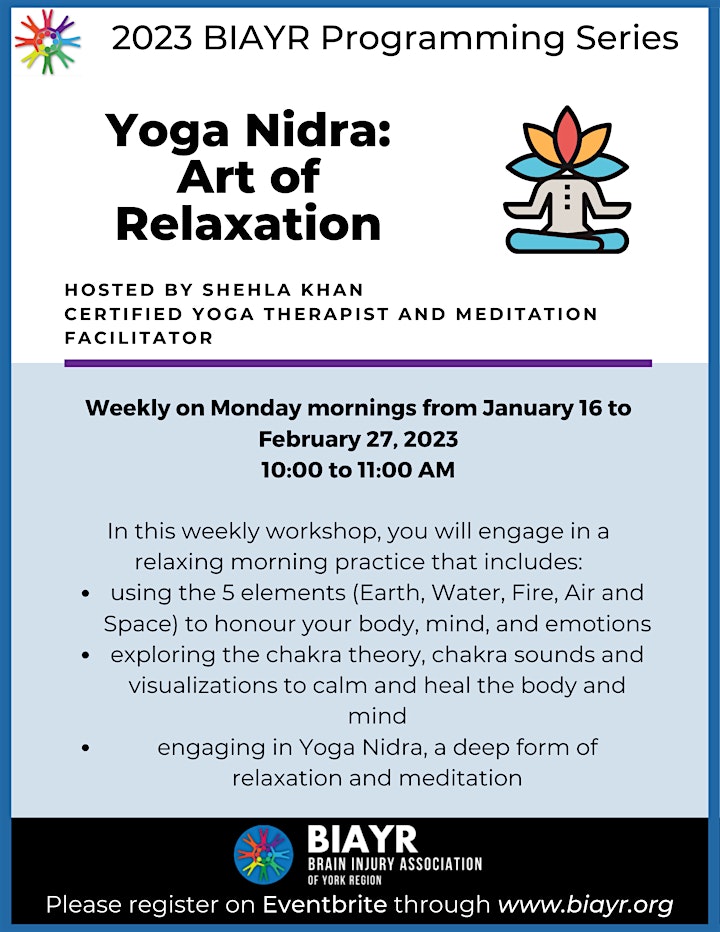 More about Shehla Khan:
Shehla is an Ayurvedic Practitioner & Certified Yoga Therapist. She is passionate about using the power of yoga to help support individuals on their journey to cultivate a life full of healing & love.
"I believe in the simplicity and the discipline of this great practice of Yoga. In the tradition of Krishnamacharya and T.K.V. Desikachar, I draw on different styles of Yoga while incorporating other techniques that promote healing and balance. From Sivananda to Classical Hatha, Vinyasa to Yin and Restorative, I incorporate Yoga's knowledge of itself into my own practice and offer it to others through my teaching.
As a Certified Yoga Therapist, I work diligently to bring the unadulterated teachings of Yoga to the people around me. I have been teaching Yoga and offering Yoga Therapy in Toronto for over 15 years. I have taught public, corporate and private Yoga classes, workshops, and outreach programs. As an instructor of the Classical Yoga Teacher Certificate program at George Brown College and as a senior faculty for Yoga Sanctuary's teacher training programs, I share my knowledge of Yoga Philosophy, Ayurveda, Tantra and Yoga Therapies.
I have come to believe that Yoga is truly a lifelong journey—full of healing and love. To the best of my abilities I teach according to Ayurvedic Principles, paying due respect to the environment around us—the seasons, weather and time of day—and, of course, to the people in front of me." - Shehla Khan