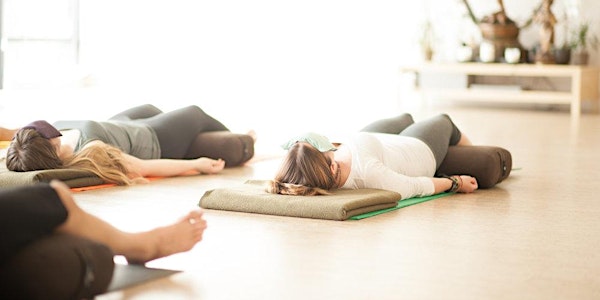 Yoga Nidra
Yoga Nidra is a guided practice that leads you to deep levels of rest. Go beyond that of a dream state.
When and where
Location
Crystal Spirit Yoga & Healing 476 Naismith Avenue Harrison Hot Springs, BC V0M 1K0 Canada
Refund Policy
Contact the organizer to request a refund.
Eventbrite's fee is nonrefundable.
About this event
Yoga Nidra (also known as yogic sleep) is a powerful guided technique for controlling your body's relaxation response. Yoga Nidra can be as restorative as sleep, while you remain fully conscious. Giving your mind and body an extra window of deep relaxation offers powerful benefits!
As the summer winds down, I am excited to offer again a Yoga Nidra practice at my Studio In Harrison Hot Springs, and as all other events an online live stream option also.
Yoga Nidra can offer you a deeper connection between mind and body. An oppurtunity to create conscious relaxation, which will ease stress and anxiety, and allows your body to melt away into a soothing state of being. Everyone can reap the benefits of Yoga Nidra.
There's power in being still and being able to quiet your mind, and Yoga Nidra can help you reach this state.
By becoming more aware of the sensations in your body, you become more aware of the stress and worries that hold you back. Research on the overall benefits of yoga and Yoga Nidra has revealed improvements in emotional self-regulation, with reduced levels of depression, stress, and anxiety, and an increase in mood, quality of life, and well-being.
Yoga Nidra is also one of the most effective techniques, not only for physical or mental relaxation, but for preparing the mind for a disciplined yoga practice.
A state of being where you enter between sleep and wakefulness without losing awareness. Similar to a mini vacation or retreat for your mind.
Spending time in the state of Yoga Nidra creates more space in your mind, opens a portal into your soul, and provides an opportunity to learn about yourself through a reflective and restful experience. Yoga Nidra is the perfect way to end a busy day or set yourself up for a productive week.
Yoga Nidra can also serve as a pathway to freedom without adding bodily stress. You might come into the practice with an intention you want to work on whether it be living in the present moment or letting go of past negative thoughts or events. The intention, or "resolve" is set at the beginning of the practice.
Wear comfortable clothes and consider and a pair of socks plus a sweater or long-sleeved shirt to keep you warm. Simply lie down on your back in savasana or corpse pose. Ensure your body is supported while lying down on the mat, especially for those with lower back pain or those recovering from a recent injury. Use Bolsters, blankets, any props you need to be comfortable. Close your eyes, and let the outside world melt away. Just listen as your body gently shifts into sleep. Dont worry about your mind falling asleep. Although the practice offers more benfits if awake there is no harm in sleep.
The practice can last from 45 - 60 minutes. We will take time in the beginning to set up the stage for a lasting experience. After there will be time to come back to the space around you and ask any questions or share.
"The secret of change is to focus all of your energy, not on fighting the old, but on building the new." – Socrates