Description

Mark your calendar!!! June 21st is the date !!!
Join Dina G founder of Anasa Yoga, accompanied with an amazing group of professionals to host the first Yoga Sound Healing & Massage event . Honoring the 4th International Day of Yoga & welcoming the first day of Summer!

Dina G (Anasa Yoga)
Certified Hatha, Vinyasa & Yin Yoga Teacher
Reiki Master / Teacher
♦Will guide you through the gentle style of Yin Yoga, allowing you to dive deep into the connective tissues & joints while reflecting on your innermost truth, fostering a deep & profound inner peace & wellness as you move forward in your life .


Chris Dimo
Reiki Master, Sound Healer, Certified massage therapist
♦Sound healing will be played throughout the class to go beyond relaxation & create a healing frequency, releasing internal blockages, facilitating you to reach a heightened state of peace & wellness

Anthony Plata (Restore Massage Therapy)
Lisa Mah (Center de Sante Taiyo)
Certified Therapeutic Massage therapists
♦Will intuitively asses & massage your body, easing you into your
stretches, therefore increasing energy & blood flow. leaving you feeling completly revitalized.

Velcia Scott
Master NLP / Life Coach
♦Will encourage reflective discussion on the discovery of true self through mirrored awareness, understanding and application.

We would like to ensure that you have the best experience possible !!
If you have any health issues, questions or concerns contact, Dina G by:
tel/rext 514-231-4772 or
Email- anasayoga1@gmail.com
Be sure to include your name .

What to bring to facilitate the positions & enhance your comfort : yoga mat, yoga belt, blanket, pillows, blocks, whatever makes you super-comfy on your mat!
We will have some extra props & so on however it's always best to bring your own :)
*Stick around after & check out our wonderful vendors, Centre de Sante Taiyo & La Bouitique Tourqouis , bringing you their amazing clothes, yoga beads, essential oils ...... ....
You will also have the opportunity to book an appointment with our wonderful henna artist ! And so much more !
Refreshments & yummy snacks will be served after the class :)
Doors open @ 630pm


RSVP space limited
"WHEN THE MIND IS QUIET , WE HEAR OUR TRUTH." Dina G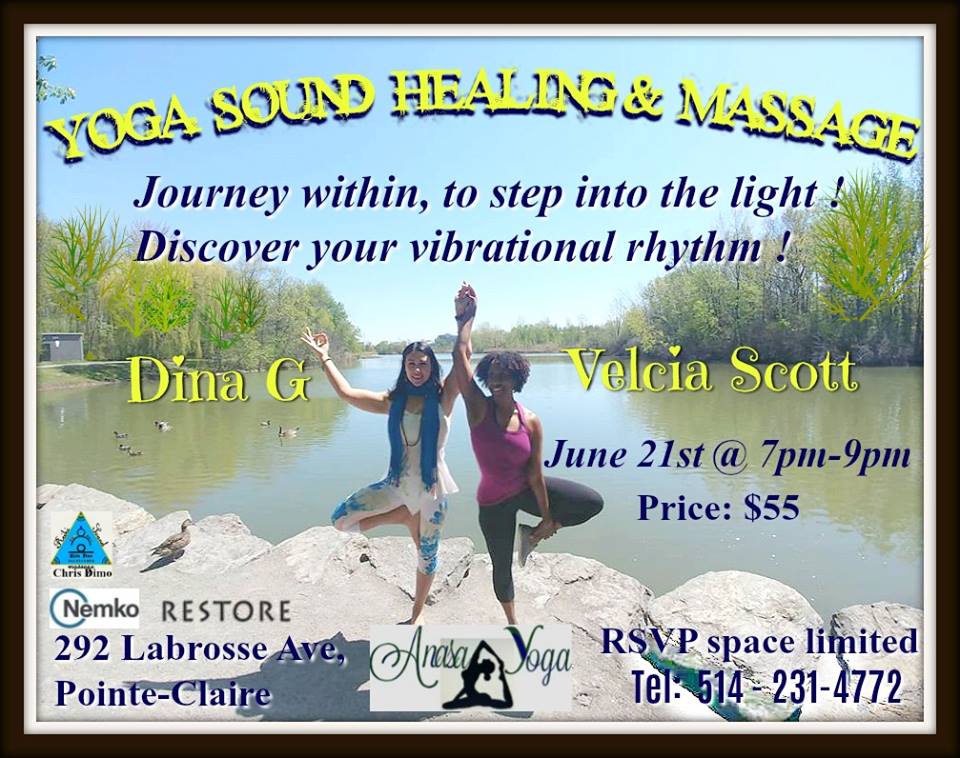 FAQs
How can I contact the organizer with any questions?
Dina G. 514-231-4772 or anasayoga1@gmail.com
Is my ticket transferrable ?
Yes
Where can I park ?
Parking is free in the front & back of the building .