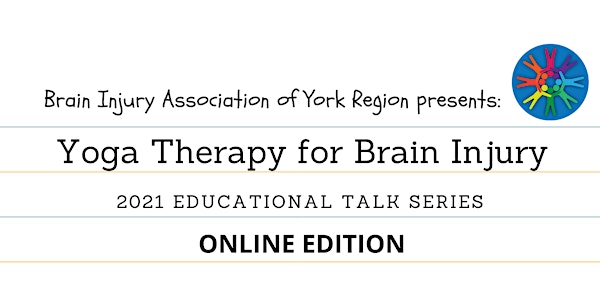 Yoga Therapy for Brain Injury - 2021 BIAYR Educational Talk Series
Online educational talk about yoga therapy after a brain injury
About this event
Kristina Borho, Owner of Empowering Mind and Body providing Occupational Therapy and Yoga Therapy services, will provide an overview of the application of Yoga Therapy after a Brain Injury.
Topics will include:
Symptoms that may result from brain injury
Tools of Yoga to address symptoms
Introduction and brief guided practice of breathing, mindful movement and meditation
Overview of BIAYR Yoga Therapy groups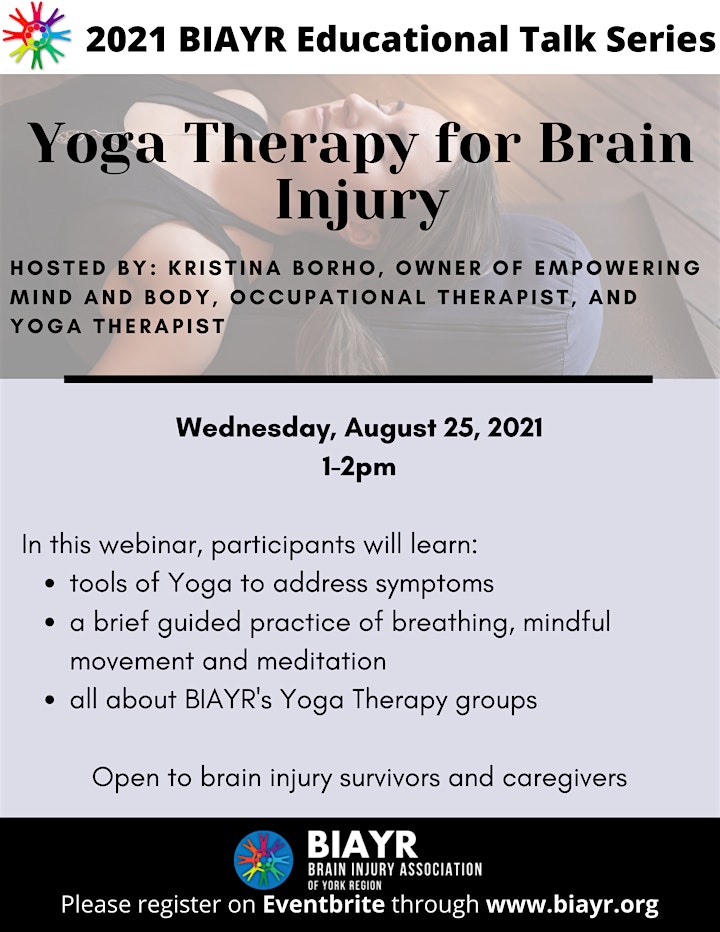 About Kristina Borho:
Kristina Borho is the owner of Empowering Mind and Body providing Occupational Therapy and Yoga Therapy services. Kristina graduated from University of Toronto in 2004 with a Master of Science in Occupational Therapy. She worked at Toronto Rehabilitation in outpatient neuro-rehabilitation for 7 years providing assessment and treatment to individuals with acquired brain injuries, stroke and multiple sclerosis. She received training in Neurodevelopmental Treatment to support motor recovery as a result of a brain injury. Kristina then began working in the private industry carrying out in-home and community based assessments and treatment for individuals suffering from spinal cord injury, traumatic brain injury, and complex trauma. In 2014 Kristina received her 200-hour Yoga teacher training and began bringing elements of Yoga into her therapy practice with clients. Noticing the positive impact Yoga had on her clients, she continued her training and went on to obtain the following certifications; Yin and restorative Yoga training, a 1000+ Hour Yoga Therapy Certification Program at Yoga Therapy Toronto, certification with the International Association of Yoga Therapists (C-IAYT), a Pain Care Yoga Workshop from Physiotherapist, Neil Pearson and a Mindfulness Based Chronic Pain Management Program through the NeuroNova Centre. Kristina has presented Yoga for Brain Injury at a number of conferences including the 2017 Acquired Brain Injury Provincial Conference and the 13th World Congress on Brain Injury. Kristina has a passion for combining her knowledge, skills and experience working in the field of Occupational Therapy with the principles of Yoga Therapy to empower individuals to use the tools of Yoga to reach their meaningful goals.