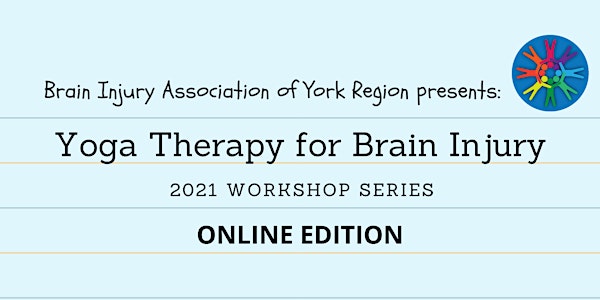 Yoga Therapy for Brain Injury - 2021 BIAYR Programming Series
Yoga Therapy sessions for brain injury survivors and caregivers.
About this event
Brain Injury Association of York Region is pleased to present:
Yoga Therapy for Brain Injury: Rise and Shine
Hosted by Elaine Florio, Yoga Therapist, C-IAYT
Yoga Therapist (certified with the International Association of Yoga Therapists)
This 75 minute Yoga Therapy session aims to support individuals to develop a morning routine of moving their body, connecting with their breath, meditating and setting a positive intention for the rest of their day. Focus will be on releasing tension that builds up from sleeping, activating and energizing the system through breath and movement, using the practice to focus their mind and supporting them to explore how a morning yoga practice can support them to become aware of how they set up the rest of their day in their mind and body.
The class will consist of gentle energizing poses in standing, seated on a chair and lying. The use of a chair or a wall for support is recommended.
Participants will be offered variations of the poses to support individuals to move within their abilities safely. There will be time for participants to connect with one another briefly to build on a sense of community.
These sessions will take place on Tuesdays from 9:30am - 10:45am starting January 5, 2021 to June 29, 2021 (no class March 16).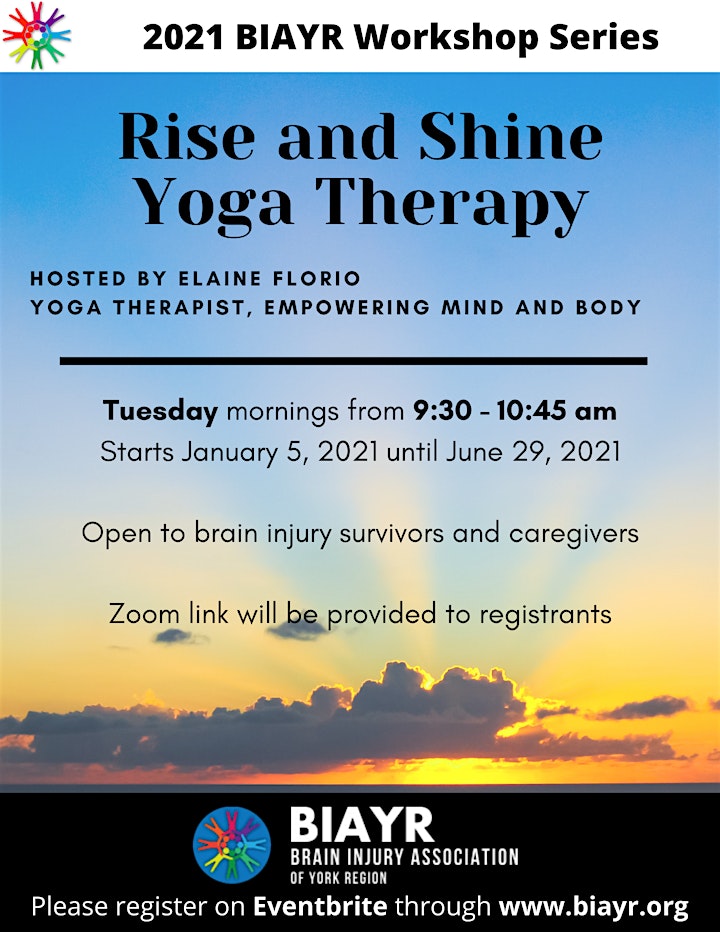 Yoga Therapy for Brain Injury: Release and Restore
Hosted by Sangita Balsara, C-IAYT
Yoga Therapist (certified with the International Association of Yoga Therapists)
Participants will be facilitated through an evening practice to release accumulated physical tension and mental stress that has built up over their day and week. Participants will be led through gentle mindful movements, coordinating with their breath and focusing their mind in the present moment. They will be guided through a breathing practice and meditation to support their parasympathetic nervous system to elicit the relaxation response in the body.
This practice aims to support the participant to have a more restful sleep and support their body and mind to learn how to reset for the following day. Through repeated practice of an evening routine, participants may learn tools that they can incorporate into their everyday life.
These sessions will take place on Thursdays from 6pm - 7pm starting January 7, 2021 to June 24, 2021 (no class January 14 and March 18).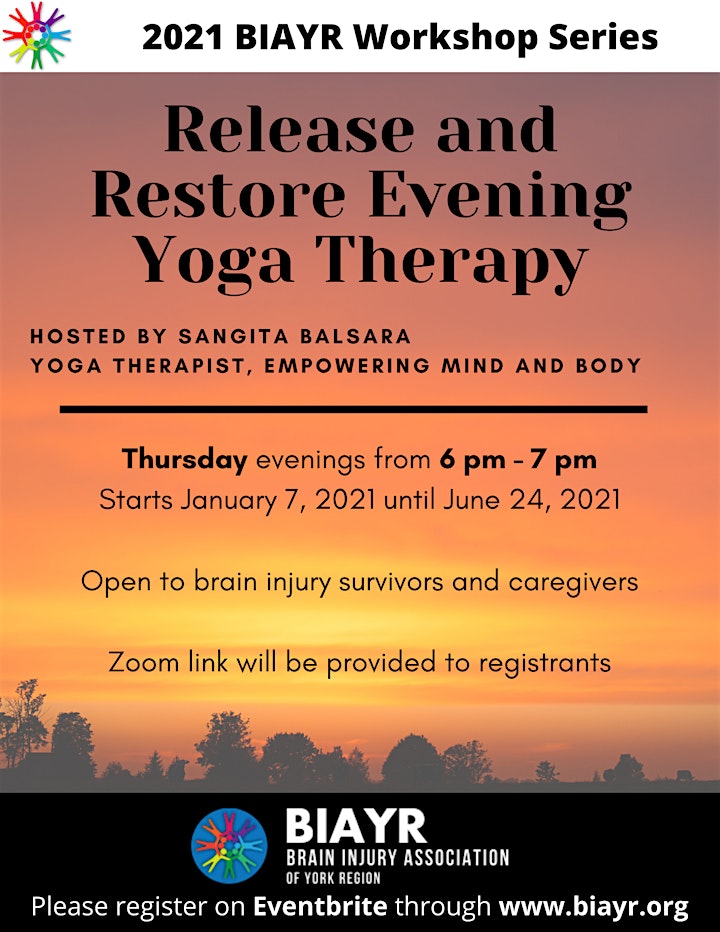 More About Yoga Therapist: Elaine Florio
Ms. Elaine Florio, provides therapeutic Yoga with Empowering Mind and Body Ltd and is certified with the International Association of Yoga Therapists (C-IAYT). Elaine has been practicing Yoga for 18 years and attended Yoga Therapy Toronto for her 300 hr. Yoga Teacher training and 1000 + hour (2 year) Yoga Therapy Teacher Training. Elaine has experience teaching therapeutic Yoga to individuals diagnosed with fibromyalgia and neurological conditions such as traumatic brain injury and has provided home practices to support independent execution of Yoga techniques. These symptoms include acute and chronic pain, insomnia, numbness of extremities, impulsivity, ataxia, PTSD, anxiety, depression and difficulty with memory and attention. Elaine also has experience teaching therapeutic yoga to individuals to help deal with bereavement. This included yoga to children after the loss of a parent. She also has experience working with individuals with eating disorders, social disorders, and visual impairments. Elaine has experience providing therapeutic chair yoga to seniors at an assisted living facility. The residents were provided with breath focused synchronized gentle movement to help alleviate symptoms related to dementia, stroke, diabetes and Alzheimer's. Yoga Therapy techniques include gentle mindful movement, breathing and meditation and is designed to take into consideration the unique needs of the person or group and their condition. Elaine is a compassionate therapist who takes time to get to know her clients and looks at them holistically through the lens of Yoga Therapy to teach them tools that focus on wellness of body and mind.
--
More About Yoga Therapist: Sangita Balsara
Yoga has been an integral part of my household since childhood, although at that time I did not realize it. Whether I was practicing asana with my mom, chanting at spiritual gatherings, or watching my parents meditate these powerful tools of Yoga have supported my upbringing and led me to where I am today. I completed my first Yoga training in 2007 with Patanjali Yogpeeth Canada, and went onto deepening my practice and knowledge by completing a 350hr Yoga Teacher Training with East to West yoga in 2009. Since then, I have continued to study, practice and teach and have certifications in Children's Yoga, Teens yoga, Athletes Yoga and Yin & Restorative Yoga. The more I immersed myself in learning and teaching the more I recognized the healing capacity of Yoga. This led me to complete a 2-year intensive Yoga Therapist Training program in the lineage of Krishnamacharya.
As a Yoga Therapist, I work with people on a one-to-one basis to enable and empower individuals to heal from within. Where general Yoga keeps us on the steady path of wellness and regular practice provides the equanimity to cope with the stresses and various stages of life, Yoga Therapy specifically targets the root cause of affliction. The goal of Yoga Therapy is to heal by appeasing the symptoms, positively enhance quality of life and thereby reduce suffering. In my classes the emphasis is always on the incorporation of breath in asana (postures) to create a deeper level of practice and cultivate body awareness. Body awareness not only creates a safer practice for students, but translates into their daily lives, resulting in a healthier lifestyle. My mission is to make the practice and benefits of yoga easily accessible to anyone who wishes to practice. I believe that yoga offers a wealth of benefits that everyone must have a chance to explore.