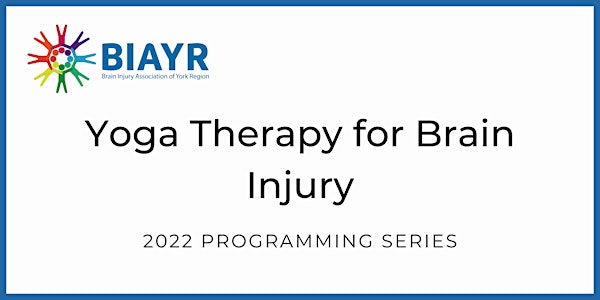 Yoga Therapy for Brain Injury - 2022 BIAYR Programming Series
Yoga Therapy sessions for brain injury survivors and caregivers.
About this event
Yoga Therapy for Brain Injury: Release and Restore
Hosted by Sangita Balsara, C-IAYT
Yoga Therapist (certified with the International Association of Yoga Therapists)
Participants will be facilitated through an evening practice to release accumulated physical tension and mental stress that has built up over their day and week. Participants will be led through gentle mindful movements, coordinating with their breath and focusing their mind in the present moment. You will be guided through a breathing practice and meditation to support your parasympathetic nervous system to elicit the relaxation response in the body.
This practice aims to support the participant to have a more restful sleep and support your body and mind to learn how to reset for the following day. Through repeated practice of an evening routine, participants may learn tools that they can incorporate into their everyday life.
Participants will require a chair and a Yoga Mat. As stated previously, standing poses will use the chair for support, yet poses can be modified so that the participant can remain in the chair instead of engaging in standing or lying poses if preferred.
These sessions will take place on Thursdays from 6 pm - 7 pm starting September 8 to December 15, 2022 (except for October 6th).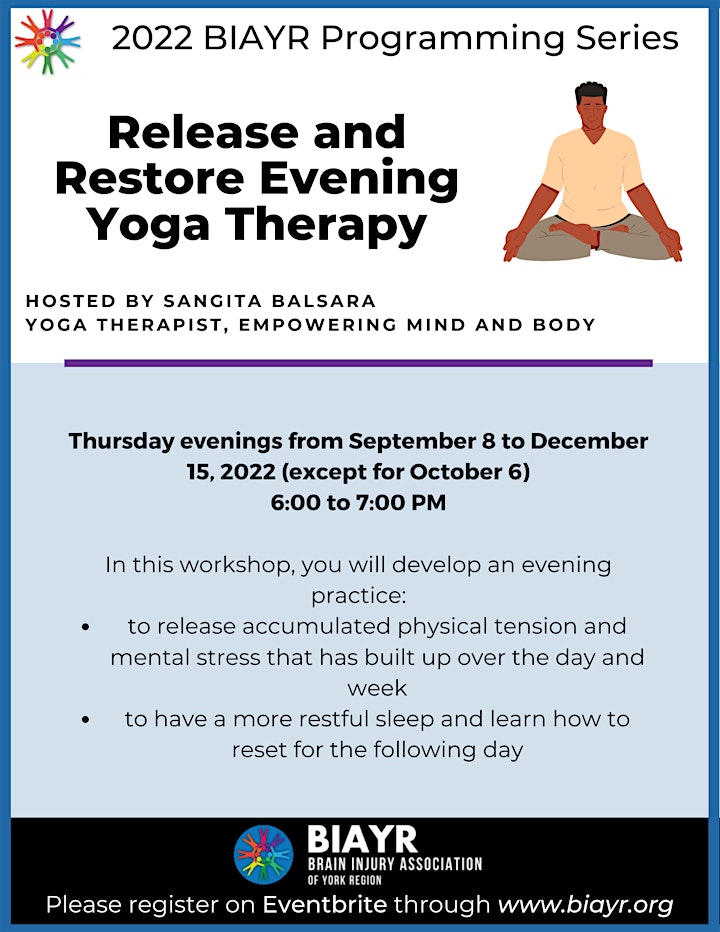 About Yoga Therapist: Sangita Balsara
Sangita Balsara is a certified Yoga Therapist trained at Yoga Therapy Toronto in the lineage of T. Krishnamacharya and is certified by the International Association of Yoga Therapists.
As a Yoga Therapist, Sangita works with people on a one-to-one basis to enable and empower individuals to heal from within. Where general Yoga keeps you on the steady path of wellness and regular practice provides the equanimity to cope with the stresses and various stages of life, Yoga Therapy specifically targets the root cause of affliction. The goal of Yoga Therapy is to heal by pacifying symptoms of suffering and positively enhancing quality of life.
Sangita's extensive training and experience includes working with a wide range of individuals with physical limitations caused by trauma, illness and ageing. Specifically, this includes working with individuals who have an acquired brain injury, orthopaedic injuries, chronic pain, trauma, anxiety and depression. She also works with individuals with metabolic diseases, auto-immune diseases and sleep disorders.
With her work at Empowering Mind and Body, Sangita provides in-person and virtual one on one support to clients with Traumatic Brain Injury from motor Vehicle Accidents. Through her work at several multidisciplinary heath centers in the York region, Sangita has offered workshops in Meditation, back care, arthritis, anxiety and depression alongside the private Yoga therapy sessions. Sangita's work with the City of Toronto includes Yoga for seniors, Chair yoga and working with the Toronto Public health on the get active to prevent Diabetes program. Sangita continues to partner with the Toronto District School Board and offers Mindful movement programs for children from Kindergarten to Grade 8.
It is Sangita's mission is to make the practice and benefits of yoga easily accessible to anyone who wishes to practice. She believes that yoga offers a wealth of benefits that everyone has a right and chance to explore.
Sangita completed her first Yoga training in 2007 with Patanjali Yogpeeth Canada and has continued learning since. Sangita holds a Yoga Teacher Training certificate with East to West Yoga, is certified through YogaEd for Children and Teens Yoga and has certifications in Athletes Yoga, Seniors Yoga and Yin & Restorative Yoga. In 2014 Sangita completed the Yoga Therapist Training, followed by Ayurveda for Yoga Therapists training and most recently completed a Pain Care Yoga Certificate and a Yoga for Mental Health certificate.