Description
Watch our video below to learn all about the Better Business Expo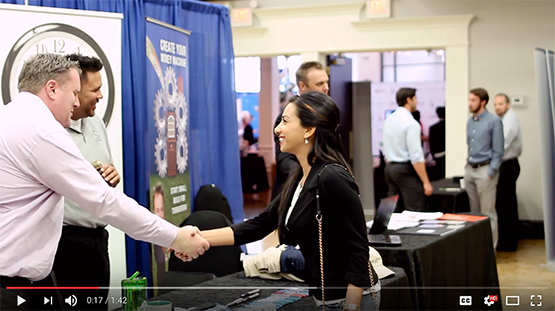 What is the Better Business Expo?
The Better Business Expo is Canada's premier business-to-business tradeshow and networking event. This event connects business professionals with the most innovative business development products and services.
What is the format of the event?
There are two components of the Better Business Expo. This event features a very large business development tradeshow with over 80 exhibitors and a seminar training series featuring Social Media School sponsored by Trios College.
What is Social Media School?
Social Media School runs from 1PM-3PM. This two hour training session includes topics on Social Media, Digital Marketing, E-mail and SEO.
Who are the Speakers?
Social Media School Speakers:

1:00PM-2:00PM: Radio Personality and CEO of Training Business Pros Paul Tobey

2:00PM-2:30PM: Constant Contact Authorized Local Expert Vito Marchese

2:30PM-3:00PM: 2015 Canadian Entrepreneur of the Year and Founder of Green Lotus Bassem Ghali

Breakout Session Speakers:

3:00PM-4:00PM: Outrank Your Competitors Online in 5 Easy Steps with SEO Tools presented by Bassem Ghali

4:30PM-5:00PM: Sell Without Sounding Like a Salesperson presented by Chris Kelly

5:30PM-6:00PM: How to get money from the government presented by Ash Silva
Who should I expect to meet?
The Better Business Expo allows you to connect with the communities most proactive suppliers of business development products and services.
The open networking aspect attracts hundreds of business owners, executives and entrepreneurs looking for resources and contacts to help them start or grow their businesses.
What is the dress code?
The dress code is business casual.
When should I arrive?
Attendees can arrive at any time. Workshops start at 1PM and the tradeshow opens at 3PM.
What should I bring?
Bring your colleagues, associates and business cards.
Do I need to register?
Registering in advance is strongly advised. Early Bird Admission of $20 ends March 16th, 2017. Tickets are available at the door for $30.
Where can I find more information?
www.betterbusinessexpo.ca
Interested in becoming an exhibitor or sponsor?
Call 905-581-2512