Sales Have Ended
Ticket sales have ended
Sold Out. See you in 2017.
Sales Have Ended
Ticket sales have ended
Sold Out. See you in 2017.
Description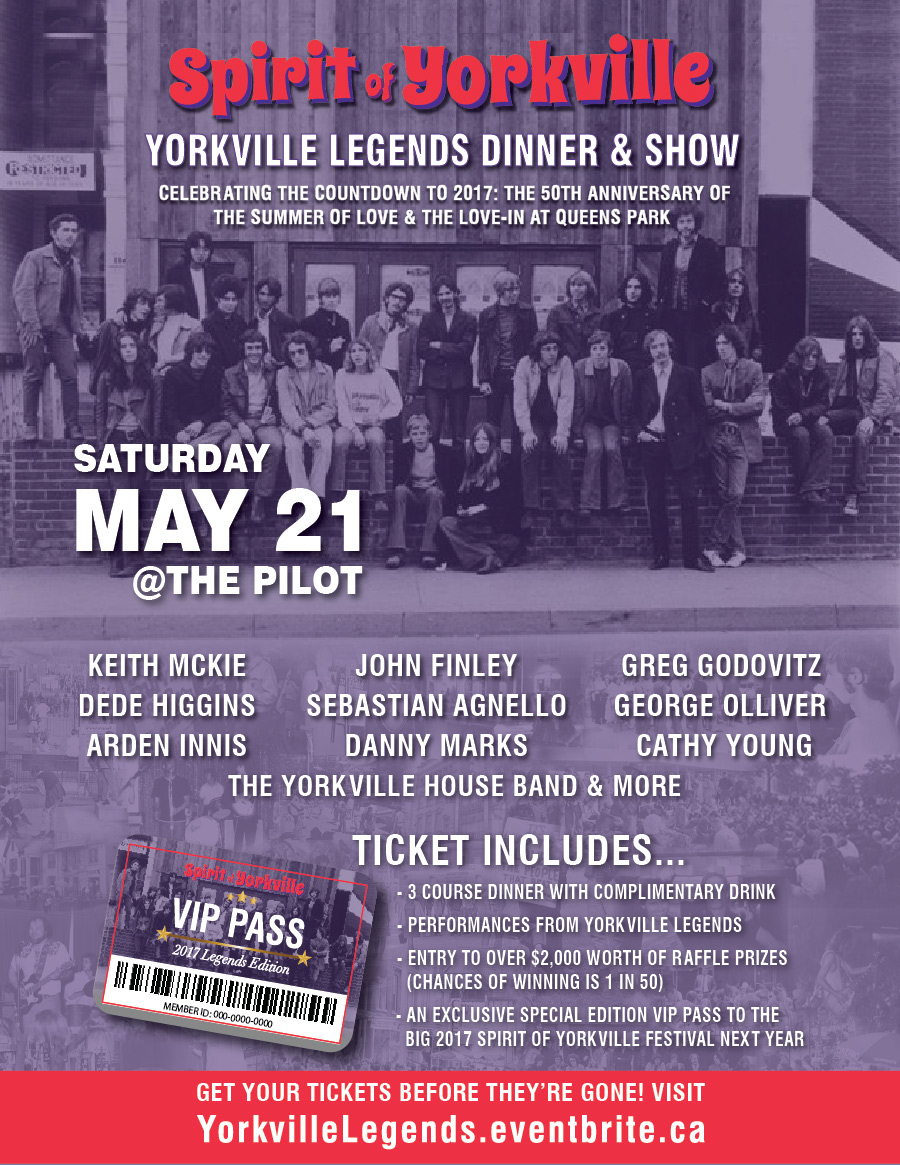 Join Yorkville lovers at this one of a kind dinner and show to eat, laugh and play amongst some of Yorkville's legends. The night will also begin the countdown to the BIG event in May 2017 celebrating the 50 anniversary

of the Summer of Love and the Love-in at Queens Park in 1967
and featured Buffy Sainte-Marie and Leonard Cohen among many others.
TICKETS INCLUDE:


A sit down delicious 3 course dinner with a complimentary drink.


Concert featuring Yorkville Legends Keith McKie, Arden Innis, DeDe Higgins, Sebastian Agnello, Greg Godovitz (GODDO), Danny Marks, George Olliver, John Finley and Cathy Young. The backing band features some of the top musicians Toronto has to offer: Tony Paladino, keyboards (Music Director -Mike Bullard show), Peter Mueller, guitar, (Music director, Canadian Idol), Jarod Ross, bass (Direct from Australia - A Team), and Shamakah the Fatback Beat on drums (Al Green SOS Band, A Team). All this talent in one room promises a Stellar night of entertainment.


Ticket holders will also be entered into a few draws for some valuable prizes including an album cover designed by Jean-Michel Basquiat who joined the ' 27 ' club in 1988 (valued at over $2,000), limited edition DAVID BOWIE print and T shirts from John Rowlands, two autographed books on John Lennon (with a forward written by YOKO!) from Ritchie Yorke, and T shirts as well! WoO HOOOOO!


Also included in the ticket price is V.I.P. access at next year's Festival. The 50 ticket holders will enjoy the VIP tent, food ,beverages, and mingling with the performers. All for $90. Show is expected to sell out and we cannot gaurantee purchases at the door.

The evening will also feature Plaque presentations
to three recipients who have greatly contributed to the Yorkville community and the musicians and artists who honed their skills in Yorkville throughout the Halcyon days, up to the present time.

THE NIGHT WILL ENTAIL:
6:30 - 7:30 p.m.: Doors open and mingle
7 - 8 p.m.: Dinner
8 - 11 p.m.: Performances
11 - 12 p.m.: Jam Session
Registration is required below.
Present receipt or bring photo ID to claim your ticket at the door.
HOW DO I GET THERE?
The nearest Major Intersection is
Yonge Street and Bloor Street. The Pilot is located in the heart of Toronto'sYorkville District. The ground level of the Pilot has a classic open pub feel, complete with long oak bar and weekend live jazz. And if you don't mind a steep climb, its the rooftop "Flight Deck" that really shines – a sunny yet secluded spot that is often packed with the post-work crowd and Yorkville locals.
BY PUBLIC TRANSIT:
We recommend taking the transit, and leave the car at home. The Toronto Transit Commission (TTC) has three subway stations in the Bloor-Yorkville area (Museum, Bay, and the Yonge/Bloor interchange), in addition to several bus routes. For hours of operation and fare information, call the TTC at (416) 393-4636, or go to
www.ttc.ca
.
BY CAR:
Bloor Street and Yonge Street are major Toronto streets that intersect in Bloor-Yorkville.If travelling from the north, east or west, take Hwy. 401 to Yonge Street or Avenue Road, and go south to Bloor. Or, take Hwy. 401 to the Don Valley Parkway. Travel south to the Bloor/Bayview exit, and travel west along Bloor Street.If traveling from the south, take the Gardiner Expressway to Bay Street or Yonge Street, and continue north toBloor Street.
Photo credit: "Musicians outside Penny Farthing" is used courtesy of the Clara Thomas Archives and Special Collections, York University.