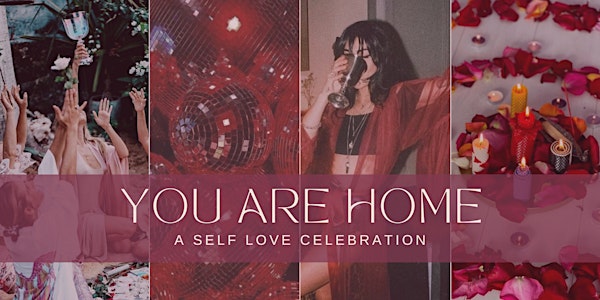 YOU ARE HOME - A Self Love Celebration
Breath work & meditation, vocal & sound healing, cacao ceremony, confidence centric dance class, self discovery & group connecting, dinner!
When and where
Location
Venue To Be Announced, Rough Location is currently pinned 600 Richmond Street West Toronto, ON M5V 0N9 Canada
About this event
At the Self Love Celebration, you will...
gather with likeminded women
feel safe, seen and supported,
feel closer and connected to yourself,
feel confident, fierce, and empowered,
cultivate and nurture your relationship to self.
What's involved?
1. CONNECT
heart opening cacao ceremony
authentic group sharing and relating
self discovery and reflection
partner exercises
2. DEEPEN & RELEASE
guided breath work experience and meditation
vocal and sound healing session
3. CELEBRATE
confidence centric movement practice and dance activation
delicious nourishing dinner, snacks and treats, coffee and tea
The Vibe:
An alluring candle lit evening adorned with rose pedals... and shiny thing.. obviously.
What you need to bring:
your whole beautiful loving self!
a journal/ paper and pen/pencil
a yoga mat or blanket
an eye cover (eye mask/ soft headband, etc)
a water bottle to stay hydrated
wear whatever makes you feel like you love yourself - whether that's comfy and cozy, bold and sexy, you choose :)
Why am I hosting this event?
The relationship you have with yourself is the most important one to cultivate, respect and nurture. Loving yourself changes the way you show up in the world - in friendships, relationships, family, the workplace, etc, and thus, changes what you get out of life and every situation your apart of.
Why is it called YOU ARE HOME ?
Think about the feeling of being in your safe haven. For most, this is their home or even a certain room in their home, one they call their sacred space, their sanctuary. Think about how much those walls know the real you, how safe you feel to be your authentic self. You don't have to be or do anything else, you don't have to prove yourself. You are loved and accepted just as you are.
Now what if I told you, home is not a physical place. There's no person, place, thing or destination that you need to seek outside of yourself - YOU ARE HOME. You are free to feel safe in you, to feel safe to shine in your authentic expression. Home is always with you, because Home is YOU. Home is within you. It's been there all along, and you are meeting it again. Come meet your home again, and you'll see YOU on the other side :)
DATE YOURSELF on Friday, February 10th, 2023
Show up for yourself, love yourself, compliment yourself, hug yourself, lift yourself up, be your own biggest fan.
Limit of 25 tickets