Description
Join us in celebration of International Women's Day 2019 for a talk from Sandi Metz - programmer, teacher, and author of Practical Object-Oriented Design in Ruby and 99 Bottles of OOP - on the power of persuasion.
Research indicates that programmers are not entirely happy, and that much of this unhappiness arises from interactions with other people. Research also tells us that teams are capable of producing solutions that are more creative and of higher quality than those of single individuals. However, teams, by definition, consist of people--possibly the very ones who are causing our unhappiness.
This talk explores the science behind human persuasion, examines the roots of motivation, and reveals the single quality that all high-performing teams share. You'll leave armed to persuade, primed to understand, and motivated to create teams that inspire everyone to do their best work.
You'll learn to:
Understand the root causes of programmer unhappiness

Explore techniques for persuading others to your point-of-view

Learn how to resolve conflict and build high-performing, collaborative team
Sandi Metz, author of Practical Object-Oriented Design in Ruby and 99 Bottles of OOP, believes in simple code and straightforward explanations. She prefers working software, practical solutions and lengthy bicycle trips (not necessarily in that order) and writes, consults, and teaches about object-oriented design.
What to expect:
5:30pm - Doors open + snacks & drinks
6:30pm - You are Insufficiently Persuasive + Q&A
7:30pm - Networking begins
8:00pm - Doors close
We are excited to bring you this event with support from our partners at

--
This event is open to EVERYONE and our office is fully accessible. Should you require any additional accommodations, please let us know at least one week in advance.
By attending this event, you grant Shopify (and others on behalf of Shopify) the right to record, film, photograph, or capture your likeness in any media and to distribute, broadcast, use, or otherwise disseminate, in perpetuity, such media without any further approval from or any payment to you.
--
FAQs
Where is parking located?
Free parking is available in the parking lot behind the building off of Father David Bauer Dr.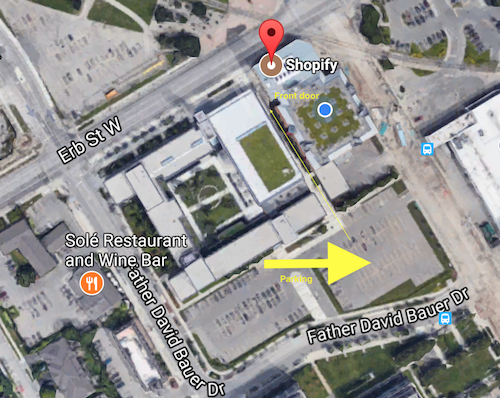 Do I need to bring my ticket?
No - once you register, we'll have your name on file.