Description
Put your thickest skin on and get your best arguments ready, it's time for Manila's first Crypto Debating Club by BlockChats, SCI, and Particl at BlockchainSPACE!
You will be teaming up with your fellow attendees to battle alongside (or against) four Manila community favourites in a discussion round on the topic:
You don't need a Blockchain – Change my Mind.
Has the term "Blockchain" been shamelessly overhyped, and if so, what is it actually good for? Are most advertised use cases nothing but nonsense? Or is blockchain technology falsely being demonised and, in reality, useful for much more than just finance? What is YOUR opinion?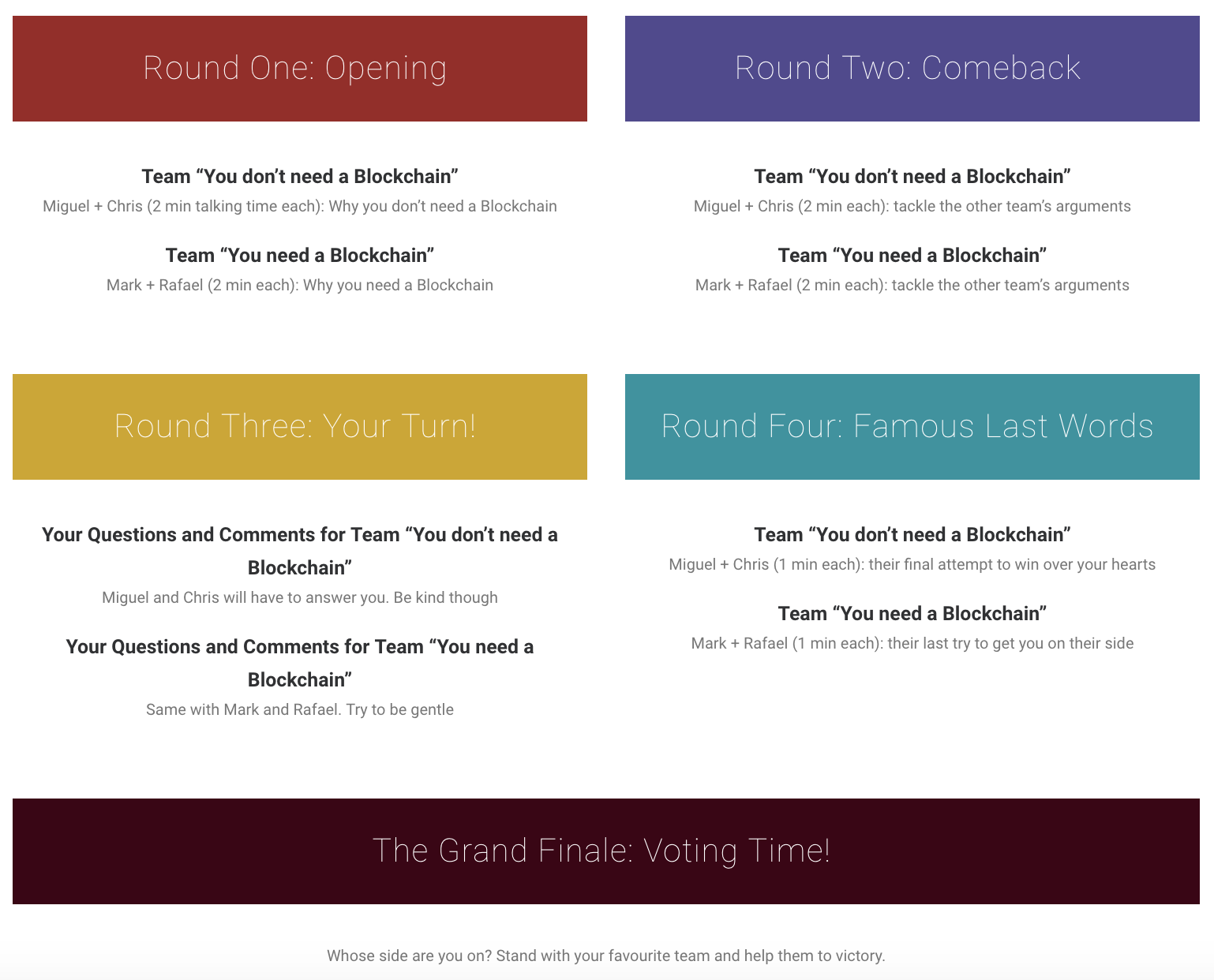 ・・・
Official Event Website: https://block-chats.com/manilacryptodebates/
・・・
Team "You don't need a Blockchain":
→ Miguel Cuneta, Co-Founder of SCI
→ Chris Verceles, Full Stack / Blockchain Developer at ConsenSys

Team "You need a Blockchain":
→ Mark Vernon, Founder of TagCash
→ Rafael Padilla, Co-Founder of the Fintech Philippines Association

・・・

Agenda

6:30 | Reception

7:00 | Panelist Introductions + Debate Rule Explanation

7:10 | You don't need a Blockchain - Change my Mind (read up on the full debate agenda here: www.block-chats.com/manilacryptodebates)

7:50 | Voting Time!

8:00 | Winner Announcement

・・・

Meet the Organisers:

BlockChats
www.block-chats.com
www.facebook.com/blockchats

SCI
www.sci.ph
www.facebook.com/sciventuresinc

Particl
www.particl.io
www.facebook.com/particl.io

BlockchainSPACE
www.blockchainspace.asia
www.facebook.com/groups/blockchainspaceph
・・・
See you there!