You Symposium - Build Your Own Improve Communication Skills Learning Event
Improve communication skills learning event! Participants submit topics they want, vote on those topics, and experts present the topics.
About this Event
Build Your Own Improve Communication Skills Learning Event and Build a Better You!
■ This symposium is for you if you...
struggle with interviews
want to give better presentations
talk to small or large groups
need to express your thoughts
desire to advance in your career
lack the ability to listen attentively
crave confidence in communicating
...have any obstacle(s) that prevents you from reaching your potential.
"Communication is a skill that you can learn. It's like riding a bicycle or typing. If you're willing to work at it, you can rapidly improve the quality of very part of your life." - Brian Tracey
■ This symposium is for you if you...
want to present your knowledge, experiences, and success in communication to others.
"Knowledge is like money: to be of value it must circulate, and in circulating it can increase in quantity and, hopefully, in value." - Louis L'Amour
■ About the You Symposium
You contribute what you want to learn when you want to learn it, and who you want to learn it from
① — You suggest the topic you want to learn through an event board
② — You vote on the topic of interest through the event board for a breakout period
③ — You go to the session that interests you presented by an expert. Experts choose which topic they will present through the event board
Three breakout periods, five 40 minute sessions each, one keynote. Go in and out of breakout rooms. (the keynote TBA may be a panel discussion related to communication development)
■ You Symposium Agenda Determined by You!
Topics selected, voted on, and presenters determined in real time during the symposium through the event board.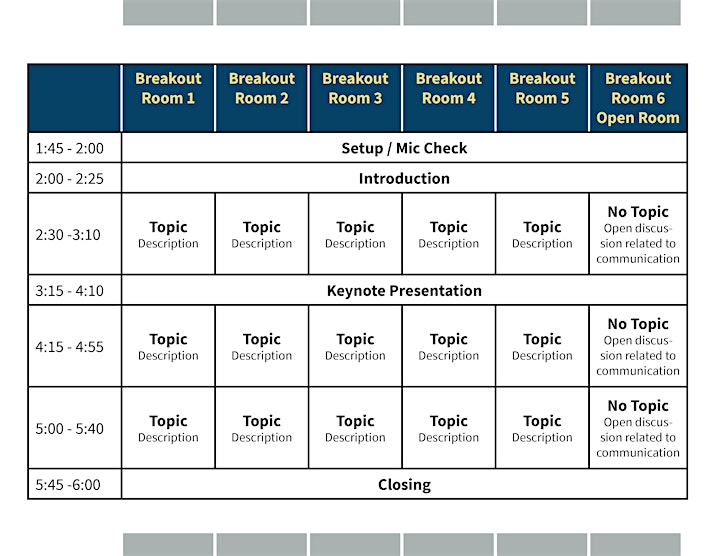 "Communication - the human connection - is the key to personal and career success." - Paul J. Meyer
■ Follow the You Symposium Facebook Page

Learn more
Share your thoughts
Info on keynote and more
■ FAQ
Which online platform will be used?
The You Symposium will be using Zoom.
Why should I update to the latest version of Zoom?
To move in out of breakout rooms, you will need version 5.30 or later. To experience the Symposium at its best, make sure to have the latest features. Learn how to easily upgrade to the latest version.
Is there an age limit?
You must be 18 years old to be a member of the organizer's organization.
Who are the experts?
Experts are members of Toastmasters International and from other professions who have developed their own communication skills.
Who is the keynote?
We have not yet confirmed and are looking at the possibility of a panel discussion of professionals proficient in communication. We will announce as soon as confirmed.
Why is this free, and what's the catch?
This event helps everyone who struggles with confidence in speaking in public, wants to improve in their career, and their lives. We sincerely want to help those in the community get confidence, learn new skills, and improve their lives, no catch. If you would like to continue learning and improving, we will show you how.
What are some of the topics?
Anything you want to learn related to improving communication. Listening, having confidence, giving better presentations, not getting nervous, giving reviews or feedback, using humour, nailing interviews....
Who is organizing the You Symposium?
The You Symposium is put on by members of Area 31 Toastmasters, composed of four Toastmasters clubs. Brampton Toastmasters, Hershaw Toastmasters, Region of Peel Toastmasters, WPOC Toastmasters.
What is Toastmasters?
Toastmasters International is a worldwide nonprofit educational organization that empowers individuals to become more effective communicators and leaders. Headquartered in Englewood, Colo., the organization's membership exceeds 364,000 in more than 16,200 clubs in 145 countries. Since 1924, Toastmasters International has helped people from diverse backgrounds become more confident speakers, communicators and leaders.