Young Entrepreneur Weekend Kick-Off Event
Description
Join us for the "Kick-Off" event for Niagara Young Entrepreneur Kick-Off Weekend!

From November 6 to 8, Niagara College and Brock University BioLinc are hosting the Niagara Young Entrepreneur Kick-Off Weekend. Modeled after the famous "Start-Up Weekend", entrepreneurial youth (aged 18-29) will come together on Friday to dream, form teams, and develop business ideas to pitch on Sunday. More information available here.

During this opening event, community members are invited to mingle with entrepreneurial youth, then learn from guest speaker, Julielynn Wong, MD, PhD. Dr. Wong is a Harvard-educated, award-winning public health physician, social entrepreneur, and communicator who combines knowledge and real-world expertise in technology and innovation for healthcare. She founded 3D4MD (www.3d4md.com) which creates 3D printable medical supplies to deliver healthcare in the most challenging places to those who need it the most. Dr. Wong will be leading an inspiring keynote speech on how "anyone can be an innovator with 3D printing".

Date: Friday November 6, 2015
Time: 6:00-8:00pm
Location: Brock University, Pond Inlet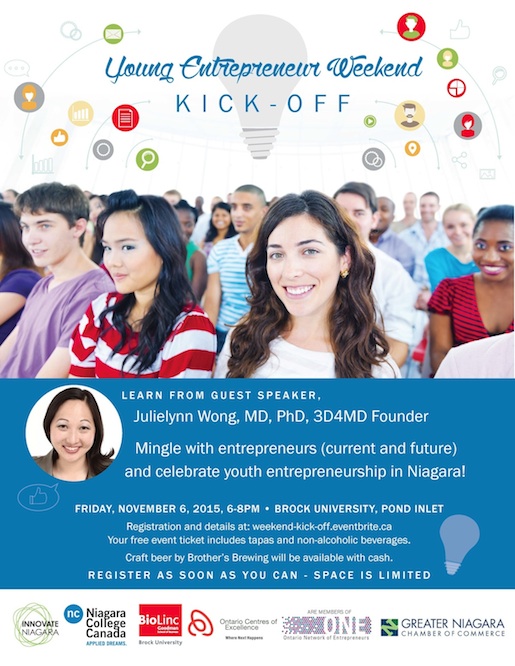 Organizer of Young Entrepreneur Weekend Kick-Off Event
ncTakeOff is Niagara College's hub for entrepreneurial education. By exposing Niagara College students to the concept of entrepreneurship, ncTakeOff is building an innovative, enterprising and challenge-embracing culture across campus, in Niagara and beyond.

The Goodman School of Business BioLinc is Brock University's business incubator and is part of Innovate Niagara's network of incubators. BioLinc is a dynamic bioscience, biotechnology, applied health and biomanufacturing business incubation facility dedicated to promote, enhance, and commercialize the discoveries that are taking place at Brock, while bringing Niagara's health, bioscience, and biomanufacturing sectors to the next level.

The Brock Innovation Group (BIG) takes pride in providing resources to entrepreneurial minds at Brock University and in the Niagara Region.  Only a couple of years old, vast partnerships have already been created with industry leaders, and a growing Niagara Region presence has given this club a large presence in and around Ontario.