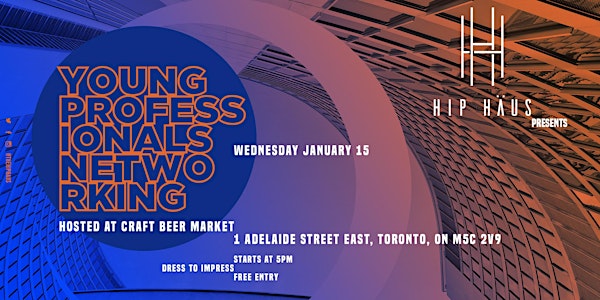 Young Professionals Networking by The Hip Haus - Jan 15th, 2020
When and where
Location
Craft Beer Market 1 Adelaide St E Toronto, ON M5C 2V9 Canada
Description
The Hip Haus presents:
Our January Edition of our Young Professionals Networking Event

Hosted at Craft Beer Market at 1 Adelaide St E.
** What is The Hip Haus? **

The Hip Haus is an organization that exists to empower young professionals in the GTA and help the growth of local business. As young professionals it is sometimes difficult to network with other like minded individuals, get good career advice or simply make connections with others you may be able to help or get help from. The Hip Haus is committed to providing FREE social gatherings in an atmosphere where such networking can take place.

** Who Should Attend? **
The Hip Haus events are 19+. The focus however is the growth and development of young professionals in the GTA. It doesn't matter if you are a business owner, have a job, are looking for a job, recently graduated university/college, still in university/college, looking for others to launch a new idea or just want to meet other professionals, our events are for you.
Remember that Industry is Industry. One is not better than the other to The Hip Haus. We are expecting a diverse range of industry professionals. Entrepreneurs, Musicians, Artists, Bankers, I.T Professionals, Accountants, Investors, Advertising/Marketing Professionals, Bloggers, Authors, Lawyers, Doctors, Dentists (This List Can Clearly Go On). ALL ARE WELCOME!

** What to Expect at Our Events? **
Bring Lots of Business Cards. Networking! That is the key to these events. Sure it can be a great place to hang out and have a beer with a few friends but it is important to come with an open mind to meet new people and make new connections. Build your network of friends/colleagues/advisors to help yourself as well as them. The Hip Haus wants the young professionals of the GTA to come together to help foster personal and professional development.

** Dress Code! **
This is a tricky one. There is NO strict dress code but remember this; you are meeting new young professionals in an informal manner and we all know first impressions last forever. Come dressed in a way that would allow you to be comfortable and professional according to your industry. Consider This…would a professional musician/artist necessarily dress the same as an investment banker at work? Be who you are or who you want to be.

** Let's Get Social!**

WEB: www.thehiphaus.com
INSTAGRAM | FACEBOOK | TWITTER | SNAPCHAT