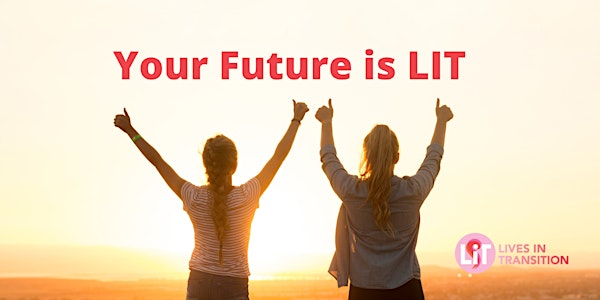 Your Future is LIT: Lives in Transition Info Session (VIRTUAL)
Don't miss this opportunity to get supports to recover from domestic violence and plan your future!
About this event
Did domestic violence hold you back? We are here to help!
Lives in Transition (LIT) would like to invite you to a program info session. Our team of service counsellors would like to help you take back your power and get back into the work force.
In this one-hour Program Info Session, you will learn:
How LIT's FREE employment program can help you get to where you want to be, personally and professionally
What supports the LIT program has to help you succeed with your goals in 2022
About labor market opportunities in Edmonton and surrounding areas; and
How you can tailor your job search approach to get the job you want
About Lives in Transition
Lives in Transition is an Edmonton-based employment preparation program for women. LIT offers a flexible program between 12-24 weeks that's tailor-made for participants to maximize their opportunities to find meaningful employment or get support to go back to school. LIT offers a wide range of job and personal development workshops, counselling supports, and employment and education advising services. LIT is funded by the Government of Alberta and is FREE to attend for eligible Albertans. LIT focuses on supporting women who's barriers to employment include experiencing domestic violence and/or sexual exploitation, a history of mental health and addictions, and mothers who have been in and out of the workforce.
To learn more about Lives in Transition, visit: https://litinc.ca/lit-program/
NOTE: Registrants will get an email the day before the session with a link to access the Zoom session for the event.
For more information about this info session, please reach out to:
Kareema Batal, Program Manager | 587-414-6450 | kbatal@litinc.ca
Mary Fithen, Job Developer | 587-773-7534| mfithen@litinc.ca