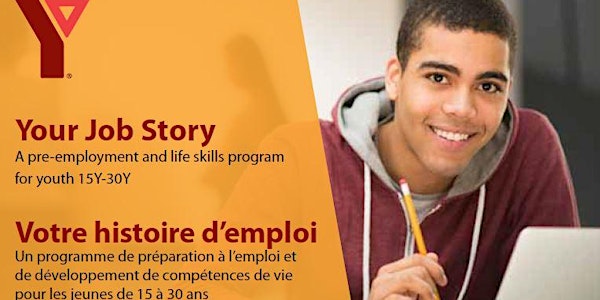 Your Job Story Information Session
Learn tools to succeed in life and on the job, while earning minimum wage to participate in our pre-employment training program.
About this event
We offer:
4 weeks of paid in class (hybrid) training and 6 weeks of paid job placement
Modules covering: Life Skills, Employment Readiness and Career Exploration
Support with overcoming barriers to employment
1: 1 appointments with a youth advisor and/or job developer
You must be:
Between 15 and 30 years of age (inclusive)
Legally entitled to work in Canada  Resident of Ontario
A Canadian citizen, permanent resident or a protected person
Legally entitled to work according to the relevant provincial/territorial legislation and regulations
Committed to attend classes and a work placement on a full-time basis for 10 weeks total
(Classes will be 30 hours per week for 4 weeks, and a minimum of 30 hours per week for the 6 week work placement)
* Participants in receipt of EI are eligible to participate
For more information or to register, please contact:
yourjobstory@ymcaywca.ca | 613-301-1416 or 613-301-3093
You do not require any special equipment in order to attend this webinar. We will not be using webcam or microphones. Participants will simply login and to view the workshop and can type in questions for the facilitator to answer. Once you have registered you will receive an email with instructions on how to connect.
___________________________________________________________________________________________
Aucun équipement spécial est nécessaire pour particper à ce webinar. Nous n'utiliserons ni caméras ni microphones. Il suffit que les particpants se connectent pour assister à l'atelier, nos facilitateurs se ferons le plaisir de répondre à toutes les questions. Une fois inscrit, vous recevrez un email avec les instructions pour vous connecter.
Organizer of Your Job Story Information Session