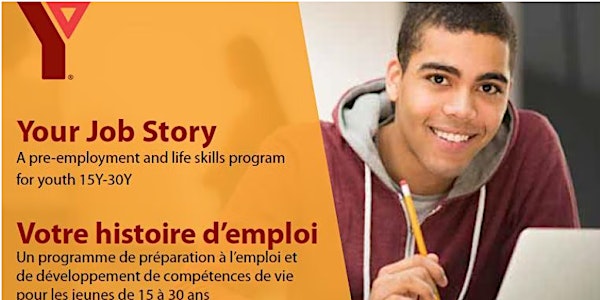 Your Job Story Information Session
Learn tools to succeed in life and on the job, while earning minimum wage to participate in our pre-employment training program.
About this event
Are you a youth who is unemployed and not in school? Do you have full time availability? Want to earn while you learn?
Your Job Story is a PAID pre-employment and life skills training program for youth ages 15-30 who are eligible to work in Canada and need help overcoming barriers to employment or pursuing life goals. The program consists of 4 weeks of training, and 6 weeks of job placement.
Join us to learn more about the Your Job Story Program offered by the YMCA-YWCA of the National Capital Region. In this information session we will cover the program's outline, eligibility and the next steps that you can take.
Feel free to visit our webpage to learn more about the program at: https://www.ymcaywca.ca/employment-immigrant-services/employment-services/your-job-story-youth-employment-program/
Please email us at yourjobstory@ymcaywca.ca for any inquiries, we can also be contacted by telephone at 613-301-1416 or 613-301-3093.