Description
Please join us on January 25th, from 7:00-8:30pm at the Noel Ryan Theatre in Mississauga for the official screening of the documentary.
Tickets: There is no set price. We are accepting donations.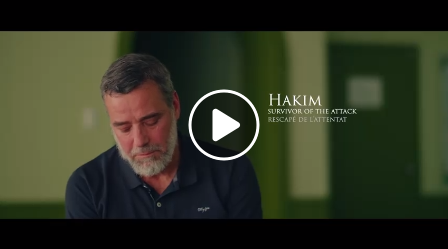 A Quebec City mosque was at the centre of a brutal terrorist attack on January 29th, 2017, when a lone shooter entered the Centre Culturel Islamique de Québec (CCIQ) in Sainte-Foy, Quebec and began shooting. Six men were killed, 19 more were injured in the first such attack at a place of worship on Canadian soil.
YOUR LAST WALK IN THE MOSQUE details the horrific events of that night through the recollections of the survivors, including from those were severely injured in the attack or who witness the terror unfold. For the first time on film, we hear what impact the shooting had on the families of those who were killed as they share their harrowing reflections of loss and trauma.
The documentary explores how the CCIQ was a target of hate crime and the past, raising critical questions about how to protect communities in a time of growing anti-Muslim sentiment.
Feelings of sadness, loss, empathy and hope are shared throughout this film which demonstrates the resilience of a targeted community working to heal from an unimaginable tragedy.
---
Current Campaign for Aymen Derbali: Quebec Mosque Shooting Hero
DawaNet visits the community monthly and provides programs for families, such as sermons at the mosque, as well as programs for the youth, and counseling for anyone who needs the support. When asking the community what other needs there are, everyone collectively said one thing:

Aymen Derbali needs a home. Aymen saved the lives of many when he took several bullets during the shooting which left him paralyzed. Now, we are trying to raise $400,000 to provide him with a safe and accessible home.
Past Fundraiser to Support Victims of Quebec Mosque
The DawaNet (Canada Zakat) team had previously gone to meet with the families of the victims of the shooting, as well as to present them with the $400,000 donation that they raised. To learn more, visit: here.