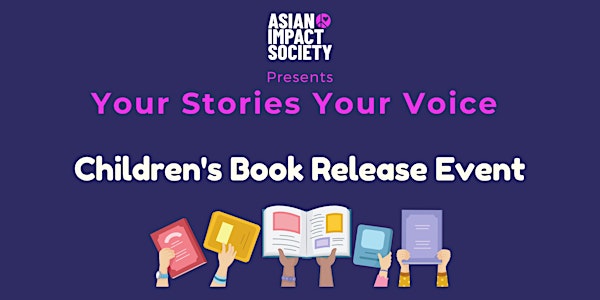 Your Stories, Your Voice Children's Book Release Event
Join us for a morning of family friendly activities as we celebrate AIS's first book release, Mina's Lunch.
Date and time
Sun, Mar 26, 2023 10:30 AM - 12:00 PM PDT
Location
1169 Pinetree Way 1169 Pinetree Way Coquitlam, BC V3B 8A9 Canada
About this event
About this Event:
Asian Impact Society ("AIS") invites you to come and celebrate the release of their first crowd sourced children's book about multiculturalism at the Coquitlam Library City Centre Branch. Kids can enjoy a reading of the book, do some crafts and have some delicious treats. This is a free event, but space is limited so register early!
How did this book come to be?
In September 2022, AIS launched its inaugural multiculturalism story contest, Your Stories Your Voice. The contest was an open call to the community to share their stories about multiculturalism, diversity and discrimination. Many submissions were received from individuals who shared their childhood experiences and their perspectives. A panel of judges including librarians, educators and community leaders was convened to select one stand-out story to be transformed into a children's book. One such story, submitted by Stephanie Shieh, was the favourite amount the judges. From there, AIS worked with illustrator Kirstin Hepburn to develop the illustrations for the book.
"Mina's Lunch: A Story About Food Culture & Belonging" is an uplifting re-telling of a pretty common negative childhood experience for many of us. One day Mina is eating in her classroom when her classmates deride her 'smelly' lunch. The way this situation is handled presents a great opportunity for discussions around multiculturalism and diversity at home, in our community and at our schools.
AIS is excited to share this book with the public. Please swing by the library to say hi, check out the book, grab a treat, snack and spend time with the kids.
This book is made possible with the financial support of the Province of British Columbia through the Multicultural and Anti-Racism Grant Program.
Agenda
10:30 AM - 11:30 AM
Presentation of Book and Children's Activites
11:30 AM - 12:00 PM
Visit and Mingle with Community Supporters and Leaders