Event Information
Refund Policy
Contact the organizer to request a refund.
Eventbrite's fee is nonrefundable.
Take advantage of the natural isolation and insulation COVID times provide us and deepen our meditation and relaxation practices.
About this Event
Winter is here! Oftentimes the cold weather brings us in less contact with other people and we may find we are spending more time alone. We may not have access to familiar supports of in-person yoga classes and meditation workshops. Where can you find that familiar comfort and encouragement?
This 4-week series, You're Not Alone: A Yogic Survival Guide for COVID Times, directly addresses some of the concerns we face during this pandemic and uses mindfulness and stress-reduction tools to help us not only get through the dark days, but how to take advantage of the natural isolation and insulation these COVID times provide us and actually deepen our practices. Rather than stressing out, we can use this time for reflection and refinement.
Via live Zoom sessions, each week we will focus on particular aspects of our lives that have been affected during the pandemic. Using the tools of awareness found in mindfulness practices such as yogic breathing and simple meditation techniques, we will practise together, seeking calmness in the uncertainty to come.
Included:
Face-to-face time (camera and mics on) with a chance to check-in and share with other session participants
A lesson using a mindfulness technique, and time to practise it
Homework (all optional) exercises to report back about each week
Downloadable meditation guide written by Jamine
Free gift (choose from 3 items to help you stay connected to the coursework)
During the series, we will explore:
Week One - Health and our Body
As the weather changes and we are more isolated, we may notice old or ongoing health and emotional issues start reemerging. We'll explore how some healthy habits and wellness planning can help us address these concerns. The class will close with instruction on how to conduct a guided body scan for relaxation and resiliency.
Week Two - Isolation and Loneliness
During the pandemic we have learned to be afraid - of touching things, of being too close to other people, not only of strangers but even of our own loved ones and close friends. We will take what we learned in Week One and we will add breathing techniques from yoga (3-part breath and alternate nostril breathing) to help us find our centre and inner peace.
Week Three - Change and Grief
This pandemic has brought profound change to virtually every aspect of our lives - we may work at the same jobs but from home - we may meet with family and friends, but virtually. We will explore simple ways to get comfortable with the uncomfortable as we review the practices from the first two weeks and add a meditation technique to help us draw on energy around us to support others and ourselves.
Week Four - Planning for the Future and Ending Suffering
No matter how long the pandemic lasts, we will still need to make plans for the future. This week we will use guided visualization techniques to help us explore our intentions and create affirmative action steps. We will practice metta meditation, helping us to feel close and connected to people even when we're far apart, building on the techniques we have learned in the previous weeks and setting us up to end the year on a positive note.
In addition to the Wednesday class together, Jamine will also be hosting check-in times during the program in order to answer questions or check in with anyone who'd like to stop by. Check-ins will be held via Zoom and times will be announced after program begins based on student feedback. Questions can be emailed in advance and if you can't make the office hours, Jamine will reply to your emails outside of class time.
Schedule:
Wednesday, January 6, 12:00 - 1:00 PM EST - Live Workshop via Zoom
Wednesday, January 13, 12:00 - 1:00 PM EST - Live Workshop via Zoom
Wednesday, January 20, 12:00 - 1:00 PM EST - Live Workshop via Zoom
Wednesday, January 27, 12:00 - 1:00 PM EST - Live Workshop via Zoom
In addition, optional check-in times with Jamine will be available via Zoom at other times.
Register for the course and get Jamine's booklet, Meditation: A Beginner's Guide, as a welcome gift to download! In addition, once you sign up you'll have the chance to choose a gift to help support you during the course, reminding you of the path you're on. Choose between a prayer shawl to use as a cover during relaxation pose or while you're meditating; a keychain from Nepal with a sacred mantra; or a mala bracelet to wear - we can talk about how to use it during the workshop. These gifts are all from a shop (Lara's) located in Ottawa's Byward Market.
Jamine Ackert has been a registered yoga teacher for over 25 years. She was certified while a resident of Kripalu Center for Yoga and Health in Massachusetts, trained in India with the Kripalu lineage and came back to North America and where she taught at Omega Institute for Holistic Studies in New York where Jamine remains on the faculty, leading an annual workshop during the summertime.
Jamine has led leading yoga teacher training programs in addition to regular drop in classes since 2002. She spent 10 years working at the Children's Hospital of Eastern Ontario (CHEO) for the Eating Disorders inpatient and outpatient clinics and is currently on the faculty of the Senior Police Administrators Course at the Canadian Police College where Jamine has been leading Stress Management in the Executive Program for almost two decades.
Her main passion lies in working with people who want to use teachings from yoga and meditation to find peace, happiness, and prosperity, in their own lives.
Visit Jamine on Facebook at Capital Yoga Online for details about her current teaching schedule.
Jamine is registered with the Yoga Alliance. This course can be applied towards continuing education credits for authorized yoga teachers.
"I have taught thousands of people over the years and see this pandemic time as a special opportunity to use the mindfulness tools I've worked with over the years and I look forward to sharing them with you during this course."
- Jamine Ackert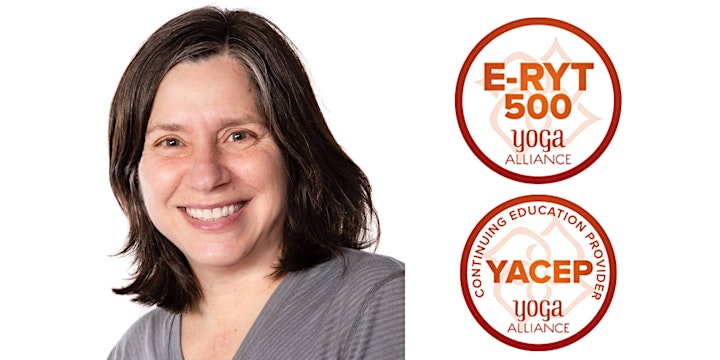 Testimonials
Jamine's teachings have been so easy to follow. She makes complicated teachings seem so doable. I've enjoyed working with her! - A.D.
Jamine's classes are the highlight of my week! I love her sense of humour! She makes difficult topics accessible. - T.D.
I've taken many classes with Jamine over the years and I'm happy she's got herself set up online so I can join her again! - L.H.
Date and Time
Location
Refund Policy
Contact the organizer to request a refund.
Eventbrite's fee is nonrefundable.