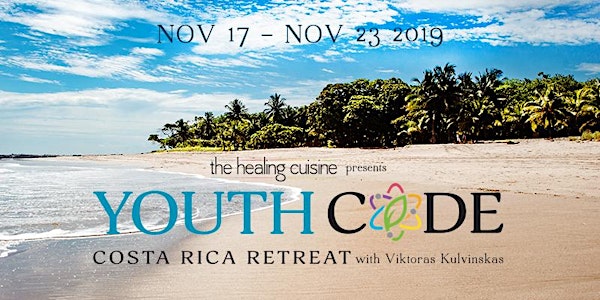 Youth Code Costa Rica Retreat
You are never too old to become young again!
When and where
Location
Hotel Nya detras de la Iglesia de Montezuma Montezuma, Provincia de Puntarenas 60101 Costa Rica
Refund Policy
Contact the organizer to request a refund.
About this event
Youth Code is a pathway into the living energy matrix of Mother Earth, a retreat designed around the teachings of Joanne's living food and fermentation master, raw food chef, author, and theoretical mathematician, Viktoras Kulvinskas. The education provides the access codes to higher realms of knowledge and understanding for stress management and hormone harmony.
Spend 6 nights at NYA hotel encaved in lush tropical gardens in the heart of Montezuma, on the Nicoya Peninsula of Costa Rica. In paradise, learn how to clear your circuitry and re-program your cells through practical clinical and scientific based experience to address emotional and sleep issues, body chemistry, dietary habits & supplementation for hormone system recovery and expand your consciousness with keys to unlock the Youth Code.
Retreat Includes:
6 Youthing & Face Yoga Classes
5 Days of Lectures with the Grandfather of Raw Food, Inventor of Sprouted & Fermented Nut Cheeses, Viktoras Kulvinskas
5 Food Demos with Celebrity Chef Joanne Gerrard Young
6 Breakfasts, 6 Dinners provided in house by Ubin and Chef Keilor Sanchez with the direction of Chef Jo
6 Evening Guided Healing Techniques with Viktoras Kulvinskas
Curriculum:
The 5 energy Bodies and Demonstrations through Kinesiology
Youthing with LOVE MEDS (Longevity for Organs Vegan Enzymes Meditation Exercise Ecology, Diet Detox Sleep Stress Management and Sexualility)
Hormones and the Biological Superiority of Woman, How the Glandular Systems Work and How they can Become Inefficient & How to Prevent It
The Female Mystery & Mystique, How to Create Balance Through Diet and Supplementation
The FUN damentals of Life, Enzymology, Probiotics, Minerals, DNA, Yougentics, Oxygen and Alkalizing
Creating Miracles through Daily Routine and a Commitment to Loving Ourselves 1 - 2 hour Per Day, How to Fall in Love with Yourself
Food Demo Curriculum:
Vegan Protein – How much for energy, longevity and higher states of consciousness, Intermittent Fasting, Longevity in the 21st Century, Superfoods, Protein Sources from Microbiology, Protein & Feeding Super Athletes
Probiotics & Fermentation – Microbiome – The Science behind growing Digestive and Systemic Snzymes in your own Kitchen in One Day
Dehydrating & Slow Cooking – The impact of different temperatures on the coding language in food
Co-Creation – The Essentials of a fast food Vegan Kitchen. How to manage and create your meals to crank out quickly – what it takes for a satisfying complete meal
Supplements for the Minimalist – Home grown and other Free Resources , Indoor Gardening (hydroponics), Sprouting – How to get your essential minerals, vitamin B12, D3, Iron, Calcium/Magnesium
Self Healing Techniques:
1. Kinesiology & Qi Gong
2. Meditation
3. Levels of States of Consciousness & Energy
4. Touch, Self Massage, Reflexology
5. Astro Journeying
6. Bringing about Harmony in the Sacred Energy Field
*Please contact us for more details*
Prices:
*Pricing Varies Depending on Occupancy, Room Selection and Availability*
REGULAR PRICE - $3800 ($6450 Double Occupancy)
Book your spot today by submitting your $500 Deposit. Remaining total to be in full by October 31, 2019. Payment options and plans available.
https://youthcoderetreat.com/
CANCELLATION POLICY
50% Deposit Required Upon Booking with balance due 60 Days Prior to Arrival, September 29th. Payment Plans Available.
30% Refund up to 60 Days Prior to Arrival Date: November 17, 2019 with Valid Written Notice.
Contact us for more information.