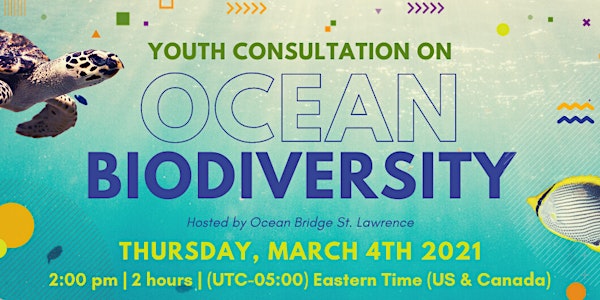 Youth Consultation on Ocean Biodiversity
Rallying Canadian Youth Voices for a Consultation on the Convention on Biological Diversity Post-2020 Global Biodiversity Framework.
About this event
Are YOU a Canadian youth wanting to share your views and take ACTION on biodiversity? Join the Post-2020 Global Biodiversity Framework National Consultations where you can share your opinions and discuss how to create a future in living harmony with nature. Ocean Bridge (a program with Ocean Wise) and the Canadian Youth Biodiversity Network (CYBN-GYBN, Canadian Chapter) online national consultation on ocean biodiversity will take place on Marth 4th.
*Notez que l'événement est en anglais, mais les commentaires et discussions en français sont les bienvenus/ Note that the event is in english, but french comments and discussion are welcome*
Agenda:
1:50 pm - Welcome youth/guests
2:00 pm - Intro to the Convention on Biological Diversity and the Post-2020 Global Biodiversity Framework
2:30 pm - Ocean issues presentation by Dr. Megan Bailey
3:00 pm - Youth consultation
3:50 pm - Wrap-up
4:00 pm - End of session