About this Event
This event for ONLY Boys ages 11-16 is targeted at cultivating a sense of community and belonging among our youth. This is vital in ensuring that they can find support and strength with their peers in upholding Islamic values and practices.
The event will consist of team-based, competitive activities, with teams being led by Be Inspired youth leads. Through this mentorship, we hope to provide guidance to our youth and break barriers, making them more comfortable and willing to engage. There will also be sports, an educational documentary, among other engaging activities. Youth leads will deliver interactive reminders throughout the program in a relatable and engaging way, and Sh. Hossam Helal will conduct a halaqah on the topic of The Strangers.
This topic aims to inspire and empower our youth to bring forth their identity as a Muslim. The Prophet (s.a.w) said, "Islam began as something strange, and it shall return to being something strange, so give glad tidings to the strangers." It was asked, "Who are those strangers, O Messenger of God?" Muslim are strangers (ghurabaa) among mankind and we want our youth to feel that yes, they are different. There is no need to try to fit into society as the true believers are strangers among the Muslims and their main purpose is to please Allah. We want this talk to be a reminder to live as if we are travelers at a way stop, waiting for God to call us home to our final abode.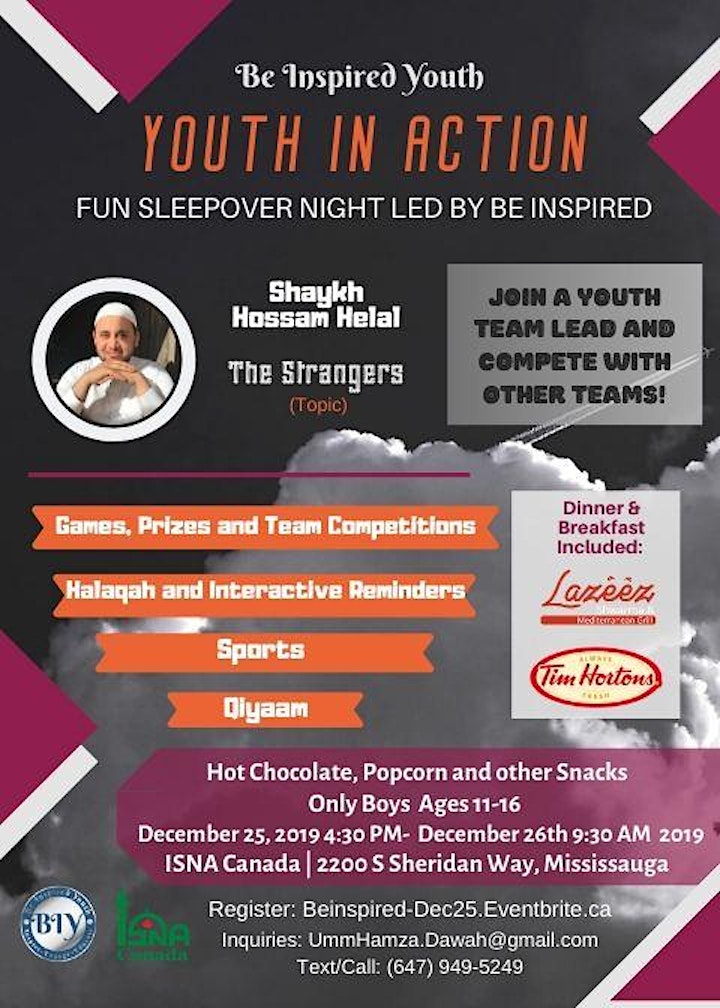 Sh. Hossam is the winner of the MuslimFest 'Imam of The Year' award, 2014, and holds designations at numerous Islamic institutions and universities across the GTA. He has served as an instructor, khateeb, and instructor for the past 10 years, and has been a part of many Be Inspired events in the past.
Dinner is sponsored by Lazeez Shawarma, and breakfast will be catered by Tim Horton's. The event is run and managed by Be Inspired, with ISNA Canada providing the venue.
We hope to share this effort with you and pray that it is beneficial to our communities for the generations to come.
Additional Inquiries: ummhamza.dawah@gmail.com
Note
This is a youth-only drop off program
By registering you give us (and our appointed photographer/videographer) consent to take event photos/videos which may be published on our upcoming website, our social media, and other media to promote our programs
We're not responsible for the loss of any personal belongings and/or injury due to inherent risks of any sport/game
We reserve the right to postpone or cancel due to low enrollment, inclement weather conditions, or any unforeseen circumstances beyond our control. In a rare event when this happens, registrants will have the option to either receive a full refund or transfer the same registration to the same or similar event at the new, future date