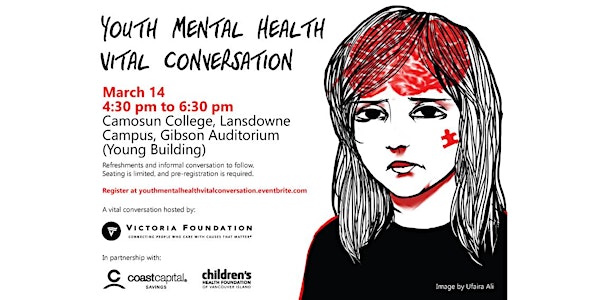 Youth Mental Health Vital Conversation
When and where
Location
Camosun College, Lansdowne Campus, Gibson Auditorium (Young Building) 3100 Foul Bay Road Victoria, BC V8P 5J2 Canada
Description
Mental health concerns affect at least one in five children and youth.
You're invited to an engaging community conversation about youth mental health, a complex issue that affects thousands of local youth and families. Expert panelists, including youth with lived experience, will discuss the challenges, barriers and opportunities related to mental health supports for youth in our region.
Who should attend?
This Vital Conversation is open to all community members. It may be especially valuable for:
all youth aged 14-29 years

family members and friends who want to be able to better support their loved ones

people who work with youth or in the area of youth mental health

policy-makers and government
Note that you will not be able to receive individualized advice or support at this event.
Event plan:
This evening will feature a panel discussion of interesting speakers, a chance for audience questions and dialogue as well as the opportunity to continue the conversation over refreshments following the presentations.
4:30pm Welcome & setting the context
4:45pm Speakers panel & discussion
6:30pm Snacks & refreshments as well as informal conversation and table activities
Following the speakers panel, there will be an opportunity for informal table activities and dialogue as well as refreshments, located across the hall in Young 217.
There are visitor parking lots on campus, accessible from Foul Bay Road. Four-hour parking is $3.25.
What is a Vital Conversation?
A Vital Conversation is a community discussion aimed at fostering open dialogue about issues that matter to people in our region. Topics are connected to issues and trends identified in Victoria's Vital Signs, our community's annual check-up that measures the vitality of our region, identifies concerns, and supports action on issues that are critical to our quality of life.
The 2017 Victoria's Vital Signs citizen survey told us that people aged 30 and under are:
more likely to say that improving access to mental health supports is a priority compared to older age groups

less likely to describe themselves as happy compared to older age groups

more likely to sometimes or often feel lonely compared to older age groups
These statistics, as well as what we've heard from our community partners, tells us that bringing the community together to talk about youth mental health is timely and valuable.
This Vital Conversation is being hosted by the Victoria Foundation in partnership with Coast Capital Savings and the Children's Health Foundation of Vancouver Island.
Questions or looking for more information?
Contact Jayna Brulotte at the Victoria Foundation
jbrulotte@victoriafoundation.bc.ca
250-381-5532